MoneySense Quarter 4 2016 Issue
MoneySense 4th Quarter 2016 issue features on its cover, The Advocates: How RFP© Philippines Is Transforming the Financial Planning Industry And Promoting Financial Literacy in the Country.
Financial advisors, financial planners, investment advisors– the job titles on their business cards differ, but for many, they are just the fancier names for insurance agents, private bankers, stock brokers, and mutual fund solicitors. And for the most part, the job was more about selling rather than advising or planning.

It was only in 2005 when the concept of a financial planner who designs an actual financial plan and gives holistic advice for clients, and not just sell financial products, was introduced in the country. That was when the Registered Financial Planner (RFP©) Philippines was born.
Learn more about how Henry Ong, former stock analyst and stockbroker and now head of a financial advisory firm, launched RFP© Philippines in 2005 and how it promotes financial literacy and financial planning. Featured with him on the cover are personal finance gurus Salve Duplito, Randell Tiongson, and Efren Cruz.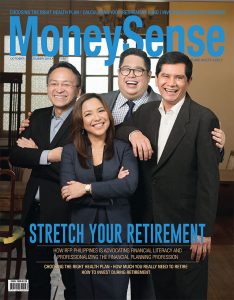 By Excel V. Dyquiangco
Photos by Dodie Legaspi