MoneySense 3rd Qtr 2019 Issue – The Pivots of Kalibrr CEO Paul Rivera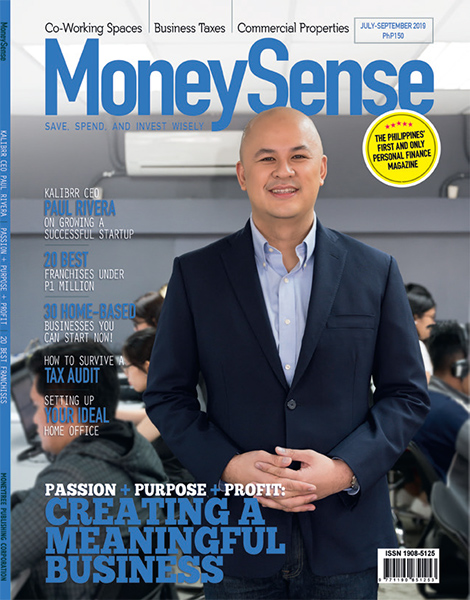 The Pivots of Kalibrr CEO Paul Rivera
After graduating from the University of California, Berkeley with a degree in Political Economics, Paul Rivera, CEO of recruitment technology company Kalibrr, thought he was destined to be a business consultant.
He and two schoolmates applied for jobs at consultancy giant Accenture, but while his two friends were accepted, the Filipino-American was not.
That twist of fate introduced Paul to the world of startups, and later led him back home to the Philippines, which he had left with his family when he was five. The now 36-year-old has since established a tech business with operations in three countries in Southeast Asia, and invested in other Philippine online platforms.
Learn more by buying a copy of MoneySense 3rd Quarter 2019 Issue Now!
Cover Stories
The Pivots of Kalibrr CEO Paul Rivera – Elena Torrijos
Passion + Purpose + Profit: Creating a Meaningful Business – Excel V. Dyquiangco
20 Best Franchises Under P1 Million – Excel V. Dyquiangco
30 Home Based Businesses You Can Start Now! – Excel V. Dyquiangco
Book Excerpt: #Adulting Accomplice – Lianne Martha Laroya
Plan
How to Survive a Tax Audit – Excel V. Dyquiangco
Best Co-Working Spaces – Excel V. Dyquiangco
Versus: Buy Vs. Franchise Vs. Start a Business – Genesis Kelly Lontoc, RFP
Q&A: Franchisee – Excel V. Dyquiangco
Primer: Business Taxes – Excel V. Dyquiangco
My Money Story: Wearing Many Hats – Anna Escalona as told to Excel V. Dyquiangco
My Money Story: In Good Financial Health – Gim B. Gonzales as told to Excel V. Dyquiangco
My Money Story: The Business of Franchising – JC Calvento as told to Excel V. Dyquiangco
Invest
Stock Market 101: CANSLIM Method – Josefino Gomez, RFP
Real Estate 101: Investing in Office and Commercial Properties – Richard Thaddeus Carvajal, RFP, ACSI
Spend
Setting Up Your ideal Home Office – Edmund Lao, RFP
Editor's Note
How to Succeed in Business
Starting a business is easy. Staying in business not. I should know, I've had three businesses fail within a couple of years. Thankfully my conference and training business has been around for over a decade, and still going strong.
For me, succeeding in business is understanding and seizing five key concepts. Get them right and you up your chances of success.
Opportunity
Is there an opportunity? That means potential, probability, chance. And that is dictated usually by market demand. Are there enough people or businesses looking for what you want to offer to make it sustainable and profitable? If not, no amount of dream or passion will help you. You could get by with just enough maybe, but your idea might not grow to a level beyond a one-person business.
Niche
Once you identify a sizable potential market for what you want to address or solve, you also have to drill down on a niche—a smaller segment of your potential market. Why? It's better to start small and grow fast rather than launch big and fail fast. As they say, you shouldn't try to be all things to all people.
Momentum
It's not easy in the early years when you're doing almost everything and you're just making enough to get by. But you have to give the market the chance to discover you. That takes time, patience, and enough capital to get you through the first few years. The longer you are in business, the more people become aware of you, and the more they will trust you. You'll need to build on small wins to higher heights of success. Keep your momentum until you hit your big break.
Differentiation
You need to have a unique selling proposition (USP). That can mean you're the fastest, the biggest, the cheapest, the highest quality, the widest selection, the most convenient, whatever. So if your niche is accounting services for small business, your differentiation could be the fastest turnaround.
Leverage
There is no way you can grow your business all by yourself. Otherwise, you will be trapped in the category of "self-employed." Your goal should be to become a "business owner." There's a big difference. You know you're a real business owner if your business can run on its own without your daily, direct intervention. If you can take a month-long vacation and not check on your business—and it will continue to run and hit targets—then kudos to you.
The only way you can make that happen is through leverage. That often refers to borrowing or using other people's money to invest or grow a business, sure. But leverage can also mean tapping the skills, time, and contacts of other people. Hire as soon as you can. Delegate as much as you can. Outsource non-core tasks.
All successful entrepreneurs have used these concepts. Yes they work hard. And so do everyone else who have started a business. But it's the ones who were able to seize a market opportunity, started with a niche, built momentum, focused on their differentiation, and took advantage of leverage that not only survived but also thrived.