FRANCHISING SECTOR SET FOR DOUBLE DIGIT GROWTH
The Philippine franchising industry continues its strong growth as home-grown franchises begin expanding to international markets.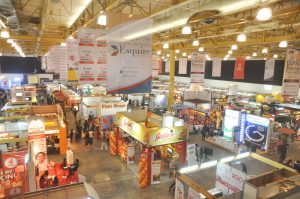 The Association of Filipino Franchisers Incorporated (AFFI) states that the industry has grown by 20 percent this year. It expects the growth to continue with a 25 percent growth rate forecasted for 2014. Erlinda S. Bartolome, the group's Director for International Trade Affairs says that the group's member franchises posted sales of 63.4 billion pesos for 2013.
Fuelling the industry's growth are the strong fundamentals of the economy and increasing development in the countryside. A growing trend in the industry is the development of non-food franchises which now account for 45 percent of the industry. The Philippine franchising industry is currently dominated by home-grown brands that comprise more than half of the franchisors in the country. AFFI reports that its members have 19,312 stores in the country which employ 135, 184 people.
A key trend in the industry is the development of hyper specialized concepts that cater to niche markets as well as online and mobile app based businesses. There is also a strong demand for self-serve type businesses as well as combining vending machines and healthy snacks. All these point to the increasing sophistication of the industry.
As the industry continues to grow, some AFFI members have seized the opportunity to expand in the global market. There are currently 12 AFFI members who are global franchisors with 76 overseas outlets. Some of the AFFI global franchisors include Aquabest, Crystal Clear, Eat Bulaga, Figaro, Fiorgelato, Goto King, Lay bare, Mang Inasal, Potato Corner, and Sweet Corner.
The upcoming ASEAN 2015 integration is expected to act as a further impetus for AFFI members to go overseas. The integration opens up the region's capital and labor markets to competition. This is expected to lead to an influx of foreign franchise brands into the country. The group is setting up an ASEAN pavilion at its upcoming 2014 Filipino Franchise Show as part of its preparations for the integration.
Among the major sponsors for this year's show are BPI Family Ka Negosyo, Seaoil Philippines, St. Francis Generic Drug, The Generics Pharmacy, and Globe myBusiness as AFFI's official business solutions provider. Other sponsors and partners  are Farmacia ni Dok, Geepas Philippines, 2Go Express, Revelnet, My Basic Graphics, Philippine Daily Inquirer, Business World, Business Mirror, Entrepreneur Philippines, FilChi, Carl Balita Radyo Negosyo, United Neon, Meralco, Go Negosyo, IPO, DTI BSMED, DOST,and TESDA.
The 2014 Filipino Franchise Show will be held from October 3 to 5 at the World Trade Center. For inquiries please contact the AFFI Secretariat at (+632) 654 0345, (+632) 506 8883 or email affifranchiseshow2014@gmail.com or one can contact PETCO at (632) 8325422 / 8325401 and 8329303 or email secretariat@petcogroup.com.