By Khoa Bui as told to Excel V. Dyquiangco
Initially I had a dream to have my own business, write books and become a speaker but I always believed that I was too young to start therefore I thought that having any job would be ideal. When I finally received my master's degree in software engineering in 2005, the first job I could get was a catering job, which involved wiping tables, mopping floors, preparing foods, pulling rubbish bins and serving customers. I was completely broke, nothing in the bank and was driving a car that leaked water through the ceiling whenever it rained.
After a year of doing labor work, I finally landed a job as a software developer and programmer. My role was to write software code with a team of programmers in a major IT company. I worked in a cubicle, gray walls, gray desk, and gray computer alongside people with gray hair. One day, I looked around and realized that the all years that I put into homework and study all led to my current position as a software developer and as a result, I hated my job. I certainly didn't want to stay in a job I hated for many years just to pay the bills.
So after two years I handed in my resignation and pursued my dreams of becoming an entrepreneur. I started my business from scratch and learnt many things along the way. One of the scariest things about being an entrepreneur is that you have no guarantee of income, you are responsible for your success and you need to make tough decisions to ensure you succeed in whatever it is you want. Despite all the setbacks, frustrations and obstacles that stood in my way, it was one of the best and rewarding decisions I've ever made in my life.
Overcoming public speaking
My main work includes writing and publishing books, corporate training by going into companies and training their staff. I'm also an international speaker where I'm invited to speak at events and seminars. I create my digital products and sell them online. I'm also currently helping many people become authors by helping them create their own eBooks and selling them online and finally I design and build websites for multimillion dollar clients.
One of the most memorable experiences was when I did my first speaking gig. I was asked to fly overseas to train and speak to over thirty people in a major corporation over the course of five days. Prior to that, my longest speech was five minutes and for my contract, I was asked to speak and train the audience for eight hours. I was standing in front of the audience, opening my mouth to speak but nothing came out. I was holding onto my notes while shaking and dripping of sweat. I forgot my place. It was a complete disaster!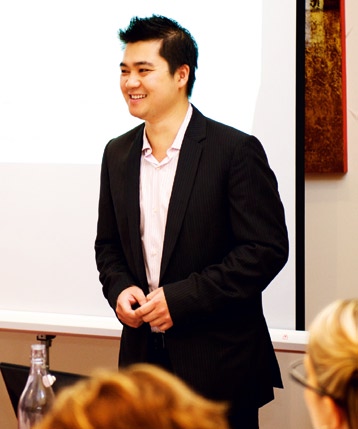 My trainer was watching me and observing all my actions. After nearly 30 minutes of hell, I stopped my presentation. I looked at my audience. I looked at my trainer and thought to myself that public speaking was not for me. I was about to apologize to the audience and walk over to my trainer and tell her that public speaking was just not for me but a voice inside my head just told me to just push through with the training. It was very strange, hearing that voice somehow gave me the courage to do the "impossible". Since that first day, I've been working hard at improving my presentations and today I've received awards and recommendations from hundreds of people whom I've trained. Every time I speak in front of people, I'm always improving my presentations to make them more effective and engaging.
I absolutely love the feeling of knowing that I'm helping people out there through my books, courses, seminars and trainings. I love receiving emails from people around the world whom I've helped whether it's increasing their incomes, publishing their first book, launch their online business or improving their websites. I also love being in a position where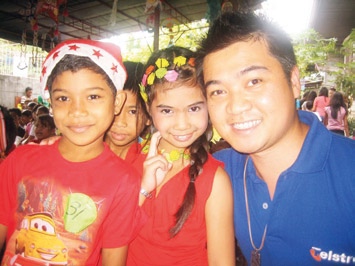 I can give back to charity. One of my most recent projects was to donate a house to a family who lost their homes during a massive flood in the Philippines. I just recently finished writing a children's book where I'm planning on donating it to all the children's hospitals and orphanages to help encourage more children to hold onto their dreams.
The hardest part of my job is keeping a balanced lifestyle. There are many aspects of your life that requires attention: family, relationships, health, financial, spiritual and charity work. I'm still trying to find the perfect system for maintaining all areas of my life.
A millionaire with three set-ups
Since I was broke before, it was then I became so frustrated with my life that I finally made a decision to change. I've been following three steps that got me where I am today. Step one is to setup several income streams. Step two is to manage your money and save a large percentage of it. Step three is to invest. With the income and money saved, I reinvested into real estate, business or education which increased in capital assets.
I attribute my success with the knowledge I've gained from reading books, buying courses and attending seminars in business and personal development. Above all else, the skill and discipline of taking action on the goal that will make the biggest difference in your life, every single day will change your life in ways you can't imagine.
Lessons I have learned in my business is to look after your customers and clients at all times. Be a pro at relationship building and always over deliver. Your customers will take care of you by referring more customers and clients. Don't ignore your customers for they will move on. Let go of bad clients for the money isn't worth the sleepiness nights and migraine tablets. Marketing and selling is the driving force of your business and you should focus most of your time in this area. Take massive action. Don't let learning get in the way of action; you learn more from taking action than reading it in a book. Reward yourself and try not to take it too personal when something doesn't go the way you want.
MY MONEY LESSONS
Young Millionaire
Khoa Bui became a millionaire at such a young age. He shares with you three advice on how to earn much and venture in his field.
You must be passionate and love what you are doing. If you are not passionate and love what you do, you'll never get good at it, never succeed and never have any fun along the way. You got to love what you do.
Have a strong burning desire to achieve what you want. If you don't have the desire to achieve whatever it is you want, you won't last very long because you'll come across hundreds of challenges that will test your level of desire and commitment to getting what you want. You must have a strong desire to overcome all the challenges thrown your way.
The brave may not live forever, but the cautions do not live at all. Life is truly short. Write your own eulogy on the life you wished you had and try your best to fulfill that life. Picture yourself very old sitting on a rocking chair giving you advice on what to do. Do whatever it takes to protect and pursue your dreams and remember to always stay true to yourself.