NDC Showcases Startup Venture Fund (SVF) and VC Partners in Startup Mixer
The National Development Company (NDC), headed by General Manager Anton Mauricio, recently hosted "Synapse: A Community Mixer Event for Startups and Partners" last Friday from 2-4pm, March 24, 2023 at the NDC.
Highlights of the event include:
Presentation of the Startup Venture Fund (SVF)
Presentation of Accredited Partners
Guidelines of the Startup Venture Fund (SVF)
The SVF, established in 2019 through Republic Act No. 11337 or the Innovative Startup Act and primarily managed by the Department of Trade and Industry and National Development Company aims to develop the startup ecosystem in the Philippines through the provision of funding opportunities.
With half a billion pesos (P500m) in investible funds, the SVF can only invest in a startup alongside an accredited co-investment partner (CIP). Accredited partners currently include: REAL TECH Holdings, Foxmont Capital Partners, ICCP/SBI Venture Partners, and GobiCore PH Fund with IdeaSpace/QBO, and inBest Ventures pending formal accreditation and with additional partner Thames International. Boasting 63 startups in the pipeline as of March 2023 including Maria Health, NXTLVL Farms, among others, NDC General Manager Antonilo Mauricio, has ambitious aims to further increase available funding for future startups to over P1B pesos through strategic funding partnerships.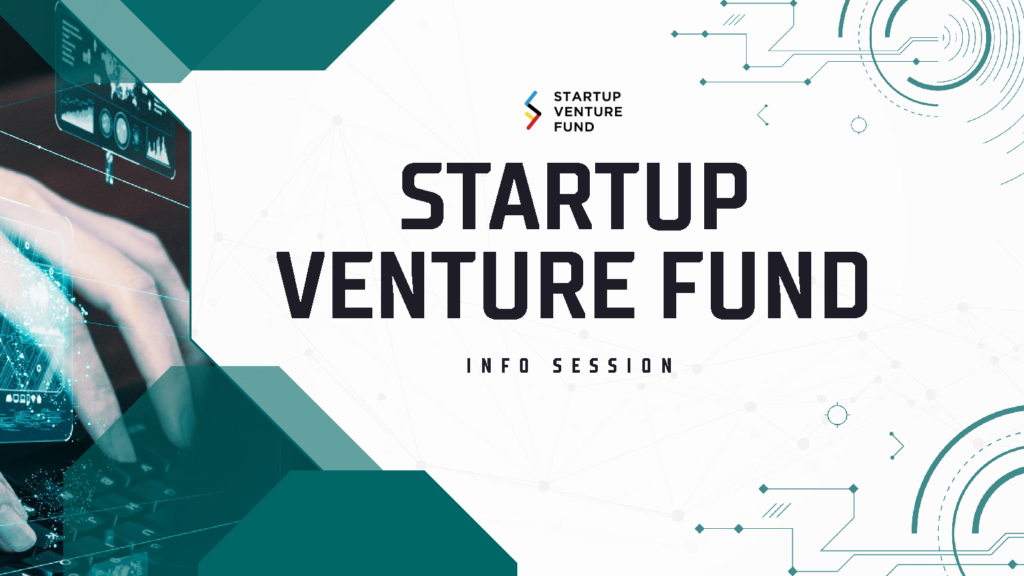 Presentation of Accredited Partners
The event was attended by major VC funding players presenting data highlighting the region and in particular the Philippine start-up ecosystem's attractiveness for further investments.
Gobi-Core shares The Gobi-Core Philippine Fund Ecosystem Report 2021 which sheds light on the growing startup ecosystem in the Philippines both in relation to its ASEAN neighbors and as a promising technology ecosystem in its own right and The Gobi-Core State of Talent in Tech 2022 report reveals the landscape of talent in the Philippine tech ecosystem, the challenges and opportunities present, and expert insights from tech founders, leaders and ecosystem veterans.
Foxmont Capital Partners contributed the Philippine Venture Capital Report 2023 which presents a survey of the investment landscape including social and population demographics and mobile and internet usage data including a note that Mobile wallet transactions reached USD28.6B in 2022, almost twice in 2020.
Despite recent effects of the SVB collapse capturing media attention, optimism in the Philippine innovation ecosystem remains high among VC Partners, as key takeaways from their reports suggest:
After a record-setting 2021, the Philippine tech ecosystem is now experiencing a slowdown as it faces down global macroeconomic headwinds. Nonetheless, technological adoption has persisted, suggesting the future of the ecosystem remains bright.

The Gobi-Core State of Talent in Tech 2022
In the face of challenging global macroeconomic conditions, the Philippines continues to be a bright spot in the global economy. We can take the constant outperformance GDP growth forecasts driven by domestic household consumption as a signal that exceptional, brand-led businesses with products serving the needs of Filipino consumers will continue to grow.

Foxmont Philippine Venture Capital Report 2023
The NDC's Synapse Community Mixer event was a successful and insightful gathering, bringing together government and key players in the Philippine startup ecosystem to foster growth, innovation, and investment opportunities. The event not only provided valuable information on the current state of the ecosystem but also highlighted the Philippines' potential for continued success in the face of global challenges.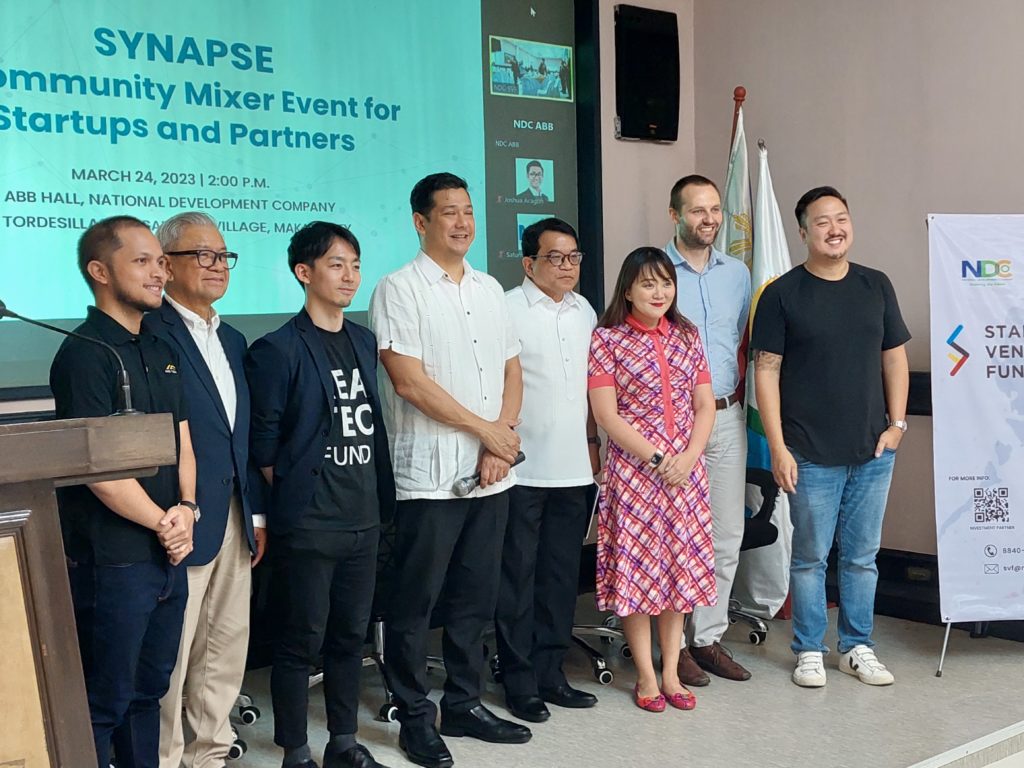 First photo includes the following: Carlo Delantar (Founding partner of Core capital), Rommel Leuterio (Adviser to the Chairman of ICCP), Daiki Kumamoto (Growth Manager of Real Tech), Antonilo Mauricio (GM of NDC), Saturnino Mejia (AGM of NDC), Katrina Chan (Executive Director of Ideaspace), Ben Alderson (Senior head of Strategy and Investments of Ideaspace), Franco Varona (Managing partner of Foxmont)
---
The National Development Company (NDC) is a government-owned and controlled corporation (GOCC) under the Department of Trade and Industry (DTI). Established on March 10, 1919 via Legislative Act 2489, the NDC is mandated to pursue commercial, industrial, agricultural or mining ventures in order to give the necessary impetus to national economic development.
NDC is the Philippine's leading state-owned enterprise investing in diverse industries, serving as an effective catalyst for inclusive growth.
As the General Manager of the National Development Company, Anton Mauricio has the equivalent rank of Undersecretary with the Department of Trade and Industry. He has over 30 years of experience in investment, finance, and management consulting.
Under the leadership of General Manager Antonilo Mauricio, NDC works toward the development of the Philippine startup ecosystem through the proper implementation of the Startup Venture Fund (SVF).
GM Anton envisions the NDC as a major contributor to the country's development, befitting its status as the oldest government company and the state investment arm.
---
Co-Investment Partners
A venture capital fund that works in close cooperation with domestic and foreign governments, companies, and municipalities to provide a full range of hands-on support to accelerate and maximize the social implementation of technologies developed by technology-based startups working to solve problems pertaining to earth and humanity.
Independent Venture Capital that comes with a wide network and operational expertise in the Philippines. We invest in Filipino-focused or Filipino-founded early stage technology startups that have proven that they can scale effectively and lead the Philippine digital evolution. We believe that if a Filipino startup can succeed in the Philippines, it can succeed anywhere.
A partnership between two leading Asian VC firms: ICCP Venture Partners and SBI Holdings. ISVP invests in rapidly growing tech companies in the U.S. and Southeast Asia, until Series B. ICCP Venture Partners, the longest-operating Philippine VC firm, has raised 6 global funds since 1998. It has built a portfolio of 50 direct and indirect investments. SBI Holdings, formerly SoftBank Investments, operates one of Japan's largest VC practices. It has invested in more than 1,000 direct and indirect portfolio companies since 1999.
Founded in 2018, Core Capital is a venture capital firm in Manila, Philippines. Core Capital provides early stage financing for technology companies with a focus on the Philippines. The firm invests through its first fund the Gobi-Core Philippines Fund, co-managed with Gobi Partners.
A non-profit organization running founder-focused programs for early-stage tech startup founders solving emerging market issues. We offer an acceleration program, an alumni program, an Opportunity Fund, and an external relations program, ensuring that we give founders the support they need at the critical phases of their businesses.
QBO ('ku-bo') is a platform that supports Filipino startups, connects and develops the local startup ecosystem, and forwards tech and innovation. Through our programs, we accelerate the growth of startups and turn them into successful ventures. We provide startups with access to capital, resources, information, and expertise, while developing the entrepreneurial talent pool.
A business & investment management company for growing enterprises. inBest provides financial solutions that fit the enterprise's current financial structure and activities. By finding the best and most appropriate sources of capital available in the market, we enable enterprises to develop, manage and realize their growth plans and improve their cash flows.
Established in 1999, Thames International is an academic institution offering basic education at the Senior High School level and higher education with baccalaureate degrees in Business Administration, Entrepreneurship, and Communication that are globally competitive, industry-linked, and supports student mobility in learning. Its' basic education is seamlessly integrated into the higher education unit through a core curriculum that provides the foundation for creative problem solving and design thinking, growth mindset, and entrepreneurial leadership among the students. The school offers holistic education by providing quality learning experiences to achieve the necessary competencies, skills, and abilities of the professional disciplines as well as ensuring the well-being of students in dealing with real-life challenges.
---
SVF Startup and Partner Guidelines are available through the following QR codes and links.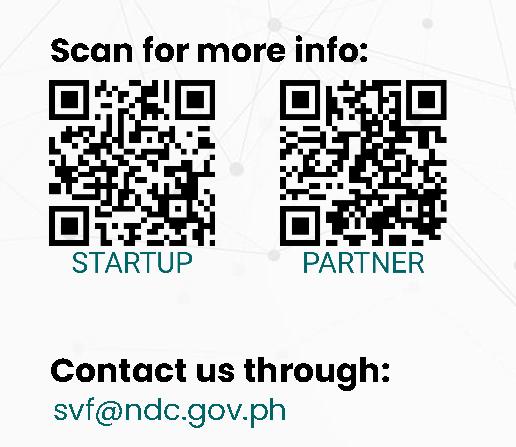 (632) 8840-4838 loc. 323
NDC Building, 116 Tordesillas St.,
Salcedo Village, Makati City