MoneySense Q2 2022 Features Sun Life Philippines: A Lifelong Partner In Health And Wealth Management Solutions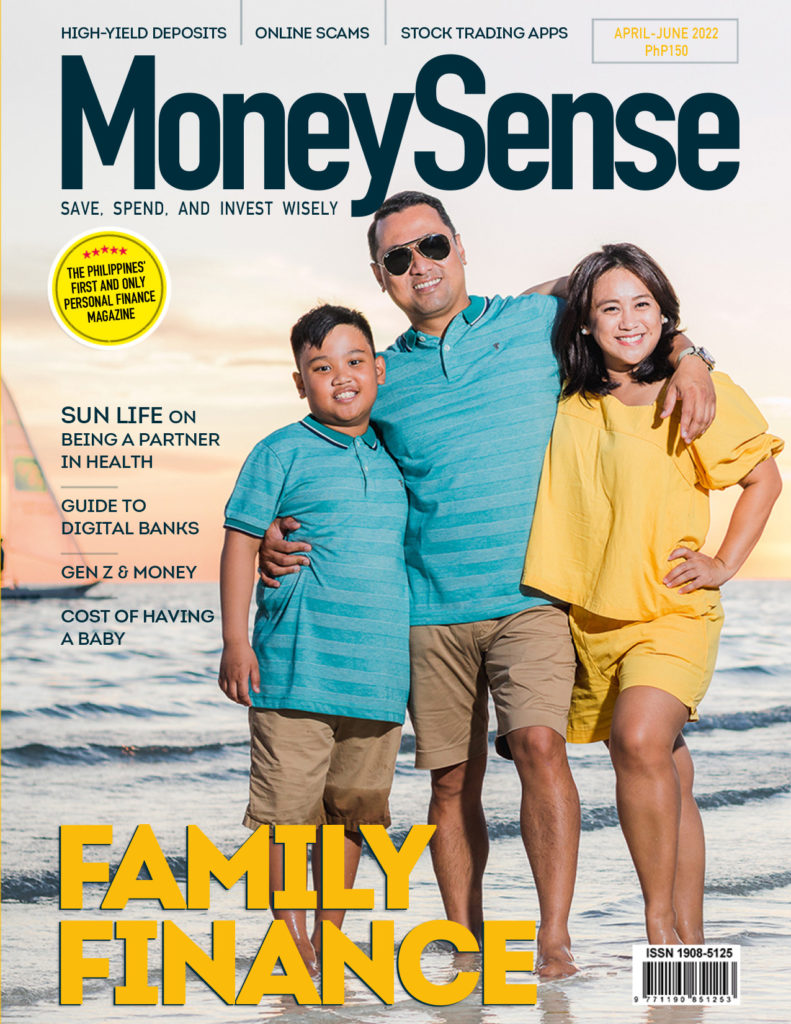 By Rossana L. Unson
(Professional Writer, Marketing & Public Relations Consultant)
If there's anything that the past three years have taught Filipinos, it's that health concerns are totally unpredictable. While the COVID-19 pandemic took the entire population by surprise, it was those who were well prepared and had stable and reliable health insurance plans that had less to concern themselves with. They had more time to focus on immediate needs like keeping their loved ones safe and cared for. These were the fortunate people who were ready for any eventuality and now more than ever, being ready seems to have become more important to Filipinos post-pandemic.
Sun Life Philippines Chief Client Experience & Marketing Officer Carla Gonzalez-Chong shares precisely how the pandemic–and a renewed focus on health and wellness due to this–has caused Filipinos to make a conscious effort to be more vigilant when it comes to their health.
"Before the pandemic, health has always been a top priority for the majority of Filipinos, but only 10% are financially prepared in case of health emergencies. With the rising incidence of lifestyle related diseases and concerns about contracting the COVID-19 virus, there has been an increased interest in Sun Life health protection products that provide cash benefits for covered critical illnesses and hospitalization," she shares.
The Sun Life advisors, she says, have been active in reviewing the financial portfolios of their clients to address any health protection gaps they may discover. She discusses one such product that can easily address such a gap: "To provide Filipinos with more health protection options, Sun Life launched Sun ICU Protect last year, a severity-based health insurance plan that provides life insurance protection and a financial safety net to insured clients should they be affected by a life threatening condition."
Carla articulates, "At Sun Life, we believe that investing in our health means we give ourselves more time and the freedom to do more of the things we love with the people that mean the most to us–our families. The Partner in Health Campaign aims to inspire and guide Filipinos to live healthier and brighter lives, providing them with sound advice, offering health protection solutions, and giving access to tools and resources that will help them appreciate health and wellness from a holistic perspective. The Partner in Health Campaign encourages Filipinos to invest in our health because it's worth it!"
Sun Life regularly conducts research studies to help them determine the needs of their clients and potential clients. Based on their client research studies, 38% are intending to buy a health protection product in the next six to twelve months. The Partner in Health Campaign aims to help them decide to purchase a health protection product for themselves.
"We hope that the stories of our brand ambassadors Charo Santos-Concio, Piolo Pascual, and Matteo Guidicelli, who have placed health and financial preparedness as a top priority in their lives, will inspire viewers to choose Sun Life as their partner in health," Carla enthuses.
She's talking about a series of compelling videos launched for this campaign where their ambassadors expressed messages and tips about life to their younger selves. Guidicelli recounted his carefree, happy younger days and segued to a reminder to secure not just his finances, but his health as well for his future family. Pascual, on the other hand, encourages his younger self to continue to pursue his dreams but to likewise protect his health and resources, with the assurance that this will certainly be worthwhile. Finally, Santos-Concio reminds herself of the advice that her father, who was a doctor, gave her: good health is priceless and keeping healthy is not just for herself but also for her future family. These videos are truly inspirational as they recount truths many would also tell their younger selves if given the chance.
When asked to discuss Sun Life's health protection plans and how they might differ from competing products from other life insurance companies, health insurance companies, and HMOs, Carla enumerates, "Sun Life's health protection plans such as the SUN Fit and Well, Sun ICU Protect, SUN Cancer Care, and SUN Senior Care offers prevention, diagnosis, treatment and rehabilitation benefits that can complement any existing HMO plan. For most critical illnesses such as heart attacks, strokes and cancer, a big sum of money is required to fund treatment and rehabilitation, and the benefits provided by an HMO plan may not be enough. With Sun Life's health protection plans, insured clients can receive cash benefits should one be diagnosed with any of the covered critical illnesses. Depending on the plan, even if clients do not contract an illness, they are still covered by life insurance. But some offer both health protection with the added benefit of life insurance to ensure their family's future is well-protected should anything happen to them. Other cash benefits for hospitalization and rehabilitation are also included depending on the product chosen. Insured clients will also have the opportunity to avail of exclusive benefits from GoWell, Sun Life's health and wellness community, including relevant content, events, and perks and rewards that will help them prevent illnesses and live a healthier lifestyle."
While these are all extremely useful to ensure and protect physical health, it is also undeniable that the pandemic has had a considerable effect on mental wellness. When asked what steps Sun Life has taken to address this situation, Carla reassures, "Mental health awareness has grown over the years and has sparked a heightened interest during the pandemic. To address this, Sun Life has been offering free webinars that can help Filipinos cope with stress and anxiety and improve their overall mental well-being with mental wellness talks, meditation, and sound bath virtual classes. For the Partner in Health Campaign, we collaborated with the Philippine Mental Health Association, Inc. (PMHA) to develop "Mind Your Health" social media content and the "Safe Space Webinars". Follow our Sun Life Philippines social media pages to access this content," she invites. Speaking of relevant content, Sun Life's online GoWell Community is known to carry a wealth of health and fitness content. When asked to elaborate on this initiative, Gonzalez-Chong pipes up enthusiastically, "Sun Life's GoWell community aims to gather like-minded Filipinos who desire to become fit and well. Apart from the health and fitness content published in gowell.com.ph, we also offer community webinars tackling holistic wellness. GoWell members also get to earn points that they can redeem as rewards for participating in any of our activities. There are two membership tiers – Teal and Gold. The Teal membership is open to everyone and the Gold membership is exclusive to Sun Life insured clients of our SUN Fit and Well, Sun ICU Protect, SUN Cancer Care, and SUN Senior Care plans. Gold members enjoy different perks and rewards and access to GoWell Studio which houses fitness and wellness videos. To become a GoWell member, simply go to gowell. com.ph and register!"
It is quite evident that Sun Life is walking the talk when it comes to offering fantastic opportunities for current and future clients to secure not just their finances but equally important, their health. At a time when this is of utmost importance, it is clear that Sun Life is attuned to the needs of its market. It's not a wonder that Sun Life is an industry leader.