Investing in Key Industries: Driving Inclusive Development
By Rhea Vitto Tabora
In its remarkable 104-year history, the National Development Company (NDC) has been a trailblazer in investing in vital industries that fuel the nation's economic engine while nurturing inclusive growth.
With a vision firmly grounded in sustainable progress, NDC has consistently championed innovative projects across a broad spectrum of sectors. This strategic approach has led to the creation of over 58,000 jobs for Filipinos, thanks to recent investments and initiatives.
From renewable energy to MICE (meetings, incentives, conferences, and exhibitions), infrastructure, industrial estate development, innovation, trading, mining, and food and agriculture, NDC's investment strategy seeks to unlock unprecedented opportunities and drive comprehensive growth across the Philippines.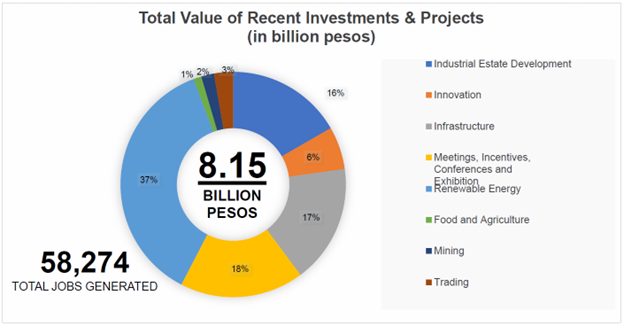 Renewable Energy: Powering Sustainable Progress
The global shift towards a low-carbon future underlines the importance of renewable energy in reaching sustainable development goals.
Recognizing the immense potential of renewable energy, NDC has made strategic investments in this sector. These include San Carlos Bioenergy, Inc., the country's first bioethanol plant with 42 million liters annual production capacity; Rizal Hydropower Plant, which operates a 1 MW mini-hydro powerplant in the Pampanga River Irrigation System; and Euphorbia Project, an alternative source of energy fuel.
NDC's support for bioethanol, hydro, and plant-based energy projects not only reduces carbon emissions but also creates job opportunities while ensuring energy security for the Philippines.
MICE: Shaping the Future of Business Tourism
The power of the Meetings, Incentives, Conferences, and Exhibitions (MICE) industry is undeniable. Seeing this potential, NDC has invested in state-of-the-art MICE facilities and event spaces.
The Manila Exhibition Center, Inc., owner of the World Trade Center (WTC), is an affiliate of NDC. WTC draws international and domestic gatherings, bolstering tourism and hospitality industries and generating employment in event management, hospitality, and supporting services.
This move fortifies the Philippines' reputation as a premier destination for world-class conferences and exhibitions, attracting foreign direct investments and driving economic growth.
Infrastructure: Building Foundations for Progress
Robust infrastructure lays the groundwork for economic advancement. NDC has strategically invested in companies that are involved in infrastructure projects ranging from transportation networks to modernized ports and airports. Some of these companies are Philippine National Construction Corporation, Philippine National Lines, Davao Integrated Port and Stevedoring Corp., and National Shipping Corporation of the Philippines.
By supporting companies engaged in infrastructure projects, NDC stimulates economic activities and job creation across various sectors. These initiatives also bridge the gap between urban and rural areas, promoting regional growth and fostering inclusivity.
Industrial Estate Development: Driving Industrialization and Employment
Through investments in industrial estate development, NDC provides an optimal environment for businesses to thrive. The creation of modern industrial zones attracts investors and fosters innovation, leading to job creation and technological advancements.
There are several projects underway which include Leyte Industrial Development Estate, a special economic zone spanning 425 hectares, and housing major industries such as the Philippine Associated Smelting & Refining Corporation and the Philippine Phosphate Fertilizer Corporation. Additionally, there is Science Park of the Philippines, Inc. which has over 800 hectares of land for private industrial estate development, and NDC Industrial Estate, which is being developed into a Special Economic Zone to be registered with the Philippine Economic Zone Authority.
These industrial estates serve as incubators for small and medium-sized enterprises (SMEs) and multinational corporations alike, nurturing entrepreneurship and enhancing the nation's competitive edge in the global market.
Trading and Mining: Expanding Economic Horizons
NDC's involvement in trading and mining ventures broadens the country's economic landscape. Through strategic partnerships and ventures, NDC explores new markets and valuable resources. Trading investments facilitate the import and export of goods, while mining projects harness the nation's natural resources responsibly.
These industries contribute to job creation in logistics, manufacturing, and resource extraction while ensuring the sustainable utilization of the country's resources.
NDC's investments in these sectors include Philippine International Trading Corporation, Davao Food Terminal Complex, an agricultural trading center that supports small and medium-scale farmers in Davao City and Davao del Sur; and Philippine Mining Development Corporation, the government's mining arm responsible for conducting exploratory mining activities and developing the mining industry in the Philippines.
Food and Agriculture: Nourishing the Nation
In keeping with NDC's commitment to sustainable development, investments in food and agriculture play a crucial role in ensuring food security and supporting rural livelihoods. By supporting agri-businesses, promoting sustainable farming practices, and enhancing value chains, NDC aims to uplift rural communities, enhance productivity, and increase the income of smallholder farmers.
NDC's projects and investments in food and agriculture include agricultural plantations; rice for domestic consumption; warehouses for rice, copra, and tobacco; pineapple production; revival of the pre-war food cannery; post-harvest technology and facilities; and adoption of mechanized agricultural production.
These investments contribute to poverty reduction, food security, and the development of resilient and sustainable agricultural systems.
In summary, the NDC's strategic investments across key industries continue to contribute significantly to the Philippines' economic growth and inclusivity. This diversified approach ensures a more resilient and sustainable economy, creating a brighter and more prosperous future for Filipinos.
Photo Credit: San Carlos BioPower. (2023, March 6). In Wikipedia.