MoneySense Q1 2021 Investing Issue Features Ron Acoba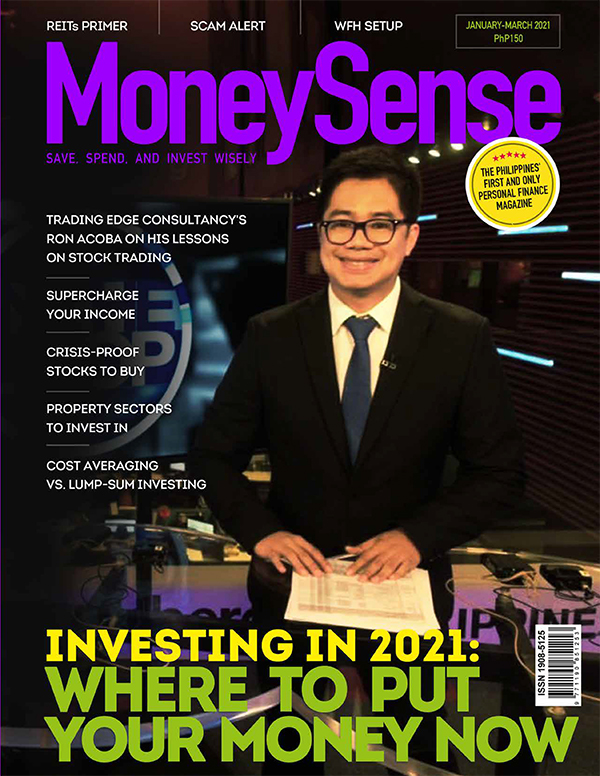 Ron Acoba is not your typical stock market guru. He doesn't have books to sell, a YouTube channel to promote, a newspaper column to post his opinions on, or a Facebook Group with tens of thousands of followers.
[Buy the digital copy today here]
What he has is a verifiable track record and a lot of credibility. He is the go-to subject matter expert frequently interviewed on Bloomberg TV Philippines.
He is well-versed in macroeconomics, finance, and investment banking. His investment newsletter allows subscribers to see and copy his actual trades. And the company he founded, Trading Edge Consultancy, where he serves as EVP-Chief Investment Strategist, is a third party research provider for banks and brokerage firms in the Philippines.
Not only is he a holder of the Chartered Market Technician (CMT) designation from the CMT Association (formerly known as the Market Technicians Association or MTA) in New York but he also holds a Certified Financial Technician (CFTe) and a Master of Financial Technical Analysis (MFTA) designation—the only one in the Philippines—from the International Federation of Technical Analysts (IFTA).
As a technician and trader, Ron doesn't adhere to what many personal finance gurus teach about waiting for decades to grow your investment portfolio. "I actually don't have any problems with investing for the future or investing so that 20 years down the road, you'd have something to look forward to and enjoy," he clarifies. "However, my problem with that is we have so many key milestones in our lives that are capital-intensive that don't necessarily have to wait for 20 or 30 years."
Ron says that getting married, for instance, requires an ample amount of money. These days, without the pandemic, a million is already a modest amount. "And then you'd have to look for a place to stay—either you buy your own condo or your own house—and both are not cheap. And then what about your children and their education?" he says. "All of these cost a few million bucks."
Because working in a corporate world makes it very difficult to achieve these things in the time that you would want to, he explains, "investments help in fast tracking the things that you want to achieve soon, not only in the time frame of 20 or 30 years."
Editorial:
The World is Your Oyster
If there is one major lesson the pandemic has taught us, it is that the world is indeed flat. The globalization train has been running for decades, with global trade and business outsourcing generating cost savings, wider markets, and bigger profits for corporations.
As consumers, we have benefited from access to cheaper, better goods and services from all over the world. But as investors, for the longest time, we were stuck with local, often more expensive, financial products and services. And as producers, it was costly and complicated to sell outside our domestic market. Not anymore.
Global market. Thanks to the Internet, we have access to global markets, whether we produce goods, services, or information. With e-commerce platforms, we can sell anywhere in the world. With online freelance marketplaces, we can sell our services to international clients. With social media and content management systems, we can earn from the content we create.
Even the job market is now international. As more and more companies accept remote work—driven by lockdowns due to the pandemic—it has become easier to be employed by a company from the other side of the world.
This is nothing new. What is new is the rapid acceleration of this trend towards online and digital and the growing acceptance of this world of work. It is time that you start having a more global outlook. You can earn a living at home—whether as an employee, entrepreneur, or freelancer—with the world as your marketplace.
Global insurance. Insurance premiums in the Philippines are notoriously expensive, no thanks to taxes and high commissions. Despite the growing awareness for financial literacy, the industry's push towards expensive insurance products has not helped expand coverage in our population, which is a pathetic 1.69% insurance penetration.
Promoting investment-linked insurance products helps position insurance from something boring or even taboo to something more exciting and aspirational. But they don't provide adequate coverage at a reasonable price. If you think of them as investment products, then they're fine. But as protection products, you have to cough up a lot if you really want to be sufficiently covered.
While global providers are not allowed to sell in the Philippines, there's no stopping you from buying from them.
You can easily get a policy online and fly to their Singapore or Hong Kong office to sign documents. The cost of travel is easily so much lower than the difference in premiums for the same insurance coverage. And you only have to do this once.
I let my yearly renewable term insurance with a local provider lapse after getting a 20-year fixed-premium term insurance for six times the coverage from an international provider many times bigger and more stable.
I'm not saying you should ditch your local insurance agents. Go buy your VULs from them as part of your investment portfolio (consider the insurance protection portion as icing, not the cake). But if you want to get the coverage you really need (your cake) at a fraction of the cost, go global.
Global investments. As a dutiful editor-in-chief of this personal finance magazine, I have touted the tenets of safe and sound investing—stay in the market, do cost averaging, stick to index funds, think long term. And I am not dropping them.
At your core portfolio, you really should keep to the fundamentals. But it's also time you should start thinking global. There is more to investing than the Philippine stock exchange. Yes, continue to invest in local equities through funds and individual stocks.
But to be truly diversified, invest also in other markets worldwide. There is so much more out there than what we have (easily one of smallest stock exchanges in the world). Trade or invest in other assets like ETFs, commodities, forex, and even cryptocurrencies.
As always, invest for the long run and always manage your risks. There are global investment platforms that let you start off with a very reasonable capital to start with. You can trade on your own, or automatically copy of the trades of successful, vetted traders in their platforms. It's amazing how much you can earn from doing this and diversifying your portfolio this way, compared to just sticking to local equities.
Open your mind to the possibilities and opportunities that the world has to offer. The world really is your oyster.
On a final note, given that we're living in a digital world, we don't have to be constrained with the limitations of a print publication. Starting with this issue, MoneySense will be purely in a digital magazine format, with occasional limited copy print editions. We can reach more readers worldwide and you, our readers can have the option of using any device to consume each issue. One thing that will never change: our practical and useful content that will help Filipinos spend, save, and invest their money.

Editor-in-Chief
hbulos@moneysense.com.ph