Jose Rizal University confers Honorary Doctorate to McDonald's PHChairman
George Yang said, "I am tremendously honored to receive this recognition from an admirable institution such as JRU. In the twilight of one's career, receiving such a distinction only re-energizes my drive and passion to learn and to continue making a difference in other people's lives."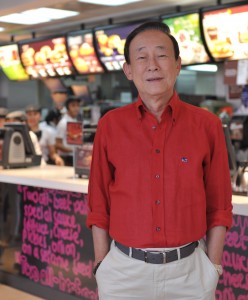 Jose Rizal University (JRU) awards the Degree of Doctor of Humanities, HonorisCausa, to McDonald's Philippines Chairman & Founder George T. Yang for providing stable jobs for thousands of young Filipinos, raising the standard in employee training and development in the local quick service restaurant industry, and touching the lives of more than 3.8 million children through the Ronald McDonald House Charities (RMHC).
Strengthened by shared values in education, McDonald's Philippines and JRU sealed a partnership to support JRU students who wish to have their practicum at the McDonald's Office. Through the special student program of JRU, McDonald's Philippines will be able to share experience, knowledge and resources to train students and give them that added advantage of having industry-level know-how, skills and exposure.  The program then makes JRU students more competitive when looking for jobs in the future.
McDonald's Philippines President and CEO Kenneth Yang said, "Under the leadership of George Yang, McDonald's has been steadfast in its commitment in providing our employees with holistic training and development programs. We are excited to open our doors to dynamic students of JRU to give them an opportunity to learn through our expertly organized training modules to complete their practicum requirements."
"We are pleased to confer the Degree of Doctor of Humanities, HonorisCausa, to Mr. George Yang. This is in recognition of Mr. Yang's outstanding and exceptional achievements in the field of business, his support for the industry-academe partnership through the education of young children and on-the-job training of college students, and his inspiration to music talents," shares Ms. Barbara Wong – Fernandez, JRU Vice President for Academic Affairs.
Aside from his achievements in the field of business, George Yang is also recognized for promoting classical music among the Filipino youth through the Klassikal Music Foundation (KMF).KMF has supported 44 scholars since its inception in 2007, and currently has 22 scholars under the program.
Jose Rizal University is one of the top universities in the Philippines and is among the leaders in the field of academic research.The Doctorate Conferment Ceremony was held on September 25 at the Jose Rizal University Auditorium with the attendance of CHED representatives headed by Commissioner Rupert Sangalang, JRU Board of Trustees and Faculty as well as McDonald's Management Team and George Yang's family and friends.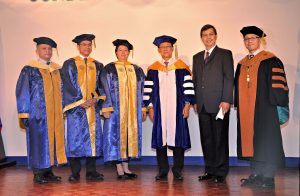 McDonald's Chairman Mr. George T. Yang Conferment of the Degree of Doctor of Humanities, Honoris Causa. In photo: (l-r) Mr. Carlos F. Bate; Board of Trustee, Jose Rizal University, Mr. Cesar Luis F. Bate; Board of Trustee, Jose Rizal University, Ms. Ma. Paz K. Fabella; Board of Trustee, Jose Rizal University, Mr. George T. Yang; Chairman, McDonald, Philippines, Dr. Ruperto Sangalang; Commissioner, Commission on Higher Education and Dr. Vicente K. Fabella; President, Jose Rizal University.
The company has over 32,000 employees nationwide including restaurant staff and management, operations group, supply chain management, site development experts, and marketing and human capital groups.
McDonald's has been recognized by the Department of Labor and Employment-NCR, Mandaluyong City, Public Employment Service Office (PESO) Muntinlupa, Taguig, Paranaque, Las Pinas, Quezon City, Makati, and Pasay and other local government units as contributor to their employment goals.
For more information, please visit www.mcdonalds.com.ph.
José Rizal University (JRU) prides itself for being among the most inexpensive private universities in the country that offers quality education. It is a non-stock, non-profit, non-sectarian private educational institution founded in 1919 by Dr. Vicente Fabella based on the ideal of good education available to all.
For more information, please visit www.jru.edu.