Pilipinas Shell launches the 10 most exciting drives in the country powered by Shell V-Power Nitro+
"We've searched far and wide across the country for the different elements that make up different formulas for an exciting drive" said Anthony Lawrence Yam, Pilipinas Shell Vice President for Retail.  "When TEN airs on September 26 on AXN, Filipinos will get to see how Shell V-Power Nitro+, our fast acting range of performance fuels, gives Filipino motorists a unique and worthwhile experience on the road wherever they are in the country."
In an archipelago with over seven thousand islands, the Philippines is abundant with lush land areas and vast waters that offer diverse scenery, perfect for extraordinary adventures. Divided into three island groups, each region boasts its dynamic cultures influenced by a rich historical past and its surprising destinations waiting to be rediscovered. The country definitely has a lot to offer for Filipino motorists searching for an exciting drive.
Whether it's a long road trip around Luzon, a solo ride going to the beaches of Visayas, or a thrilling off-road challenge in Mindanao, Pilipinas Shell calls on every Filipino motorist to discover his own formula for an exciting drive. Shell, through its premium performance fuels, Shell V-Power Nitro+, is on a mission to uncover the different turns, terrains, and tracks that characterize the interesting sights and adventures only the Philippines can offer.
To bring exciting drives to life, Pilipinas Shell partnered with Television Culture Shock Productions to create the second season of TEN, a travel show hosted by Filipino-Canadian host Jason Godfrey, which premiered on AXN in 2013. TEN Season 2 showcases ten exciting destinations in the country, and at the same time demonstrates performance that excites through the ten most exciting drives fueled by Shell V-Power Nitro+ Performance Fuels.
"As we go around some of the country's most beautiful and unique destinations, we take in the breathtaking sights and exceptional drives that our customers can experience, no matter where they are, what vehicle they decide to drive, and whom they choose to experience the journey with. Through this partnership, we show our motorists the different formulas that make up exciting drives that one can discover in the Philippines," said Yam.
Through this partnership, guests, ranging from automotive experts to Shell employees to Filipino motorists, experience exciting drives, powered by Shell V-Power Nitro+ fuels, around the country.
Beeboy Bargas, a long-time off-road enthusiast, took on Mt. Isarog with a vehicle powered by Shell V-Power Nitro+ Diesel, designed to restore and maintain engine power through active engine cleaning. Bargas drove to an uphill rough terrain by the foot of the mountain and tackled tricky routes, hills, and ravines at the Deer Farm. Braving through the rough tracks using a high-performing vehicle fueled by Shell's best ever premium performance diesel, Bargas was able to discover hidden gems with an exceptional view of Mt. Isarog.
Toning down extreme adventures, motorbike expert Aris Ilagan went back to nostalgic beginnings with a tranquil ride to his father's hometown, Batangas. Ilagan took his 1,170cc motorbike through the countryside's lush landscapes and diverse marine life. His engine was fueled by Shell V-Power Nitro+ Gasoline, designed to help engines perform to its potential. Accompanied by Godfrey, he escaped the bustling city for a relaxing dive in Anilao.
Bringing the excitement further to the south of the country is an exciting road trip with Adi Zarsadias, a travel blogger, who bid goodbye to the corporate life in exchange for adventures around Asia. Together with Jason Godfrey, Zarsadias left the city of Davao and headed to the province's surfing mecca, Dahican Beach. Using an SUV powered by Shell V-Power Nitro+ Diesel, they reached one of the country's surfing havens to meet the Amihan boys – a group of young Filipinos internationally acclaimed for their skills and expertise with skim boarding.
"'TEN' gives our customers a look at how exciting drives come to life when fueled by Shell V-Power Nitro+ Gasoline, Shell V-Power Nitro+ Diesel and Shell V-Power Nitro+ Racing. And because every Filipino motorist deserves game-changing experiences, we urge our customers to join us as we discover the thrilling landscapes of the Philippines and catch the 2nd season of TEN," said Yam.
Beginning September 26, 2014, TEN will air every Friday, 8 PM on AXN. For Filipino motorists not to miss these exhilarating drives, it will also have replays every Saturday at 6 PM and every Sunday at 9 AM.
"The search for the 10 most exciting drives is a way to rediscover diverse cultures and exceptional environments that characterize the unique landscapes and geography that the Philippines possesses. Shell V-Power Nitro+ fuels can power any vehicle to help bring engines to their maximum performance potential, making visiting remarkable places in the country even more exhilarating," said Yam.
With the evolution of car engines today, Shell provides Filipino motorists with the latest technological innovation with the Shell V-Power Nitro+ fuels, developed to meet the evolving needs of customers and their cars. Shell V-Power Nitro+  is a product of Shell which is working to meet increasing energy demand and supply challenges by delivering smarter products and cleaner energy, smarter infrastructure, promoting smarter use, and by developing new energy sources while addressing the impact on the environment, through cleaner burning-natural gas and advanced fuels and lubricants technology.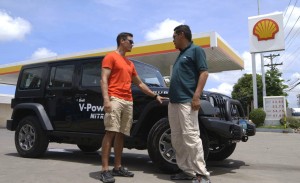 TEN host Jason Godfrey and long-time off-road enthusiast Beeboy Bargas fuel up for an exciting drive in Bicol.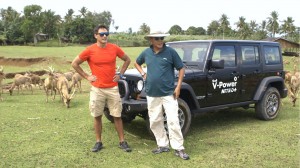 TEN host Jason Godfrey and long-time off-road enthusiast Beeboy Bargas at the   Deer Farm in Bicol.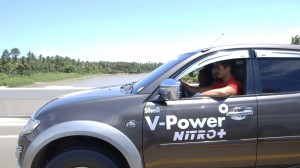 TEN host Jason Godfrey and travel blogger Adi Zarsadias drive to Dahican Beach, Davao.