Jabra pushes for clearer, effective, more innovative mobile workforce with three new products
Introduces Jabra BIZ™ 2300, Jabra PRO™ 900 and Jara MOTION™ Office in the Philippines
"At the forefront of  next generation communications, Jabra's new solutions for the connected enterprise gives employees the tools needed to hear more, do more and be more at their desk, in the office and around town," said Ben Samman, Managing Director of Jabra ASEAN.
Jabra announces to the Philippine market three new products that will further shape a clearer, more effective and innovative mobile workforce that takes communication into even higher levels.
Jabra introduces three of its latest headset technologies that will perfectly suit a mobile worker's specific needs:
The Jabra BIZ2300, a versatile headset made from space age composite materials that delivers world class audio with a best-in-class noise cancellation delivering up to 50% better than the competition (as measured by DELTA SenseLab).  Jabra's BIZ2300 is a headset that brings communication to the forefront and allows both contact center agents and UC users to focus on what's important—the customer—not the technology.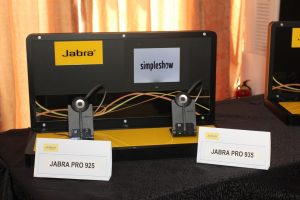 The Pro900 Series, which is a new affordable wireless headset that delivers maximum performance and industry-first dual connectivity over 2.4Ghz.  Simple and intuitive, you can connect the Jabra Pro900 series to your smartphone and your computer or desk phone and continue your calls both in and out of the office up to 100 meters from the base with up to 12 hours of talk time on battery.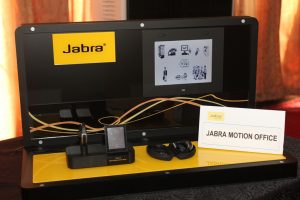 The Jabra Motion Office, which is designed for all-day wearing comfort and gives the users the flexibility to connect to three devices at the same time and be used in different locations: the office, the car, the home office and from any desk in the office for hot-desking environments. The Jabra Motion Office also comes with an on-the-go kit for Road Warriors while the touch screen charging base makes it simple to connect and use.
Samman also added that high quality headsets allow firms to fulfill the promise of new Unified Communications (UC) systems.  "Today our headsets give knowledge workers the ability to move away from their desks and phones and allow them to focus on the tasks that matter anywhere they find themselves – at their desk, in the office, at home or in the street. Our headsets give organizations the tools they need to realize and maximize on their UC investments," he said.
About Jabra
Jabra is the brand of GN Netcom, a subsidiary of GN Store Nord A/S (GN) – listed on NASDAQ OMX. Jabra employs approximately 900 people worldwide and in 2012 produced an annual revenue which amounted to DKK 2,355 million. Jabra is a world leader in the development, manufacturing, and marketing of a broad range of hands-free communications solutions. With a reputation for innovation, reliability, and ease of use that goes back more than two decades, Jabra's consumer and business divisions produce corded and wireless headsets, plus mobile and in-office speakerphones that empower individuals and businesses through increased freedom of movement, comfort, and functionality.