Focus on financial stability, integrity and credibility for 2016
"Back to Basics mentality, integrity and credibility is in our company's lifeblood — Ramon F. Garcia"
For Founder and Managing Partner Ramon F. Garcia of Ramon F. Garcia & Co., CPAs (RFG & Co.), businesses should still continue to focus more on being financially steady and credible to continue to earn the trust of clients and customers.
He said for all their clients, RFG & Co. provides practical solutions while working hand-in-hand with clients to get the desired results when it comes to financial management. "Our experience shows that we've achieved more than 95% good results. Our clients are comfortable with us because the moment we say we will do it, they trust us that we can do it."
Just recently, RFG & Co. was able to help a major client save several millions of pesos in terms of registration fees, licenses and tax payments, but all within the confines of the law. "They just didn't know how to do it and are not familiar with what to do without breaking the law, and we were able to help them. Since then, they entrusted to us even bigger concerns for their business' financial strength without losing credibility, and they were very happy."
Another client in the food industry was also satisfied after RFG & Co. was able to help them restructure and strengthen their internal accounting control systems, which they started doing 15 years ago. Client remains content and happy and they see RFG & Co. as a reliable business partner. He said they only charge on major consultations, but charge minimally for friends or start-up businesses so they could help these businesses stand on their own.
Of course, there were proposals for RFG & Co. to help businesses circumvent the law, particularly on tax issues. He said that even if he's paid enough for his retirement, he won't do it. Garcia emphasized that he'd focused on building credibility for the firm for the past 35 years, and he won't ever destroy his company's name and integrity just for the money.
He cited the case of an Auditing firm involved in Enron, a US-based energy company. After the discovery of the fiasco, the more than half a century year old firm collapsed in less than 6 months. "I've always said that intelligence and technical skills will help you succeed, but it is integrity and credibility that will sustain you. Once integrity is not there, you lose credibility and will cause your downfall. That is what businesses should learn this year and beyond."
RFG & Co. also became dynamic in order to survive, particularly in this world of fast-paced technology. He was proud to note that RFG & Co. was one of the pioneers to use information technology in their systems. But still, he knows that technology is meant to supplement, not take over the minds of his people. "We embraced technology for further productivity, but it is still the human brain that processes everything; you have to maintain solid knowledge on the basics of accounting and auditing, and that's important."
As for his company, which will celebrate its 35th year this year, Garcia is proud of its organic growth. "I started when I was just 26 years old. I helped grow this company through hard work, and we didn't step on anyone's toes. We nurtured our people by providing them with professional growth to help them grow from within because we wanted to protect and maintain our culture, our 'values system.' It is important yet very hard to maintain, and I'm happy to say that it was a slow but steady growth over the years."
And it helped that RFG & Co. is a proud and valuable partner of Crowe Horwath International, one of Top 10 biggest accounting networks worldwide, which adds to its status as a credible, reliable and reputable accountancy and consultancy firm in the Philippines. "Just being affiliated with Crowe Horwath already lends so much to our credibility," he said.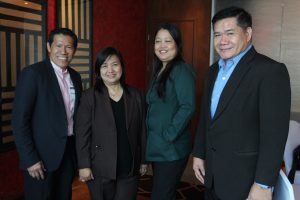 FACT SHEET
Ramon F. Garcia and Co., CPAs (RFG & Co.) is a general professional partnership that provides accounting and advisory services with regard to audit, tax, advisory, risk and outsource.
Founded in 1981 by founder and managing partner Ramon F. Garcia, CPA
Partners: Ramon F. Garcia( Managing Partner), Josefino F. Garcia(Founding Partner), Nhorie Paguio, Ting Samonte
Currently services big-ticket clients in many industries, particularly in manufacturing, food, import/export, and other general businesses
It is a member firm of Crowe Horwath International, one of the top 10 accounting firms worldwide, whose network is composed of 205 independent accounting and advisory services firms in 125 countries globally.
The firm grew to become one of the top-notch accounting firms in the country by earning the trust and confidence of its clients through passionate, excellent and superb professional servicing
Its founder infused an innovative and creative spirit to its employees, all Bible-based, to assure personal and professional growth that leads to impeccable service to clients
It has a general staff totalling more than 120 people, composed mostly of accountants and
Current headquarters located at the 30th floor, Burgundy Corporate Tower, 252 Senator Gil Puyat Avenue, Makati City Philippines, 1200
Contact Number: 884-2778 to 85
Website: crowehorwath.ph
FB Page: Ramon F. Garcia & Co., CPAs