Business Maverick, Champion Entrepreneur
VCargo CEO Paulo Tibig's unconventional, unpredictable, and unwavering ride to the top
By Excel V. Dyquiangco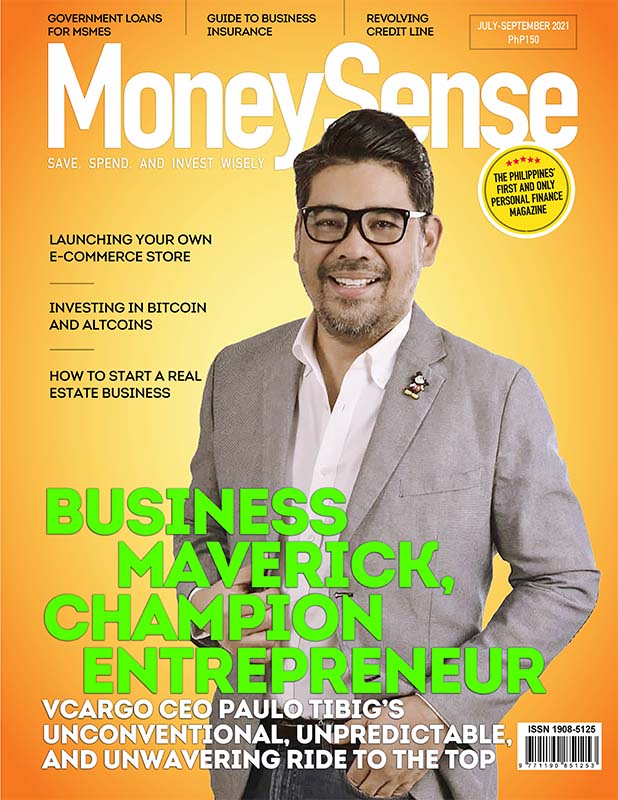 One would expect a successful CEO of a thriving logistics company perched inside a swanky condominium or exclusive gated community in the central business district. But Paolo Tibig often does the unexpected.
Since the pandemic started, he has been living with his family in Balanga, Bataan. If there is one thing that the pandemic has taught him, it is to live life simply. So, he moved out of Metro Manila and decided to settle in his hometown where, he stated, all amenities that he needed were there in the first place.
"I really see the value of money now that I am in my 40s and enjoying the comforts of life," he says. "I live the simplest of life and the basics of necessities. Even if I can now afford some degree of comfort in life, for me, integrity, character, and good values are the things that I live for—a principled life."
Paulo talks about values, principles, and impact a lot. It's not surprising as the entrepreneur-philosopher has forged a successful second career as an author, speaker, and live streamer. What's surprising is that he almost became a priest.
From Vintel to VCargo
In studying the business and the competition, one of Paulo's key strategies was looking into how they can get into an industry with established players, how they can penetrate certain markets, and how they can differentiate themselves. "In the second year of our business, we embarked on a plan because our business was growing, and we had to be ready. We had the vision to grow early on. We invested time, resources, and money," Paulo shares.
"We combined what we know and the needs of the people," he adds. "We pioneered bundling services, merchandising materials, and distribution. We approached companies with certain and similar requirements and tapped several multinational companies. We upped our antennas. We scanned the environment, and we were able to spot what the needs were. We developed different divisions, services, and solutions, and we were able to come up with pioneering solutions anchored on SME logistics. We developed mobile cargo acceptance in certain areas with the concept of 'we will be at your Doorsteps'."
As a maverick during those times, their company eventually thrived to become one of the top freight forwarders in the country. Ten years later, they rebranded Vintel Logistics as VCargo, which is now one of the country's leading logistics and cargo firms. They take pride in being a company that is large enough to have the efficiency of a global shipping organization while remaining small enough to respond quickly to clients' changing demands.