Belmont Hotel will give you a beyond normal experience. It's home away from home!
Belmont Hotel has a view like no other. In front of the airport, you'll get a chance to see airplanes taking off that will inspire you to soar high, aim to fulfill your dreams and reach new heights in your life. The facilities are brand new and clean, and what separates Belmont from the rest is the hospitality of their staff. Their smiles are contagious that will brighten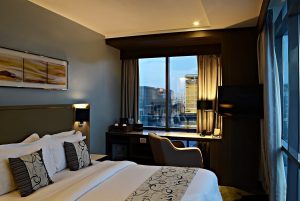 your day.
Belmont has a hundred and sixteen Superior rooms, 276 Deluxe, 36 Corner Deluxe and 52 Tranquility rooms. Each room has coffee and tea making facilities, the pool is at the rooftop with 360-degree panoramic outdoor view that will give you a relaxing experience. It also has Kiddie Pool, Outdoor Jacuzzi, Sauna and Steam room with fully equipped fitness center, and after a productive day, should you wish to be pampered, you don't need to leave and look for a spa outside the premises of the hotel because they are offering an in-room massage for your convenience. It's just a phone call away to the reception!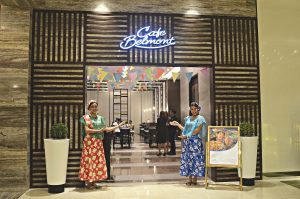 At the lobby near the reception, you will find Café Belmont – offering sumptuous dishes that will satisfy your palate. During the weekend, on a Friday and Saturday, you'll get the chance to taste and experience their "Themed Buffet" which changes every 2 months for only 900++.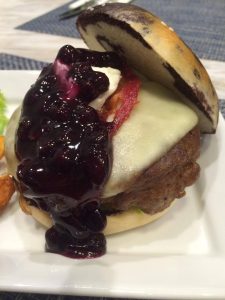 If you love Burgers you will surely love their Blueberry Burger, a one of a kind recipe, looks weird but taste so good. It's a good match for their Belmont House-blend Iced Tea.
This is not your ordinary iced tea, it's a unique recipe with a twist of guava – it's so refreshing that will make you ask for more.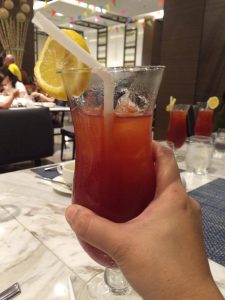 If you're leaving at the middle of the night, there's no need to worry because Belmont is offering a 24/7 free shuttle service going to the airport.
Overall, Belmont Hotel will give you a beyond normal experience. It's home away from home!
FIRST YEAR ANNIVERSARY
Here's something to look forward to. In celebration of Belmont Hotel Manila's first year, you will get a chance to win a FREE Night Stay in one of their Superior room on Oct 1, 2016 by simply liking the Hotel's Facebook page, share the raffle photo as status message, tag 5 of your FB friends and put the hashtag #LeisurescapeAtBelmont
More shares, more chances of winning!
For more information. log on to: www.belmonthotelmanila.com or like their Facebook page at  www.facebook.com/BelmontHotelsAndResorts