RRJ Encourages Everyone to be REAL with its Strike Series Collection
Frank & Dean: Ocean's Telephone Company – Following the introduction of the RRJ Strike Series line that brings in the new look and reinforced philosophy of the brand as the authentic urban apparel, RRJ now introduces the second drop of the Strike Series collection that continues to encourage individuals to be true to themselves, to be real.
"We've always been cognizant of what our market needs. From RRJ's beginnings of punk and underground to hip-hop- inspired fashion, we've always evolved with the consumers. We are now repositioning the brand to cater to all walks of life by offering the wearable fashion of streetwear with the new Strike Series collection," said Jonathan Cuyegkeng, RRJ Brand Manager.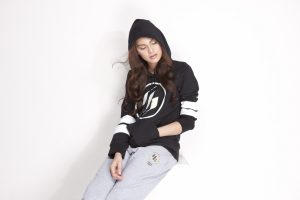 The Strike Series Collection features a minimalist black and white approach accented by unique lines, allowing each wearer more freedom for styling and self-expression. From its jogger jeans to its long tees, RRJ's Strike Series gives its wearers the chance to be more creative and unique in their choice of clothing as they go about life in the city.
Inspired by the "Strike Anywhere" mantra, RRJ has identified three types of modern city-dwellers who do what they want anytime and anywhere they please: Urban Artists, who love music and dancing and live by a playlist for each facet of their lives; Urban Writers, who are more visually-inclined, from tattoo to street artists, who dare express themselves regardless of canvas; and the Urban Riders, the likes of bikers, skateboarders, and longboarders who like to live life on the edge. From the brand's core campaign and philosophy imbibing the lifestyle of Urban Artists, Urban Writers, and Urban Riders who "Strike Anywhere", Strike Series is all about the real life moments of these people.
"The urban lifestyle calls for more creative outlets – be it through music, the arts, board sports and the like – and comfortable, wearable clothing is a significant channel of self-expression. Through the Strike Series, we urge people to keep it simple, keep it real. Strike Anywhere and take life by the horns," enthused Cuyegkeng.
With the introduction of the second drop of the Strike Series Collection, RRJ brings together a series of different stories from unique individuals through a group of 12 bloggers of different personalities and inclinations who represent the urban lifestyle. RRJ challenges these urbanites to interpret their story of the week though the Strike Series merchandise. With an "Outfit of the Week" for four consecutive weeks, these bloggers are given the freedom to narrate their life stories through styling the clothes the way they want to and compose a photo that commemorate each story.
This coming holiday, RRJ completes its Strike Series collection with more designs and lines that will give each individual more to style with. The collection will continue to pave the way for this new wave of fashion to its local market by providing a series of clothes that will fit perfectly with anyone.
RRJ Strike Series collection is available in all RRJ boutiques and all leading department stores across the Philippines.
For more information, visit //www.facebook.com/RRJFanPage