Uttar Pradesh organizes first international trade show in race to $1T economy
By Monette Iturralde-Hamlin
UTTAR PRADESH, India — The government of Uttar Pradesh (UP), a state in northern India, recently organized the first edition of the UP International Trade Show (UPITS) last September 20 to 25 at the India Expo Centre in Greater Noida. As India's third largest economy contributing more than 8% to the country's GDP, the province of Uttar Pradesh is determined to create an inclusive and sustainable balanced development and achieve a trillion-dollar economy by 2027.
UPITS is the brainchild of the Hon. Chief Minister of Uttar Pradesh Shri Yogi Adityanath who said the local government has always been campaigning for economic prosperity. He added that UP ranks second in terms of ease of doing business.
"I hope the UP International Trade Show, which is co-organized by the Government of Uttar Pradesh and the world-famous India Exposition Mart Ltd., will provide a great business platform to all levels of enterprises in Uttar Pradesh and help them prosper business-wise while also contributing to the state's goal of achieving a US$1-trillion economy in upcoming years," he said.
The trade show opened with a formal inauguration by the Hon. President of India Droupadi Murmu who lauded Chief Minister Sh. Yogi Adityanath and his entire team for organizing such a grand trade exhibition. Recognizing the exponential growth of UP's GDP that has helped make India the 5th biggest economy in the world, she expressed the hope that UP will help the country become a $5-trillion economy.
Lending their support to UPITS were the Ministry of Commerce & Industry; Ministry of External Affairs; Ministry of Textiles; Ministry of Micro, Small and Medium Enterprises; and the Department for Promotion of Industry and International Trade.
The show is the first-of-its-kind initiative by any state government in India. Designed to showcase the exemplary development, rich cultural heritage, and economic growth across various sectors that Uttar Pradesh has achieved in recent years, UPITS gathered over 2,000 exhibitors from multiple sectors in 15 exhibition halls, and drew more than 500 foreign buyers from over 70 countries.
The trade show spanned various industries from agriculture and allied sectors, defense, electric vehicles, food and beverage, e-commerce, IT and ITES, education, FMCG, healthcare, manufacturing, tourism and hospitality, power and renewable energy, and many more.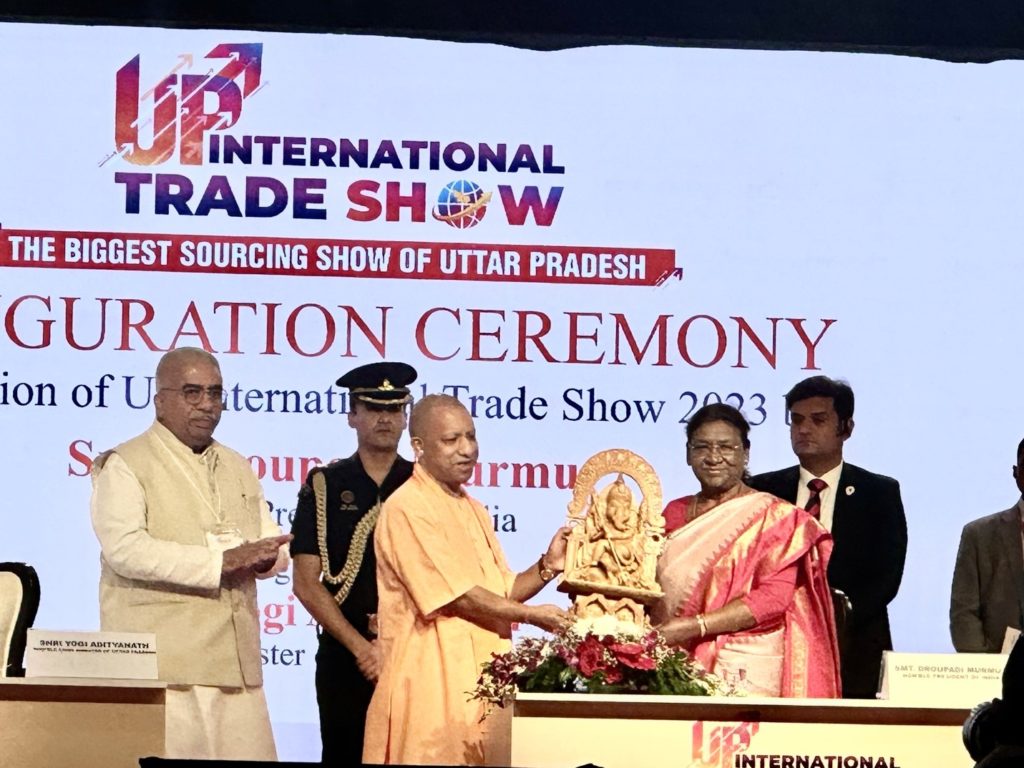 Marrying Traditional and Modern
Holistic Health and Well Being was featured as a promising sector for economic expansion. UPITS showcased Ayuryog, traditional wellness therapies and techniques encompassing Yoga, Ayurveda and Naturopathy. UPITS also gathered the biggest medical and pharmaceutical players to showcase the availability of world-class healthcare services and medical colleges.
One hall was dedicated to UP's One District One Product initiative that aims to encourage indigenous and specialized traditional products and crafts being revived through modernization and promotion. Many of these are GI-tagged (Geographical Indication), certifying the products are specific to a particular region.
These include distinctive carpets from Bhadoi, traditional ceramic products from Bulandshahar, block textile printing from Farrukhabad, jaggery from Ayodhya, banana fiber products from Kushinagar, elaborate Zardozi metal embroidery from Unnao, and ornamental terracotta from Gorakhpur, among others.
UPITS also celebrated excellence by recognizing PADMA Awardees for outstanding contributions to their respective fields, held several knowledge sessions, featured cultural performance to demonstrate its rich culture and performing arts, and showcased traditional cuisine and delicacies.
Creating Opportunities for Start-ups and Women-owned Businesses
The Indian Women in Enterprise Philippines, working with the Federation of Indian Export Organizations (FIEO), organized a 12-person delegation from the Philippines to attend as buyers in the Reverse Buyer Seller Meet. Set up by the Ministry of Commerce, FIEO is India's biggest export promotion body.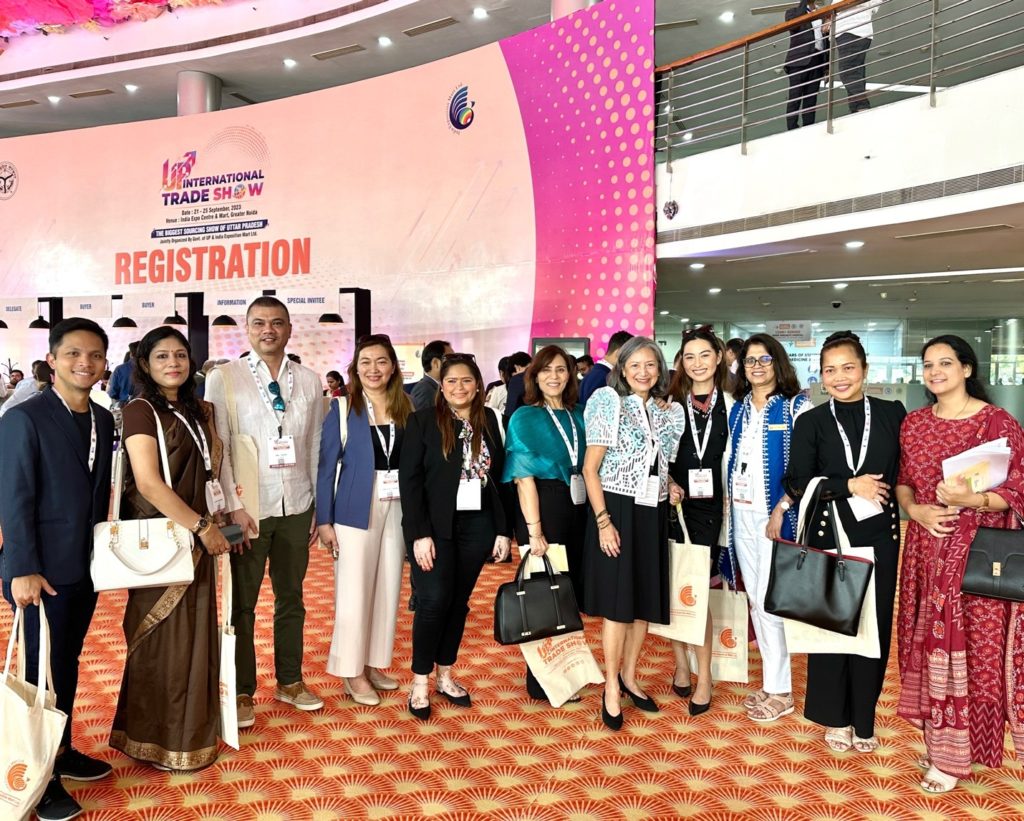 Over 300 women-owned and women-led MSMEs were given a boost at UPITS. Recognizing the importance of women's representation, FIEO Director General and CEO Dr. Ajay Sahai stated that FIEO has inducted five women to its board. While female contribution to India's GDP is just 25% compared to 45-50% in developed countries, he believes the gig economy will allow Indian women who are largely housewives to gain part time employment so they can contribute to UP's $1T goal.
UPITS also provided opportunities for over 400 start-ups. Several MSMEs doing traditional handicraft admitted that it was their first time to join a trade show, and hoped this would be their break into the global market.
With this maiden edition of the UP International Trade Show, Uttar Pradesh has shown the world its intent to play a pivotal role in shaping India's economy and cultural heritage, and its capacity to be the growth engine of India.