BPI Family Savings Bank launches variable-amortization auto and home loan
A new loan product by BPI Family Savings Bank (BFSB) allows borrowers to buy a home or vehicle at relatively low monthly amortizations in the first few years.
In a press briefing on Wednesday, BFSB introduced the Step Up PayPlan, the first variable amortization loan program for retail borrowers in the Philippines. Under the new auto and housing loan, the amount of monthly payments will vary every year, starting with the smallest value on the first year of the loan, with increases on each succeeding year until the loan matures.
"The COVID-19 pandemic has brought a lot of uncertainty into our lives," said Ma. Cristina Go, BFSB president. "We've developed the Step Up PayPlan to provide Filipino families with an innovative way to get started on their dreams which is lighter and more manageable in the immediate term."
Auto loan
The Step Up PayPlan Auto Loan is available for individual borrowers who are purchasing a brand new car. The minimum loan amount is P500,000, payable in 5 years via auto-debit arrangement. The borrower is required to cover at least 15% of the unit cost as down payment to qualify for the Step Up PayPlan. With the Step Up PayPlan, the monthly amortization on the first year can be 10% lower compared with a regular auto loan.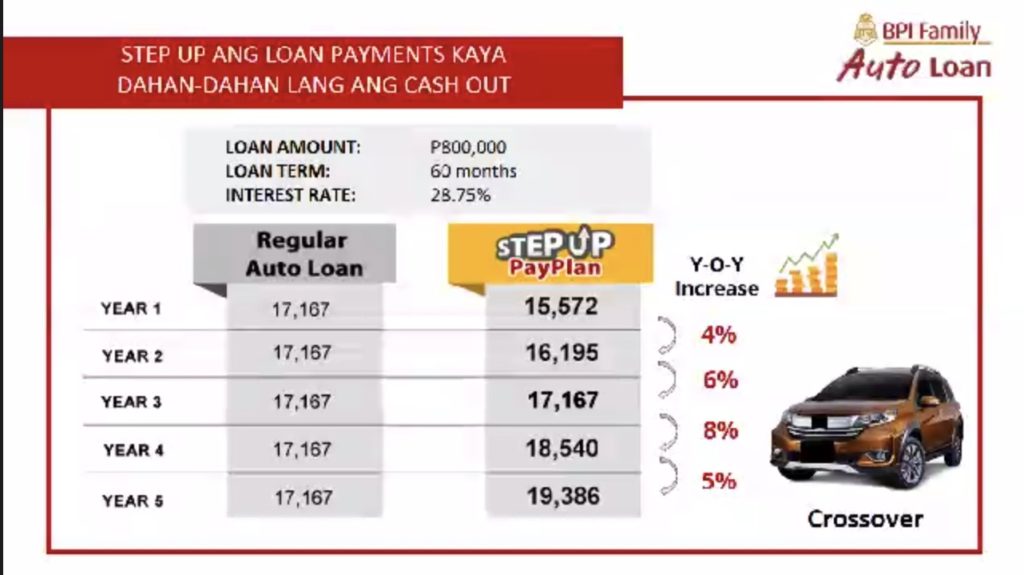 Housing loan
Individual borrowers can also apply for the Step Up PayPlan Housing Loan to help them buy their dream home. The minimum loan amount is P1 million, payable in 10 years or more through convenient auto-debit arrangements. Borrowers can also choose to lock-in their interest rates in 3, 5, or 10-year increments, and must cover at least 10% of the total cost of the property. Borrowers can enjoy a monthly amortization that's 30% lower on year 1 compared with a regular housing loan.
Time value of money
When asked by MoneySense whether the total amount paid over the life of the loan would be higher under the Step Up Payplan than a regular fixed loan, BFSB retail lending group Dennis Fronda said clients would indeed pay "a little bit more".
Also responding to the question, Go said, "If you think of the time value of money, you should consider the fact that we are providing affordability at this time when they need it the most. And affordability means paying lower monthly amortizations at this time because at this time cash flow is tight, and yet they can already afford to get that dream car or that dream home."
Target market
Go noted that the Step Up PayPlan is ideal for young professionals who are planning to be independent or to start their own families. "I know many who have had to delay their plans for marriage until they've been promoted or get paid enough to pay for housing loan amortizations," she said.
In addition to young professionals, the Step Up PayPlan can also benefit early-nesters or those who are in the middle of their careers and have growing families and need to balance their living expenses with achieving long-term goals such as car and home ownership. It can also help more established individuals who would like to purchase additional assets for investment purposes, according to BFSB.
Interested loan applicants may visit any BPI or BFSB branch to discuss the Step-Up PayPlan terms with the bank's expert loan advisors. They can also go to www.bpiloans.com to learn more about Step Up PayPlan or to use BFSB's online customer loan assessment and application tools. BFSB is the country's largest thrift bank and is a wholly-owned subsidiary of the Bank of the Philippine Islands (BPI).