Team Pangilinan, Team USANA Pilipinas Batch 2 Join USANA Philippines Family as Brand Ambassadors
USANA Health Sciences Philippines welcomes 2015 with a strengthened vision and passion to promoting good health and wellness among Filipinos as it announces Team Pangilinan and the second batch of Team USANA Pilipinas as the new additions to the growing family of USANA brand ambassadors.
Team Pangilinan and Team USANA Pilipinas Batch 2 join USANA's existing brand ambassadors, which include former beauty queen and entrepreneur Patti Betita as well as Pinoy athletes Janice Lagman, Japoy Lizardo, L.A. Tenorio, Tin Patrimonio, P.J. Tierro, Gaby dela Merced, Alyssa Valdez, Neil Flores, Bing Amit and Abe Avena from the first batch of Team USANA Pilipinas.
"We at USANA Philippines believe in the power and value of inspiration," explains USANA Philippines General Manager Aurora "Duday" Gaston. "Alongside our products that help Filipinos achieve good health, we deem it is necessary to help them get inspired and because of this, we partner with these generous personalities to help our countrymen become more driven, empowered and inspired."
One Healthy Family
Family-centered wellness goes to the spotlight as Team Pangilinan, comprised of the husband-wife tandem of Anthony Pangilinan and Maricel Laxa Pangilinan, along with their children Ella, Donny, Hannah, Benjamin and Solana, joins USANA Philippines' growing roster of brand ambassadors.
Team Pangilinan is a regular participant of multi-sport activities, including fun runs, triathlons, marathons and even Ironman competitions with the vision to promote a Christ-centered, balanced, and productive lifestyle as a family.
Team Pangilinan shares their enthusiasm to join USANA Philippines in their vision. "For us, this is a new platform to share our lifelong mission to promote family wellness and togetherness through sports," explains Mr. Anthony Pangilinan. "We feel that we need to share the benefits of using USANA products to help more families nationwide to do more and further grow their family healthily," says Ms. Maricel Laxa-Pangilinan.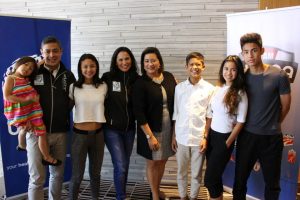 Pinoy Athleticism
Following the success of the first batch of Team USANA Pilipinas, USANA Philippines further expands the family with the second batch of outstanding Pinoy athletes as they promote fitness and wellness among Filipinos.
This year's roster includes Misagh Bahadoran, Chieffy Caligdong and Belay Fernando for Football, Biboy Rivera for Bowling, Sid Isidro for Dragon Boat, Michelle Cojuangco-Barrera for Equestrian, and Peter June Simon for Basketball. These athletes follow in the footsteps of other USANA-partnered
international athletes like boxer Timothy Bradley, tennis stars Samantha Stosur and Sloane Stephens, and Olympic gold medalists Tyler McGill and Meaghan Mikkelson.
"Much like in sports, we believe that good health and fitness is necessary in one's journey towards success," explains Michelle Cojuangco-Barrera. "It is for that reason that we see our partnership with USANA as something more meaningful than just promoting a product, but a profound privilege in inspiring our fellow Filipinos to achieve good health as an important tool for success."
With the new roster of brand ambassadors locked in and geared up for 2015, USANA Philippines General Manager Gaston shares that this is just a start of a bigger year of the company. "As we inspire our fellow countrymen we at USANA are also geared to continue providing more high quality wellness products and will even launch new offerings this year to better arm Filipinos with better access to good health and helpful tools to success," concludes Gaston.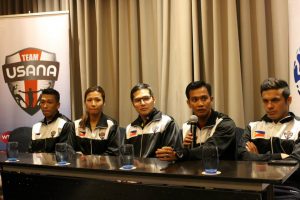 About USANA
Founded in 1992, USANA Health Sciences (NYSE: USNA) is a U.S.-based nutritional company that manufactures high-quality supplements and personal care, energy and weight-management products in its FDA-registered facility in Salt Lake City. USANA's products, tested by NSF International and used by more than 600 professional athletes, are developed by the company's award-winning team of scientists and sold directly to Preferred Customers and Associates in 18 international markets.
USANA is the No. 1 Rated Brand in Direct Sales Based on Customer Satisfaction in ConsumerLab.com's 2013 Survey of Vitamin and Supplement Users. Named one of Outside magazine's "Best Places to Work" for four consecutive years, USANA has received more than 100 state, national and international accolades, including Utah Best of State, Stevie Awards, Australian Business Awards, NutriSearch Editor's Choice and others. Learn more about USANA (www.USANA.com) and the USANA True Health Foundation (www.USANAfoundation.org/), stay current with the official USANA blog (www.whatsupUSANA.com), like us on the USANA Facebook page (www.facebook.com/USANAhealthsciences), or follow USANA on Twitter (@USANAinc).