Skewed World of Money, Merged World of Parenting
When I was in Siasi, Sulu last summer, it wasn't the pristine, white beaches or the exhilarating, two-hour speedboat ride that told my brain I was worlds away from Manila. It wasn't even the constant sight of three armed policemen (dressed in fatigues) who babysat us all over Jolo and nearby municipalities. The realization hit me one hot, sweltering afternoon, when I was taking shots of a "classroom" in Duhol Tara, one of the islands at the southern most tip of the country.
The definitive click of my Canon 50D's shutter failed to excite me this time. At the opposite side of the lens, my "classroom" was under the Madre de Cacao tree where children sat on makeshift benches made by their parents, and their teacher (a volunteer whose salary is paid by the local government) taught using a small makeshift blackboard with a huge hole right smack in the middle.
I was documenting the state of education in Sulu. The parents have been begging the Department of Education in ARMM for a school for their children in vain. Thankfully, through the Education Quality and Access to Learning and Livelihood Skills (EQuALLS2 Project) a joint undertaking between the USAID and the Philippine government, they were able to build a two-classroom school using bamboo and palm trees for the younger children. Another class with older children meets nearby, sheltered from the heat and rain with a roof made of coconut leaves. That classroom has no walls. Another class has a new blackboard, but no roof and walls. The last class, the Madre de Cacao class, haunted me with the gaping hole in the middle of the blackboard. But this was the only school on the island, and the parents celebrated the site that turned me dead cold.
As I peered through the camera lens, the Islamic value on the blackboard written by the teacher made me blink. "Saving is putting aside something especially money. These can be used for emergencies."
"What money," Arthur Carioso, one of my camera crew asked me. Right on.
I wondered about the skewed world of money. Here in Metro Manila, I see children who don't want to go to school when they don't have new shoes and bags. I see parents scrambling under loads of debt to pay tuition fees of schools they could barely afford, and buy Barbie pencils or Superman pencil cases. Hair rebonding seems to be a school requirement. Many worlds away from Duhol Tara.
But the world of parenting morphs into one. Parents of all classes in all provinces would crawl and scrimp and save for a good education that would hopefully expand minds as well as values, and lift the future generation from absolute poverty into comfortable wealth.
Today's generation will need to think of wealth not just for them but also for the rest of Generation Y. I look at my daughter and three sons—all Generation Yers—popping and locking and break dancing like there's no this afternoon. I'm glad they have a fun, happy, if not glamorous and worry-free life. But I have to educate them not just about their own bank accounts but also about finding a solution to the silent and empty bank accounts of the others in their generation. Who will be their customers later on if others cannot afford just a simple meal? Who will be their clients; who will be their viewers or readers if the others are not literate?
Finding wealth cannot be done alone; it must also involve those in islands like Duhol Tara—especially for Generation Y who lives in the skewed world of money.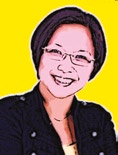 Ma. Salve Duplito is a freelance financial journalist who has been writing about personal finance for more than 15 years. She is also co-editor of the best-selling books Pwede Na: The Pinoy Guide to Personal Finance and Pwede Na2: The Pinoy Guide to Estate and Retirement Planning. More importantly, she is a mother of four, has been married for more than two decades, and has been through a lot of the struggles in family finance. Email her at lightdream@gmail.com.