SM Lifestyle Entertainment launches the new EXPLOREUM!
"With all that the new science center offers, the Exploreum is surely a place "where science becomes fun."
SM Lifestyle Entertainment, Inc., the lifestyle and entertainment solutions company of SM Prime Holdings, Inc. officially opens the doors of its latest project, the EXPLOREUM — a family-centered brand that believes in parent-children bonding activities that engage and mould curious minds through edutainment, (a term used for education through entertainment).  The EXPLOREUM promises to take kids and adults alike on an interactive journey to the knowledge and understanding of the practical application and relevance of science in everyday life.
FULLY RENOVATED
Now, fully renovated, what used to be  SM Science Center  has rebranded to the EXPLOREUM which  offers 118 child-friendly all-new interactive exhibits and over 100 interesting nuggets of information situated in eight major interactive galleries namely the Natural World, Human Adventure, Zoom, Connect, Cyberville, Space Camp, the Living Earth, and Science Park.
EXCLUSIVE TECHNOLOGY AND CONTENT
One of the EXPLOREUM's proudest features is the "Science on a Sphere®" or SOS: a room-sized digital globe that projects dynamic images of the atmosphere, oceans, and land of a planet onto a six-foot diameter sphere.  Developed by the US government's National Oceanic and Atmospheric Administration (NOAA) as an educational tool to help illustrate Earth System science to people of all ages, SOS features animated images of atmospheric storms, climate change, and ocean temperature to explain what are sometimes complex environmental processes. With over a hundred installations around the world, the EXPLOREUM now brings the ONE and ONLY Science On a Sphere® to the Philippines to showcase the beauty of our planet and to help enhance informal educational programs on how to understand our world better.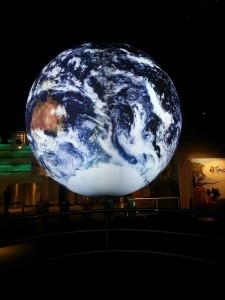 The Planetarium is the Philippines ONLY full dome theatre boasting of its 180-degree digital screen and advanced audio-visual system. With the Digi-star 5, the world's best-selling operating system and the latest installment for full dome theatres, the 158-seater Planetarium promises a photo-realistic experience through its clear-cut projections and remarkable surround sound that will make guests feel as if the cosmos are just within reach. The Planetarium offers various shows such as the Journey to the Stars, We are Astronomers, Timespace, The Zula Patrol, Down to Earth, and One World One Sky: Big Bird's Adventure. Soon the Planetarium will showcase three-dimensional visuals in its theatre.
JUNIOR SCIENCE CLUB, TRAVELLING EXHIBITS AND EXPERMENTS
To continue its goal of providing an avenue for family time through the interactive learning engagements of kids and parents, EXPLOREUM will be holding bi-monthly experiments to be facilitated by credible members of the academe from its partner schools as well as a traveling exhibit in select SM Supermalls across the country.
The Exploreum also launched its Junior Science Club, an exclusive membership that gives unlimited access to the EXPLOREUM and to various activities such as experiments and other edutainment sessions.
PRACTICAL SCIENCE
Committed to developing a driven, creative, and intelligent generation, parents are encouraged to bring their children the Exploreum.   "The EXPLOREUM is an immersive experience that will stimulate curiosity and inspire science learning in families by creating fun and memorable experiences. Science is as basic as breathing to the most complicated gadgets and technology we enjoy. At the Exploreum, our goal is to make kids and parents realize the relevance of science and how its practical application is integrated to our everyday lives. Science is fun and that's what we want our guests to experience at The Exploreum. " said Nicole Deato, Assistant Vice President for the Educational and Leisure Centers of SMLEI.
The EXPLOREUM is one of the many premium brands managed SM Lifestyle Entertainment, Inc.  Tucked under SMLEI's belt are: SM Cinema, IMAX, Director's Club Cinema, WM Cinemas, Snack Time, SM Tickets, e-PLUS Tap to Pay, e-PLUS Digital, Mall of Asia Arena, SM Bowling and Leisure Center, SM Skating Rink and the newly opened Exploreum. With all that the new science center offers, the Exploreum is surely a place "where science becomes fun." The EXPLOREUM is located at SM Mall of Asia and SM Lanang Premier.  For more information, visit www.exploreum.ph