RELEASE THE POWER OF X WITH CALTEX™ AND X-MEN: APOCALYPSE
Do you desire more power for your car? Chevron Philippines Inc. (CPI), marketer of Caltex Lubricants, Havoline® and Delo®, launches the Power of X promotion with its first partnership with Twentieth Century Fox for the latest installment of the most-anticipated blockbuster movie X-Men: Apocalypse.
You can experience the Power of X with Havoline® and Delo® when you go to any Caltex service station or Caltex Lubricants workshops. Caltex customers and fans of the film will receive X-Men T-shirts with every purchase of participating Havoline® and Delo® products, plus a chance to win X-Men premium items in the fortnightly draws, and a 150cc Yamaha motorbike in the grand draw.
"At Caltex, our customers are the cornerstone of our business. Every bottle of Caltex Havoline and Delo engine oil is imbued with the power to protect their engines and deliver optimized performance. To help our customers 'Enjoy the Journey' even more, we've tailored exclusive offers and activities to make every journey with Caltex an exciting one," says Joseph Bronfman, CPI Area Business Manager for Lubricants, Philippines and Vietnam.
Release the Power of X with Caltex…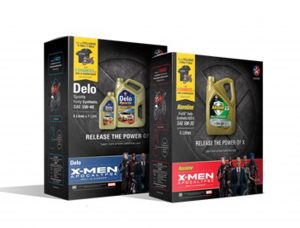 Every Havoline® and Delo® promotion gift box comes with a free X-Men T-shirt and a raffle coupon for a chance to win exclusive X-Men: Apocalypse premiums in the fortnightly draw.
Up for grabs are 1 Magneto Helmet and 20 pairs of movie passes on the April 25 draw, 1 Magneto Helmet and 20 T-Shirts on the May 9 draw, 1 Magneto Helmet and 20 Wash Bags on the May 23 draw, and 1 Magneto Helmet and 20 Hoodies on the June 3 draw. Customers also stand a chance to walk away with a brand new 150cc Yamaha motorbike in the grand draw on June 15.
The promotion gift boxes are available at selected Caltex stations and Caltex Lubricants workshop nationwide starting 1 April until 12 June 2016, or while stocks last.
For more information on the 'Release the Power of X' promotion, visit www.calteXmen.com.
About Chevron Philippines, Inc.
Chevron Philippines, Inc. has been in the Philippines for over 90 years, offering high quality products and services. To date we have more than 700 Caltex stations, and sells a range of petroleum products, including Caltex with Techron® gasoline and Caltex Diesel with Techron®D, kerosene and jet fuel. Chevron has 18 facilities in the Philippines, including major terminals, depots and sales offices. Our import terminal in San Pascual, Batangas, forms the hub of our transportation and supply operations in the Philippines. Chevron also provides jet fuel for airlines at Ninoy Aquino International Airport. Chevron also markets Delo® and Havoline® lubricants, coolants and other lubricating oils and greases through distributors to consumer, commercial and industrial customers. More information on Chevron Philippines, Inc. is available at www.caltex.com/ph.