MoneySense Q2 2020 Family Finance with Carl and Jenny Dy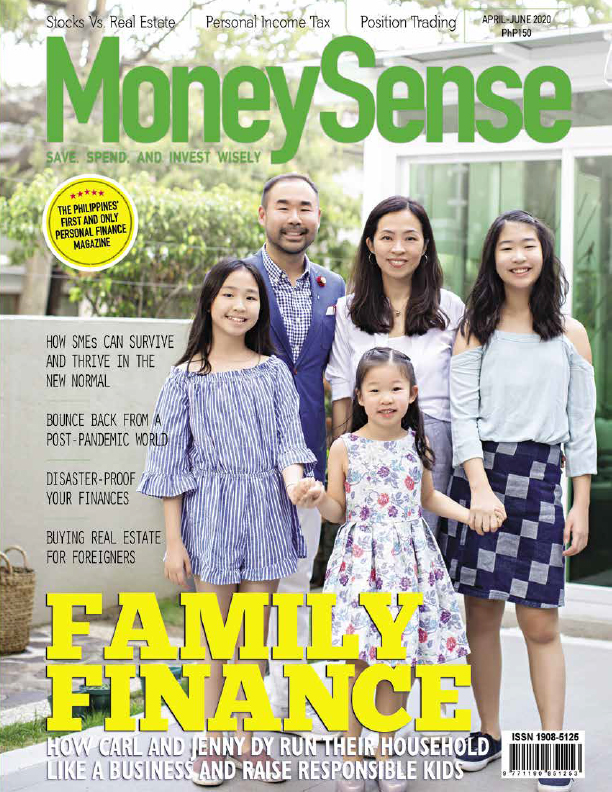 Well-run companies follow business principles in order to operate smoothly. Not only do they put in place systems for each team member, but they also implement rules in order for employees to grow and achieve their objectives, reduce stress, and have a happy culture and work environment.
The same framework works in the family, especially during this pandemic.
Business owners and husband-and-wife team Carl and Jenny Dy have created a structure supported by the right tools which can help their children achieve their goals and objectives. Both come from the corporate world. Carl grew up with the Ayala Group of Companies from ages 23 to 35 and is now the owner and CEO of Spectrum Properties, which specializes in the acquisition, development, and management of quality real estate. Jenny, on the other hand, started with Asia Brewery, then Jollibee Group, and now works as a consultant for a heavy equipment company.
Carl says, "Our children are one of our greatest treasures, and we want the best for them. So why not create the same structure that allows us to achieve the same success at home?"

Carl Dy
More on MoneySense Q2
Disaster-Proof: Protecting Your Family & Home From Volcanic Eruptions, Viruses & Other Calamities – by EDMUND LAO, RFP®
How to Bounce Back From a Post-Pandemic World – GENESIS KELLY LONTOC, RFP®
Home Savings: 20 Ways to Save on Utility Bills, Household Appliances, and More! – by ARLYN CHENG, RFP®
How SMEs Can Survive–and Thrive–in the New Normal – by EXCEL V. DYQUIANGCO
Versus: Stocks Vs. Real Estate – by RICHARD THADDEUS CARVAJAL, RFP®
Q&A: COVID19 Survivor – by DAVID ISAIAH ANGWAY
Primer: Personal Income Tax – RFP® by EDGAR MENDOZA, RFP®
MoneySense Shop Now Online
You may now order and pay for a digital copy of MoneySense as well as order a print copy for pick-up or delivery. Visit our Shop page now.