MoneySense Q1 2020 – Where to Invest in 2020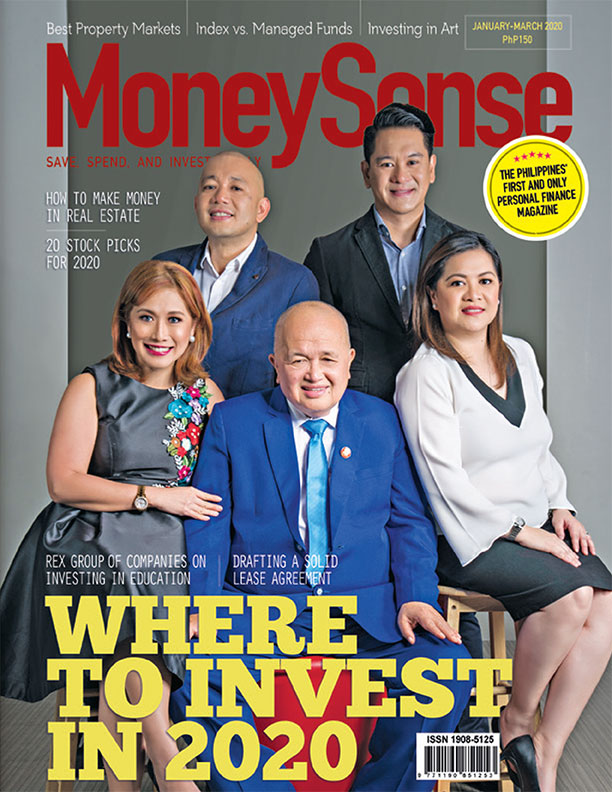 Spreading Your Risk
When it comes to investing, we often consider only one thing: returns. Whether it's interest rates, capital gains, or business profits, we just look at the reward and ignore the risk. But investing is as much about managing risk as optimizing returns.
Right now, the property market is booming, thanks to the office segment, driven by POGOs and BPOs. But the stock market? In the doldrums. If you are solely in equities, too bad. That is why diversification is critical to your portfolio.
In this issue—our annual Investing edition—we cover various asset classes. Our feature article "Where to Invest in 2020" (p. 49) is a comprehensive outlook on the economy, financial markets, and real estate sector. The conclusion:
"Invest not just in different asset classes (equities, bonds, fixed income, real estate), but in geographies (Philippines, Asia, US, Europe) and flavors (Emerging Market, Developed Markets)." So, spread your risk by investing in these investment vehicles:
EQUITIES
Stocks, including equity funds, are the easiest, most affordable, and low barrier-to-entry investment class. We compare "Index Funds Vs. Actively Managed Funds" (p. 16), present "20 Stock Picks for 2020" (p. 57), and show "How to Effectively Set Up Trades" (p. 62). v REAL ESTATE Property investments offer long-term capital appreciation and regular cash flow. We tell you "How to Make Money in Real Estate" (p. 53) and the "Best Real Estate Markets Outside Metro Manila" (p. 11). If you plan to get in rental properties, we have an article on "Drafting a Solid Lease Agreement" (p. 64). Or if you want to list your unit Airbnb, we have an interview with an experienced host (p. 20). If you're in the market and need financing, we also show you "How to Apply for a Mortgage" (p. 8).
BUSINESS
A business is one of the best investments you can make. It offers greater control, creative expression, social and economic contributions, and cash flow for the rest of your life—even beyond. Take, for instance, the family behind the Rex Group of Companies (p. 34). By investing in the growth and evolution of their company, the business has generated a steady, though not risk-free, source of income for two generations for the last seven decades.
EDUCATION
The Rex Group of Companies is committed to the 21st century education for Filipino learners. Investing in human capital is key to the growth of a society. It is exactly the same thing in the individual level. You can spread your risk by investing in yourself. Expand your skills and commit to lifelong learning and you will not just survive but thrive in your career or business.
ART
Investing in artwork is not just for the rich. If you enjoy art and have a knack for spotting up-and-coming artists, you can make money from it. We have a primer on "Investing in Art" (p. 24) that offers a great guide.
HEALTH
We usually don't think of our own health as an investment, but it is exactly what it is. What would happen if you become critically ill? You can lose a lot of money spending on hospital bills, treatments, and medicines. You will lose income from not being able to work. We have an article on "Choosing the Right Fitness Club for You" (p. 66), which will help you invest in your health and wellness.
In truth, your best investment is in yourself. There is no better cash flow generator and market value creator than you. So, take care of yourself, invest in yourself, and enjoy reading this issue!
Editor-in-Chief
Heinz Bulos
hbulos@moneysense.com.ph