Lock&Lock Brings Healthy Living into the Kitchen
"Filipinos are known to love food. But more than that, they love to share food with the ones they love and spend meal times with family and friends," shared Mr. Chua.
Technological advances have made food preparation a breeze. Our kitchens are filled with products that make food preparation and storage much easier and more convenient—but not necessarily healthier.
Recognizing that healthy living cannot be sacrificed in the name of convenience, Lock & Lock is using the wonders of science and technology to promote a healthy lifestyle while still allowing people to enjoy every day conveniences in their kitchens.
An iconic brand known for its innovative and airtight food containers, Lock & Lock uses materials that are safe for use in the cooking process. Recently, Lock & Lock has expanded its line to include cookware and glassware that are both safe and convenient to use. Sold under the Lock&Lock E-Cook and the Lock&Lock Borosilicate Glass lines, these would definitely help Filipino families whip up food with ease without exposing themselves to health hazards.
Unknown to most people, many of today's common cookware products are made with Polytetrafluoroethylene (PTFE) and Perfluorooctanoic acid (PFOA), specifically used as non-stick coating for pans. Though this makes it easier and faster to cook food, PTFE and PFOA are man-made chemicals that have harmful effects on both humans and the environment.
In addition, common food containers are made of plastic which contains bisphenol A (BPA), an industrial chemical which can seep into food and beverages, causing possible health concerns. Plastic can't withstand extreme changes in temperature, and has a tendency to warp or break when suddenly exposed to heat or cold.
In contrast, Lock&Lock's E-Cook line is free from PFOA and PTFE.  It is made of high quality ceramic which conducts heat easily, allowing food to cook faster and requiring less oil.  Not only does it make food preparation fast and convenient, it makes it much healthier too.
There are multiple collections under the E-Cook line depending on their features and design. The collections include Deco, the affordable collection
Ceramic, for modern and healthy living,
Prima, best for induction cooking, Hard and Light, for long term cooking withthe family, and SpeedCook, for those on the go.
The Lock & Lock Borosilicate Glass line on the other hand is made from durable borosilicate glass, which is able to withstand varying temperatures up to 400 degrees. Unlike other materials that crack when suddenly exposed to temperature changes, this line lets users easily transfer food from the freezer to the oven or from the oven straight to the dining table, without having to change containers. Indeed, this makes it a real time saver. Moreover, this reduces a person's exposure to BPA.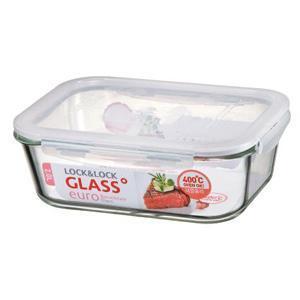 In addition, the Lock&Lock Borosilicate Glass line is also safer compared to other glassware. Common glasswares not only explode when exposed at 300 degrees or higher, when dropped, it breaks into thousands of pieces where the shards can easily hurt an individual. Lock&Lock Borosilicate Glass on the other hand, if dropped, only breaks to 2-3 pieces, making it easier to clean and avoids accidents as well.
"Lock & Lock's movement to go beyond containers and offering quality cookware and glassware is our response to Filipinos' growing concern for their health combined with their need to conveniently and quickly prepare food. Through these two new lines, we use technology to be able to create innovative products that can quickly and conveniently create healthy meals for the family," shared Mr. Raphael Chua, President of Lock & Lock Philippines.
More than just launching the new product lines, the brand aims to promote the culture of sharing.
With today's fast-paced lifestyle, it is nice to be able to sit-back and enjoy other people's company. Lock&Lock aims to help promote this lifestyle as it makes it easier to prepare food, giving people more time to bond with others. Lock&Lock also brings this culture to victims of typhoon Yolanda. The brand encourages Filipinos to donate their old cookware to the victims of the typhoon. In return, those who donate can buy the Lock&Lock E-Cook for a more affordable price with a portion of the earnings to be given for rehabilitation.
"Ultimately, Lock&Lock values the importance of spending time with loved ones. We believe that healthy living is not just about eating nutritious meals. More importantly, having a healthy life is about prioritizing people and sharing our lives with others," shared Mr. Chua.
About Lock and Lock
Since the introduction of plastic storage ware, there have been minimal changes in the fundamental design of the container products. There were two major problems with current plastic storage ware, imperfect sealing and difficulty in opening and closing lids. Researchers at L&L Co., Ltd. have recognized the problem and after intensive research and development, Lock & Lock was invented. With revolutionary four locking mechanism and a resilient silicon seal, food is kept fresh for longer without having to worry about any leakage. With storage saving design and Microwave, dishwasher and freezer safe, Lock &Lock is a convenient way to organize any kitchen.
Since its launch, Lock &Lock has acquired 1022 patents, trademarks and registration of design in 68 countries and is sold over 110 countries worldwide. Lock & Lock aims to continuously develop quality products that meet and exceed expectations of consumers.