Laid-back Lifestyle, Serious Food
(Outback Restaurant opens new branch at Bluebay Walk)
Since it first opened in the Philippines in 1997, Outback Steakhouse, the largest steakhouse chain in the world with more than 1,000 locations in 22 countries, has long been a foodie landmark in the restaurant landscape. For years, people have been going to their three branches  in the country in order to enjoy the good food, drinks, and cozy ambience that are attributed to the global brand's name. Now, after over 10 years,  a new branch opens at the Bluebay Walk in Macapagal Avenue, Pasay City on November 24. The 170-seater store offers the same trademark food and service that the restaurant is known for, with a few new flairs.
            "It has taken this long for the brand to expand, because we are always looking for strategic locations for our restaurants.  We want to be located at high visibility areas, like the ones we have in Libis, Glorietta, and Alabang," says Donald Tenorio, Outback Steakouse Operating Partner, Philippines and Singapore.   "We are now expanding Outback not only in the Philippines but also in other Asian countries such as Malaysia, Indonesia, Thailand, and Singapore. In 2014, we are opening 4 restaurants in four of our markets."
Tenorio  shares that  Outback Southeast Asia's  Chairman,  Prasoon Mukherjee, is passionate about Outback and sees to it that the brand is located at the best possible sites.  Though Mr. Mukherjee has several major businesses in India, including infrastructure and power supply, Outback is the closest to his heart because he started his career in the hospitality industry. This is the reason why he has decided to renew focus on the restaurant brand and is moving towards expansion.
More than just steaks
What people are first surprised to discover is that while the restaurant was named after the vast remote Australian outback, it is actually a popular American brand that originated in Florida. According to Dilip Krishnan, Marketing Head of Outback Southeast Asia, it is not just a steakhouse in the exact definition of the word. "While steakhouses usually offer mostly steaks, wines, salads etc., we offer a more diverse menu, with more than 50 dishes. We are classified under American casual dining," he says.
Best known for steaks, ribs and burgers, Outback also offers an assortment of chicken, seafood, crisp salads, freshly made soups, sides and pasta dishes. Outback's extensive and carefully-planned menu is designed around "Big, Bold, Fresh Flavors" – generously portioned dishes, boldly flavored and freshly made-from-scratch using the finest ingredients carefully sourced from around the world.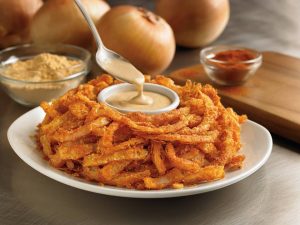 The biggest sellers are still the steaks, with the beautifully marbled Rib-eye as the top choice, followed by the Outback Special, New York Strip and Victoria's Fillet.
Other top choices are Alice Springs Chicken (flame-grilled chicken breast topped with sautéed mushrooms, crisp bacon strips, and melted Monterey Jack and Cheddar cheeses drizzled with honey mustard sauce, served with thick fries); Typhoon Burger (burger topped with their signature Typhoon Bloom petals, American cheese, lettuce, tomato and Typhoon Bloom sauce);  Baby Back Ribs (fall-off-the-bone smoked and grilled to perfection) and  appetizers like the  Typhoon Bloom (hand-cut, and deep fried seasoned fresh onion string) and the Kookaburra Wings paired with blue cheese dressing  A perennial dessert favorite is the Chocolate Thunder from down Under.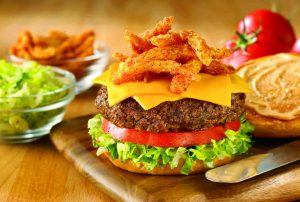 "We use only high quality grain-fed, dry-aged US or Australian Angus beef for all our steaks, Salmon are sourced from Norway, Pork ribs and Dairy products from European markets. All our ingredients have to pass standards set by the US, and we can only source from select suppliers. This ensures the quality of our food and at the same time allows us to offer good price points for our customers because of global purchasing contracts," Krishnan explains.
New dishes, new beverage menu
The opening of their latest branch will coincide with the inclusion of new limited time dishes and a new beverage menu. "Previously, we had limited selection of cocktails. We now  have a more comprehensive cocktail list,.  For example, have a whole page dedicated to our mojitos, which are quite popular," Krishnan reveals. The fruit-based cocktails are made with fresh ingredients, which is consistent with the restaurant's commitment to using the freshest quality produce.
Everyday is happy hour for customers as plenty of options are available from the new drinks menu that lists signature cocktails, mojitos, white and sparkling wines, margaritas, martinis, beers, premium spirits and spirit-free cocktails.  Chill at the Outback bar with your drink of choice –  be it the Gold Coast 'Rita,  The Wallaby Darned, Great Barrier Punch, Sydney's Cosmo, Classic or Flavored Mojitos or Margaritas.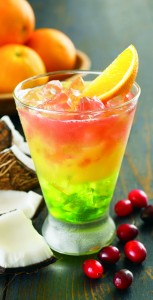 New dishes, meanwhile, includes  Bone-in Ribeye, Pork Porterhouse, BBQ pulled pork fries and Crème Brulee.
Emphasis on freshness, quality, flavor
One of the hallmarks that the restaurant is known for is that it does not compromise on quality. "We focus on freshness in whatever we prepare. Our products have a shelf life of only two to three days. Hence we make our dressings and sauces from scratch every day, and this now carries over to our drinks. Our Strawberry Mojito, for instance, starts with home-made puree made from fresh strawberries muddled together with freshly squeezed lime and mint leaves, Bacardi Silver and topped with soda," Krishnan explains.
The addition of a Fresh wall as one of décor installations in the restaurants shows the 17 different spices that they use in their food preparation.  "Our meats are seasoned with a proprietary blend of these 17 spices to make our food more flavorful."
Laidback vibe, serious food
While the restaurant has a relaxed, laid-back ambience, Tenorio  says that they are very serious with their food.
            "The attitude is casual and friendly. It is a place where you can sit back and relax, very much like the Australian lifestyle. But we are very serious about our food, in a process that we follow from sourcing, preparation, and all the way to our presentation. We make everything fresh from scratch in our own kitchen, ensuring the quality and consistency. We do not cut corners so our customers get only the best." he emphasizes.
The "No Rules Just Right" mantra is also practiced widely in Outback restaurants worldwide.  This is an essential part of the staff's values who   go out of our way to personalize each guest's experience so that every visit to an Outback restaurant is truly a memorable one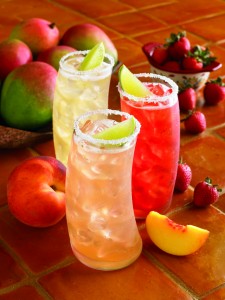 Other Outback branches are located at Glorietta 4, Makati City; Acropolis, Libis, Quezon City and Alabang Town Center.
To know more Outback, check FB: Outback Steakhouse Philippines / Twitter: GoOutbackPH / IG: OutbackPH
About Outback Steakhouse
            Outback Steakhouse is an American casual dining concept with more than 1,000 locations spanning 22 countries. Established in Tampa, Florida in 1988, each restaurant is a friendly, casual and relaxing place embodying the spirit of the Australian Outback with flavourful food, excellent service and attentive staff.           
            Outback Steakhouse in the States was voted #1 Best Steak in the influential Zagat Survey® of National Restaurant Chains, bagging the prize four years in a row from 2009-2012.