How to Fund Your Children's College Education
By Robert James D. Morales, RFP®
Developing skills, learning from experts in different fields, enhancing growth, better standard of living for the future, meeting new people and making new friends, higher self-esteem, a ladder to climb out of poverty, contributing positively to society, wanting a job security with a higher paying job and seeking a better understanding of the world around us. These and many other reasons why higher education plays a vital role in people's lives.
While the importance of a college education is quite evident for many, what is often not as clear is how we will pay for that education. Colleges and universities of today carry a heavy price tag and it is important not to be disheartened from helping and encouraging our children to get into higher education.
In a television program last March 21, 2013, Atty. Julito Vitriolo, Executive Director of the Commission on Higher Education (CHED) said, "The general trend is for college tuition fees to continue increasing by 10% every year and that they are more than 2,000 colleges and universities in the Philippines – 80% private and only 20% public." He added that the Education Act of 1982 or 'Batas Pambansa' 232 allows private schools to increase tuition fee but subject to regulation by the Commission on Higher Education. And that schools cannot increase miscellenous fees any time they please without the consultation process. Schools that are not able to consult with students, faculty and alumni are not allowed to increase fees for the coming school year. When asked by the host, "How parents could look for ways to save for their children's college education?" Attorney Vitriolo replied, "It's really planning the entire thing, there is no substitute for that. Investing on solid investments for college education and then saving." The key here is planning ahead and matching our goals with our investments.
Last April 2, 2013 GMA News released an online report on the cost of education at selected major tertiarylevel schools in the National Capital Region (NCR). The universities are ranked from highest to lowest tuition cost per unit. This can be used as a guide for parents and incoming students. However, these figures are subject to change in the upcoming school year.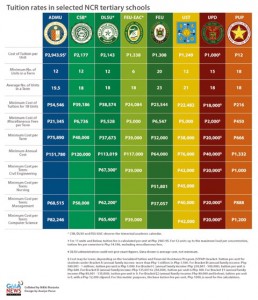 Here are some steps to take in funding our children's college education:
Consider where we want our children to study.
Inquire its current tuition fee cost.
Finding out our child's current age to be able to know how many years will it take for us to save before our child enters college.
Multiply total cost by the inflation factor rate of 10% corresponding to the number of years before our child enters college.
Compute how much we would need to save and invest at present until our child enters college.
Look for an investment tool that will help grow our money to meet our target fund in the most accurate possible.
For example a parent who has a 4-year old son. Will enter college at age 16, which will give his parents twelve years to prepare and save. The current tuition fee is Php151,780 based on the Ateneo De Manila University's minimum annual cost, which includes miscellaneous fees. The assumed annual increase in tuition fee at present and in the future is 10%. The total education fund needed is Php2,908,168.41
The yearly amount needed to save and invest for twelve years is Php135,995.60 at an average investment rate of return of 10%.
What are the options to funding our children's college education? What is the general rule of thumb when it comes to investing in a timeline?
Mutual Funds
If we are looking at an investment in the next six years before our children enters college, a 6-year fixed income fund would be appropriate. The most common fixed income securities are Treasury bonds, corporate bonds, certificate of deposits (CDs), treasury bills and treasury notes. These securities are an excellent choice for risk-averse investors seeking a stable source of income payments at predictable intervals. It is relatively low risk and therefore have lower returns as well.
If our children is entering college six to ten years from now, a balanced fund would be sufficient. A balanced fund is a mutual fund that keeps 50% of stocks and 50% bond investments. Investors who need regular, long-term cash inflows often choose balanced funds because they can boost returns and help diversify bond-heavy portfolios while allowing for some capital growth.
But if our children will be entering college more than ten years from now, (like the example given above) the equity mutual fund is a good idea to get into. It is invested in pooled amounts of money in the stocks of public companies. In order to accumulate enough money to finance a four year course or a five year course, we need to start early and invest aggressively.
Historically, stocks have almost always exceeded other investments over periods of ten years or more. To me, mutual funds are the best way to go because they have full time professional fund managers who's duties are to evaluate risks and build potential returns and growth to its fund. Whereas doing it ourselves will consume lots of time. Leaving it to the fund managers will help us be able to have time for many things in life other than finding out how our investment went well or went wrong. This kind of investment vehicle have entrance fees, exit fees, withdrawal fees and other kinds of charges that we ought to know before getting in to it. They are sold by licensed mutual fund agents in a mutual fund company.
UITFS
Unit Investment Trust Funds (UTIFs) are also pooled funds. They are sold by an authorized bank employees in a commericial bank. These funds are managed by professional fund managers and are invested in various financial instruments such as money market securities, bonds and equities. UITFs are normally for bigger investors but recently some banks are already offering a minimum initial investment of only Php10,000. Identifying our needs and goals and match them with the investment product is a must. Bear in mind that this pooled fund have sales charge, redemption fees and trust fees. As an investor of a mutual fund or UITF, we are spared of the responsibility of studying the market because we have given that duty to the investment company or to the commercial bank whom we trust to do their best to make our money grow.
Pre-Need Plans
Another way we could prepare for our children's college education fund would be an educational plan. These are pre-need plans that can help us save money in advance. The amount for educational plans will depend on the age of the child and how long will we be paying for it and what additional benefits we can opt for. Payment period is usually five to ten years or even more depending on what kind of plan we are getting for our children. The benefits of the plan is usually given when the child reaches age 16 or 17. It would be cheaper if the plan was taken right after the child is born. But remember, many pre-need companies have already folded up in the past and we have to choose wisely because not all pre-need companies are stable. Another thing we have to consider is the inflation of tuition fees which averages between 8% to 10% p.a. If the return on your educational plan is about 3% to 5% p.a., then that would not be a benefit plan for our children, that would be a deficit. We do not want to get in a situation 'under planned' nor a budget shortfall in the beginning of our children's school year. Before getting in to a pre-need plan, compute its rate of return.
Variable Unit-Linked Funds. A unit linked plan with a combination of mutual funds and insurance. It is also invested in a balanced fund, a diversified portfolio of debt (bonds) and equity (stocks) securities both in domestic and foreign. It is invested also in an equity fund (purely stocks) mainly to generate long-term capital appreciation. And lastly it is also invested in bond fund, designed to invest only in high quality fixed income instrument that are classified as below average risk. But we have to remember that this kind of investment product have withdrawal charges within the first five years. Premium charges is usually within three years. For regular pay, the death benefit is the fund value plus the Face Amount and 500% of the annual regular premium paid to the beneficiaries. While for single pay, the death benefit is 125% of the single premium that is usually given to the beneficiaries.
If we are not sure on how to plan for our children's educational fund and don't have time to research investment options to grow our hard-earned money, a professional financial planner may help. Reliable and qualified financial advisers are trained to deal with a variety of personal finance concerns, and can help us set priorities that enable us to reach our financial goals. Their suggestions may involve everything from budgeting and savings to sound investments and how each financial decision can affect our financial lives.
"Let us think of education as the means of developing our greatest abilities, because in each of us there is a private hope and dream which, fulfilled, can be translated into benefit for everyone and greater strength for our nation. Our progress as a nation can be no swifter than our progress in education. The human mind is our fundamental resource."

– John F. Kennedy (1917-1963), 35th President of the United States of America
"The plans of the diligent lead surely to advantage, but everyone who is hasty comes surely to poverty." – Proverbs 21:5
---
Robert James D. Morales is a Registered Financial Planner of RFP Philippines. He finished and passed the Chartered Wealth Manager program given by the American Academy of Financial Management. He is also the Marketing Director of Personal Finance Advisers Philippines Corporation and has many years experience in the Financial Service Industry. Questions about the article may be sent by SMS to 0906 476 9182 or e-mail bob@personalfinance.ph.