Denovo Diaries: Crystallizing A Brand With Passion
For swimwear designer and entrepreneur Caryll Martinez, each piece of jewelry bears stories, memories of times past. From a family renowned for its 30-year jewelry legacy, Caryll's childhood was spent at a time where every life milestone was commemorated with a precious keepsake, passed on from one generation to the next. Growing up to the nuances of trading high-value items from the Martinez jewelry trade instilled in her a passion for jewelry and the arts. This became the perfect starting off point for her to launch a jewelry brand that speaks of the promise of new beginnings, of elegance and of timeless silhouettes. Thus, denovo diamonds was born.
While jewelry traditionally tells stories of the past, denovo encourages customers to embrace possibilities and create new stories with a piece of their own. Through the course of her venture, Caryll brought in globally award-winning brand architect Amor Maclang to polish denovo's luster. "Denovo stands for stories—the promise of new chapters and new opportunities," shares Amor. "Denovo is a jewelry brand that contributes to heritage."
Treading beyond the long-established perception of jewelry as bearers of history, denovo's progressive philosophy of inspiring customers to take diamonds as a way to convey their own stories is inspired by how the modern urbanite values the traditional ideals of love and romance.
Jewels of Artistic Passion & Fine Taste
As an advocate of culture and the arts, Caryll only found it logical to launch collections that showcase the best of Philippine talent. With accessory designer and silversmith Georgina Ong at the helm of art direction, denovo is made to come up only with pieces that combine stellar craftsmanship with aesthetic radiance. For its official launch on the first of July at 71 Gramercy, denovo sought to elevate the affair to stellar heights. By frontloading the prestige of jewelry in society through a partnership with the leading luxury magazine in the country, Lifestyle Asia, denovo identifies with how jewelry is often made to complement the looks of the finest members of the populace, playing on the mystery of their stories and adding to their iconic appeal. With Diageo on board to give a taste of the world's finest spirits and elixirs, the denovo launch is set to be a festive night held to unravel collaborations with some of the most renowned artists and tastemakers. Aside from its houseline called Timeless Collection, a series of lines that resemble the different faces of the modern Filipino will be unveiled.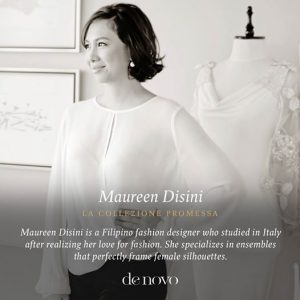 With the first collection revealed, precious hands can now be adorned with the romance of Italy. Maureen Disini's Bridal & Engagement Collection is composed of exquisitely designed wedding bands and engagement rings that are reminiscent of the country's heartfelt promise of love. Her collection is a celebration of the classic elegance of one of the most treasured moments in a woman's life: a man's proposal.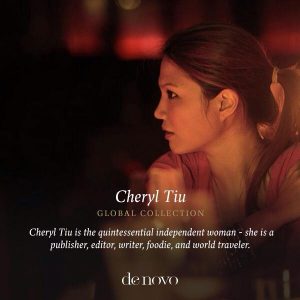 Cheryl Tiu's Global Collection is comprised of pieces inspired by wonderful landmarks around the world. From the Blue Mosque in Istanbul, to the Dome of the Rock in Jerusalem and other magnificent sites, world traveler Cheryl Tiu's aesthetic speaks of the modern Filipina's inimitable strength to conquer feats and surpass hardships with ease.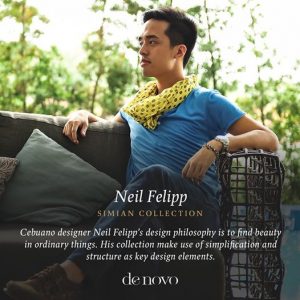 Lighthearted mischief takes on a life of its own as Cebuano designer Neil Felipp unveils The Millennial Collection, a jewelry line made up of whimsical and playful miniature silver monkeys, balanced with a touch of beauty and elegance through 24K gold plating and a variety of semi-precious stones and diamonds.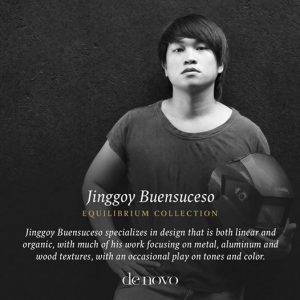 Jinggoy Buensuceso's Equilibrium Collection is purposely crafted for men who seek new challenges in life yet lives to find avenues to unwind. Each piece is a wearable work of art made to represent the kind of balance that empowers men and drives them to success.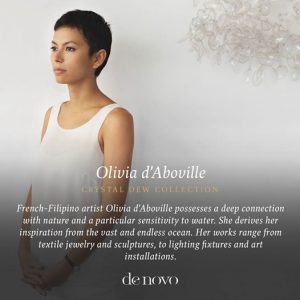 Diamonds can only represent nature's most precious element: water. Taking design cues from the morning dew found on twigs, French-Filipino artist Olivia d'Aboville reveals the Crystal Dew Collection, a 7-piece collection that combines delicate elegance with organic hints of beauty, and finished with the perfect drop of diamonds to grant women the trinkets that allow them to embody stunning perfection.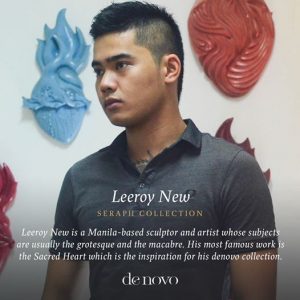 Approximating the splendor of divinity seems too arduous a task, yet sculptor, artist, and designer Leeroy New managed to flesh out marvelous pieces with ease through his Seraph Collection. Borne out of his fascination with religious iconography, Leeroy presents individuals who constantly move and actively participate in the redefining of different worlds with fitting charms that complement their lifestyle.
"Ultimately, denovo aims to champion the culture and the arts through our collaborations. Our aim is to offer wearable works of art that signify the promise of new possibilities, new discoveries and wonders that are yet to unfold," ends Caryll.