'Canva for Negosyo' offers free marketing tools to Filipino entrepreneurs
Graphic design platform Canva has put up Canva for Negosyo, a web page that provides Filipino entrepreneurs with relevant branding and graphics design resources – for free.
Launched in October this year, Canva for Negosyo offers marketing toolkits, photo collections, and video tutorials that were created and curated with Filipino entrepreneurs in mind.
In response to queries from MoneySense, Canva explained the thinking behind the page.
"We want to be the Filipino entrepreneurs' ally and give them a head start as they take their businesses online. Canva for Negosyo is the Filipino business owner's partner in creativity and productivity for their digital presence," it said.
Canva noted that Pinoy micro, small, and medium enterprises are now transitioning their businesses online and many business owners find themselves in an unfamiliar environment where they have little to no experience.
Canva said it recognizes that these small business owners need tools that will allow them to grow and succeed in their business and that "in the space of graphics design and branding, we know that we can help them."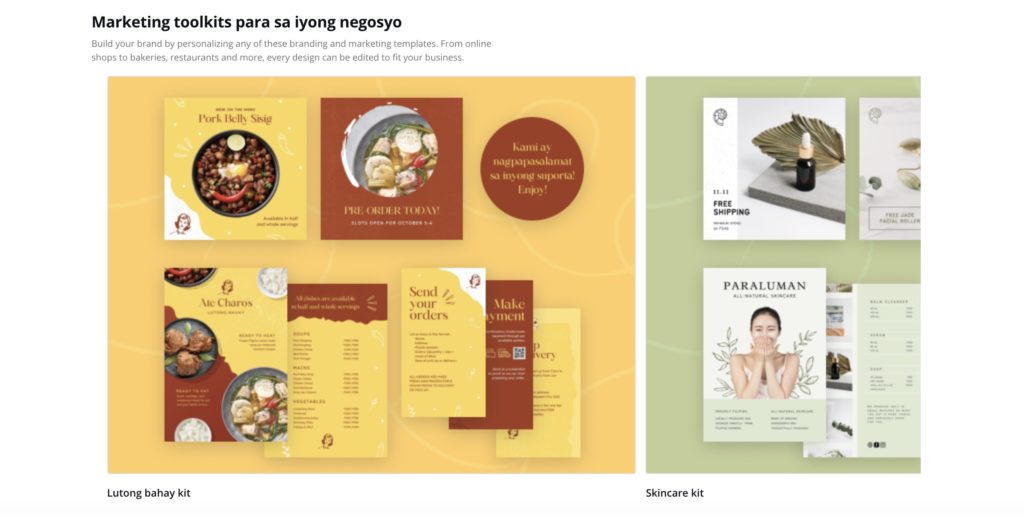 Marketing Toolkits
The Canva for Negosyo page offers five particular marketing toolkits: Lutong Bahay kit, Skincare kit, Laundry Shop kit, and Coffee Shop kit.
"Karinderya, locally manufactured skin care products, DIY laundry shops, and cafes are among the most popular businesses among Filipino entrepreneurs before the pandemic. However, the pandemic has accelerated the interest of Pinoys in some of these businesses," Canva noted.
"For example, for the Lutong Bahay kit, we are seeing a lot of Pinoys who have started their food businesses. From their simple love for cooking, a lot of them have started selling online to add into their sources of income during this challenging time," it said, adding that coffee shops and cafeteria owners have also migrated a part of their operations to cater to coffee lovers who are stuck at home.
"These kinds of businesses can also scale up so there's a need for consistent branding to grow their business, so these toolkits are made for that. We want to help these small-medium businesses grow and thrive by providing them with useful kits that they can use for their business collaterals especially online," Canva said.

Photo Collections
Canva for Negosyo also provides photo collections of Pinoy breakfast, Pinoy bread, street food, food to go, and Filipino fashion.
"The Pinoy breakfast and street food can be used together with the Lutong Bahay kit that karinderyas or barbecue businesses can use. We also have Pinoy breads showing popular bakery products that Filipinos order for merienda, and these would be helpful for small online bakeshops or local panaderyas with limited budgets for marketing and photography," Canva said.
All free media on Canva can be used for free for commercial and noncommercial use, the company said.
It also plans to add more kits, templates, and photo collections.
Canva for Negosyo also has blog articles containing tips and helpful resources for every Filipino business owner wanting to kick-start their online business.
"We want to speak to every Pinoy MSME and let them know that Canva is here for them. We want to make our content relatable to more Pinoy users, and using our native language is one way for us to reach a bigger Filipino audience," Canva said.
Other stories: