Ayala Malls Solenad invites families to open their world with its Awaken Amazing Holiday Campaign
Ayala Malls Solenad is inviting families to open their world and celebrate holiday traditions old and new through its Awaken Amazing Holiday Campaign.
With its proximity to Tagaytay and its cool climate, plus wonderful outdoor spaces, Solenad is the ideal place to enjoy the outdoors and rediscover the magic of play and traditional games this holiday season. Marvel at playgrounds transformed with enchanting holiday décor and giant installations, breathe in the fresh air around the lake under the stars and enjoy the outdoors at the Activity Park.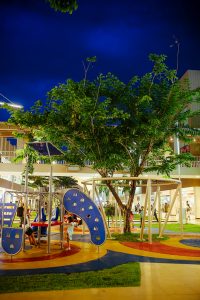 Solenad is a wonderful holiday getaway for families with its magical combination of both indoor and outdoor spaces. They can combine shopping for gifts with outdoor activities like biking and boat rides, then dine al-fresco at Solenad's many restaurants to feel the great 'ber months weather.
This holiday season, Solenad will be home to the cheeriest and merriest surprises through an exciting line-up of activities like the annual Festival of Lights and their first ever 3D mapping display. This Christmas is the perfect time to not only celebrate traditions but to create new ones as Solenad invites everyone to open their world and enjoy the outdoors in all its holiday splendor.
Check out Solenad's holiday calendar and awaken your Christmas spirit with experiences and activities galore!
Shop at the Awaken Amazing Thrills and Deals Christmas Sale
Get the perfect gifts for your loved ones at the Awaken Amazing Thrills and Deals Christmas Sale happening this November 9-11, with offers of up to 50% off at participating stores. You won't go home empty handed too as you get to pick a prize with every P1,000 purchase during the sale and get free gift wrapping.
Experience the Magic of Play through Awit at Laro

Catch musical performances from father and son duo, Gary Valenciano and Gab Valenciano, singer-songwriter Yeng Constantino, rising star Hannah Pangilinan, and classical performer Lara Maigue, as well as a special dance number from STEPS Dance Studio. You can also play traditional games at interactive booths at the Awit at Laro Mall Show happening on November 10, 6:00 PM at the Solenad Activity Park.
A project that celebrates the spirit of play, Awit at Laro draws inspiration from Filipino children's games and aims to raise funds for UNICEF, Tukod Foundation and the Shining Light Foundation. With a vision of reintroducing traditional games to a new generation of youth through music and the arts, Awit at Laro is led by Gary Valenciano and Bambi Manosa with the help of over 100 artists. To get tickets, you may visit the Solenad Concierge starting November 3.
Awit at Laro will also be brought to life through the Larong Pinoy Installation. From November 17 – 24, Solenad will be full of colorful, larger than life displays of favorite Filipino games like kites, Tumbang Preso, Piko and more!
Let the Light Shine at Solenad's Lantern Making Competition
Happening on November 24 – 25, Solenad's Lantern Making Competition will transform the mall atrium into a festival of lights. Open to all residents of Laguna, contestants can submit their entry at Solenad from November 17 – 23. Lanterns will be on display starting November 24 and shoppers will also be treated to the "Let your Light Shine" Live Art Exhibition.
The announcement and awarding of the winners will happen during a festive program on November 25 with musical performances from various groups. Interested shoppers can visit www.facebook.com/AyalaMallsSolenad for the complete contest mechanics.
Enjoy Heartwarming Holiday Performances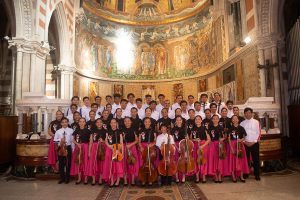 Be serenaded by heartwarming holiday music as Solenad offers vibrant holiday shows for everyone to enjoy.  Immerse yourself in the spirit of Christmas as internationally-awarded Manila Symphony Journey Orchestra is set to perform on November 11, 6:30 PM.  Sing along to your favorite Christmas songs at the Christmas Cantata happening on December 1, 4:30PM and December 22 -23, 6PM at the Solenad Activity Park or rock out to December Avenue as they perform live in Solenad on December 2, 7PM.
Experience Christmas with local holiday treats and items
Awaken your taste buds with delicacies from the CALABARZON area at the Department of Tourism's Kain Na! Food Fair happening on December 7- 9. Expand your food horizons and try dishes from Cavite, Laguna, Batangas, Rizal and Quezon and enjoy demos from local chefs, performances and more!
Give back in this Season of Giving
Make Christmas merry for those who deserve it the most and awaken the spirit of giving with Laruang Aguinaldo – Ayala Malls' holiday toy drive for the benefit of UNICEF and Kids 4 Kids. Drop by  Red Tag by Rustans starting November 3 and Toys R Us from November 16 to December 16 and give kids more time to play, beyond Christmas.
Be dazzled by even bigger outdoor spectacles
While the fireworks and light shows have already become a tradition, Ayala Malls Solenad is making the season even more dazzling with 3D projection mapping shows happening from December 14 – 16 at the Solenad Activity Park. Created in partnership with Panasonic and inspired by the Filipino tradition of Simbang Gabi, awaken your senses and enjoy this all new show with your friends and family.
From wonderful shopping and dining, to heartwarming art installations, holiday decoration and merry musical performances, Solenad is giving families refreshing new ways to celebrate their holiday traditions. Awaken your senses and open your world this Christmas at Ayala Malls Solenad!