At AboitizLand, industrial parks are integral in creating better ways to live
More and more companies are looking into putting up operation hubs in locations outside the metro. These places should ideally meet the demands of commercial facilities, provide and house a competent workforce, and still give easy access to the central business districts in the metro. Industrialization and innovation are slowly being pushed out from the borders of established megacity centers to flow into more spacious provincial areas, and for several years now, industrial parks have been the way to bring it all together.
Intended for the development and expansion of specific sectors that require large-scale operations, industrial parks gather establishments and facilities into one convenient zone, effectively boosting the growth and value of the area where they stand. They also open up greater opportunities for growth for both employer and employee.
Aboitiz Equity Ventures, one of the Philippines' biggest business conglomerates, intends to address this demand for such developments with the help of its real estate arm. For several successful years, AboitizLand has been at the helm of establishing world-class industrial estates in the country's up-and-coming progressive locations.
Industrialization in Batangas
Located in Lipa-Malvar, Batangas is AboitizLand's newest development: the LIMA Technology Center (LTC). Situated within the 600-hectare township of LIMA Estate, LTC serves as a mix-use development and new-generation industrial park that establishes itself as a world-class, industrial-commercial hub. The park sits 350 meters above sea level between Lipa and Malvar, keeping the area generally flood-free. Major roadworks and highways are also in place around the area, making the Makati CBD, Manila Port, and Batangas International Port, among others, easily accessible (an hour or two drive). 
LTC is currently host to 111 locators, including export-oriented companies with manufacturing and warehousing operations like those from the automobile and motorcycle production sector, as well as producers of printers, plastic moldings and LCD projectors. These industries have helped generate more than 55,000 jobs in the Lipa-Malvar area, allowing the development to tap into the sizable, highly skilled, and highly competent workers in fast-developing Batangas. 
Moving forward, LTC realizes that its establishment greatly contributes to positioning Batangas as one of the country's next big business zones. To further contribute to the development of the area, and as part of its commitment to sustainable development, LTC also makes available a number of eco-friendly amenities including a green-centric design, a nursery and a mini park. The location also holds tree planting activities from time to time.
The industrial core of Cebu
Located meanwhile in the western coastal town of Balamban is the flagship development which to this day serves as a testament to the company's long-standing commitment to provide value to the land it stands on. The West Cebu Industrial Park (WCIP) was developed in 1992 through a joint venture between Aboitiz Equity Ventures and Makoto Kambara of Japan's Tsuneishi Holdings called the Cebu Industrial Park Developers, Inc. (CIPDI). Thanks to WCIP, Balamban — flanked by opportunities from the municipality of Asturias and the mining city of Toledo — would be transformed from a fourth-class municipality into a first-class one and would be identified as Cebu's new industrial core. The once-simple seaside town flourished and ushered in a wave of industrialization.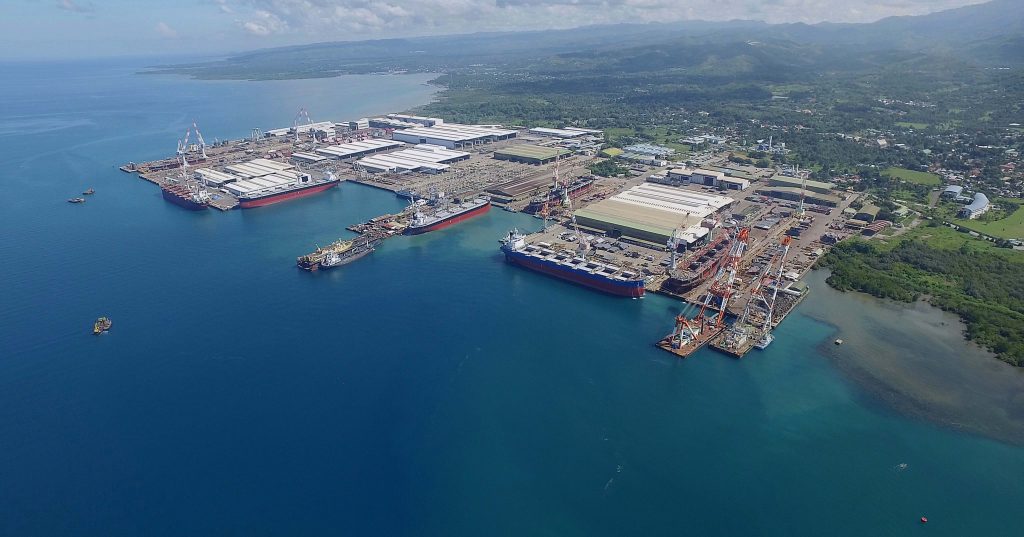 A Special Economic Zone dealing with light and heavy industries like shipbuilding and allied activities, the industrial complex has not only provided added value, but has also provided employment and business opportunities for thousands of Balamban's residents. By 2009, a total of nine companies operated within WCIP, with 14,000 employees from shipbuilding, and other existing locators and affiliates.
WCIP also adds value to the environment in which it operates, being staunch advocates of sustainable development. Locators and stakeholders are ensured that they are supported on a world-class level while protecting the environment and meeting the societal needs of neighboring communities. For instance, the wastewater of locator Tsuneishi Heavy Industries, Inc. (THI) gets treated before it is discharged, separating residual wastes for landfill disposal. This move is in accordance with the Department of Environment and Natural Resources' (DENR) regulations and standards. The same locator also organizes annual tree and mangrove planting activities, with the goal of planting 2,500 indigenous tree seedlings and 5,000 mangrove propagules. 
Showcasing the best of Cebu
AboitizLand's third industrial park is also located in Cebu. The 63-hectare Mactan Economic Zone II (MEZ II) is a project developed in partnership with the local government, meant to strengthen the province's export market through several efficient manufacturing facilities. The vast export zone is home to over 40 industrial locators that provide thousands of additional jobs.
A host of other establishments can be found in Pueblo Verde, MEZ II's mixed-use commercial hub. From BPO IT facilities, restaurants, service facilities, banks, to office spaces and a supermarket, the charming lifestyle hub caters to over 14,000 employees and tourists that flock for some much-needed dining, shopping, and recreational respite.
The MEZ II is easily accessible with its proximity to the international airport, and visitors can easily find their way around the complex with its internal transportation system via electronic jeepneys.
MEZ II also sports its own centralized wastewater treatment facility and dual piping system, allowing it to be recognized by the government for its compliance to DENR standards.
Looking ahead
Being at the forefront of some of the country's biggest, fastest-developing, and sustainably-built industrial parks and mixed-use hubs, AboitizLand is poised to help provide more job opportunities to more Filipinos, and to continue working hand-in-hand with its stakeholders for generations to come.
Anchored on its promise of advancing the growth of businesses while considering the needs of communities, AboitizLand continues to create better ways to live as it drives change for a better world.