A Lookback on AmCham's 120 Years of Service
As the American Chamber of Commerce of the Philippines (AmCham Philippines) celebrates its 120 th founding anniversary, the organization commemorates more than a century of empowering Philippine and American enterprises in achieving their business goals and contributing to the Philippines' civic and economic development.
AmCham Philippines traces its history back to the simple round table discussions of four Manila Coffee Club members and one member of the Manila Merchants Association in 1902. With common business objectives and advocacies, these five men met regularly and eventually formed AmCham Philippines, the first American Chamber in Asia.
A century and two decades later, AmCham Philippines is known as one of the oldest and most influential business organizations in the country. To date, the Chamber has around 800 members, with different chapters from all over the country consisting of individuals, big corporations, and Micro, Small and Medium Enterprises. Some of AmCham Philippines' active member companies are 3M, AIG, Amazon, Banco de Oro, Capital One, Cargill, Converge, Eastern Communications, Emerson, EON, Globe Business, Cargill, Johnson and Johnson, Marriott International, Pfizer, P&G, PMFTC, Reckitt, Reed Elsevier Philippines and Santos Knight Frank Since its foundation, AmCham Philippines has become an avenue for American and non-American businessmen in the country to collaborate in achieving common goals and objectives.
Through its 20 sector committees, the non-profit association ensures the development of the Philippine business ecosystem by providing relevant inputs and opportunities that lead to economic development, social development, policy formulation, and innovation excellence.
Uplifting Filipino Communities
Part of AmCham's mission is to contribute to the country's civic development. To carry out youth development and disaster response programs, the Chamber established in 1985 its socio-civic arm, the AMCHAM Foundation, Inc.
Today, AMCHAM Foundation continues to assist Filipino communities by implementing scholarship programs and providing hygiene and educational materials to public schools. The Foundation also partners with various organizations to provide medical equipment and supplies to hospitals in the Philippines. It also assists Filipino families affected by disasters by providing relief packs and reconstruction materials for rebuilding their homes.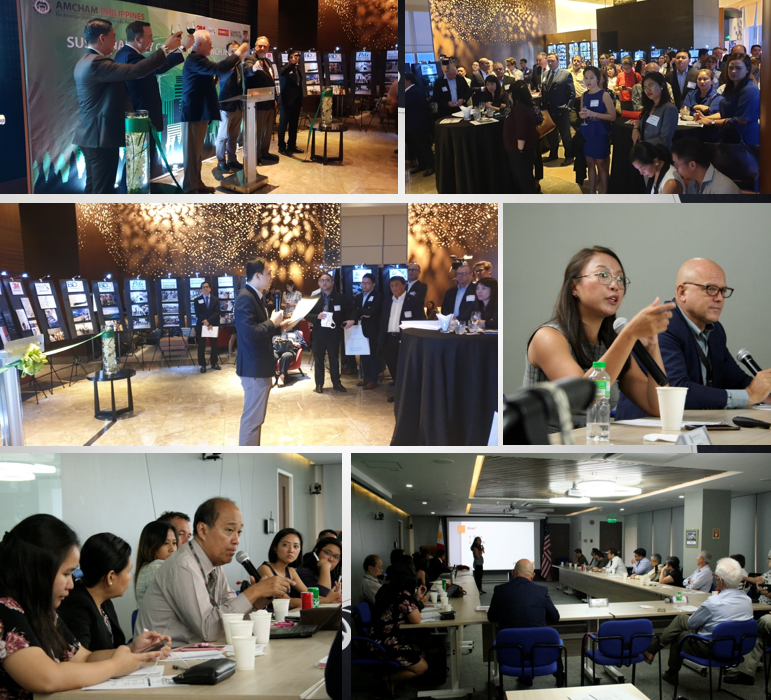 Raising Young Business Leaders
Recognizing the importance of education in honing leaders, AmCham Philippines launched one of its major programs, the AmCham Business Leadership Program (BLP) in 2002. This program aims to educate and train Filipino students to have a better understanding of the role of business in national development. Through BLP, Filipino students are given the opportunity to learn from and interact with top companies and executives in the Philippines to gain a wider perspective of key global business and economic issues. Initially open for students of Ateneo, De la Salle, and UP Diliman, the program was expanded to include deserving students from other universities and colleges throughout the country.
Advocating for Stronger Investment Climate in the Philippines
In 2010, AmCham Philippines, together with other members of the Joint Foreign Chambers (JFC), launched The Arangkada Philippines Project (TAPP), an advocacy that aims to increase investment and employment opportunities in the Philippines. Arangkada is a comprehensive menu of recommendations for the Philippines, coming from proposals of 2,000 foreign and domestic members of the JFC. Through the conduct of research and advocacy of reforms, TAPP aims to boost the growth of key economic reform sectors including agribusiness, creative industries, infrastructure, manufacturing and logistics, mining, and tourism.
As part of JFC, AmCham Philippines conducts an annual assessment of the 471 Arangkada recommendations. The organization holds an annual forum for private and public sector delegates to conduct the assessment and discuss findings and reforms that seek to improve the investment climate in the Philippines. It also communicates its recommendations to leading business groups, trade and industry associations, and the Philippine Government.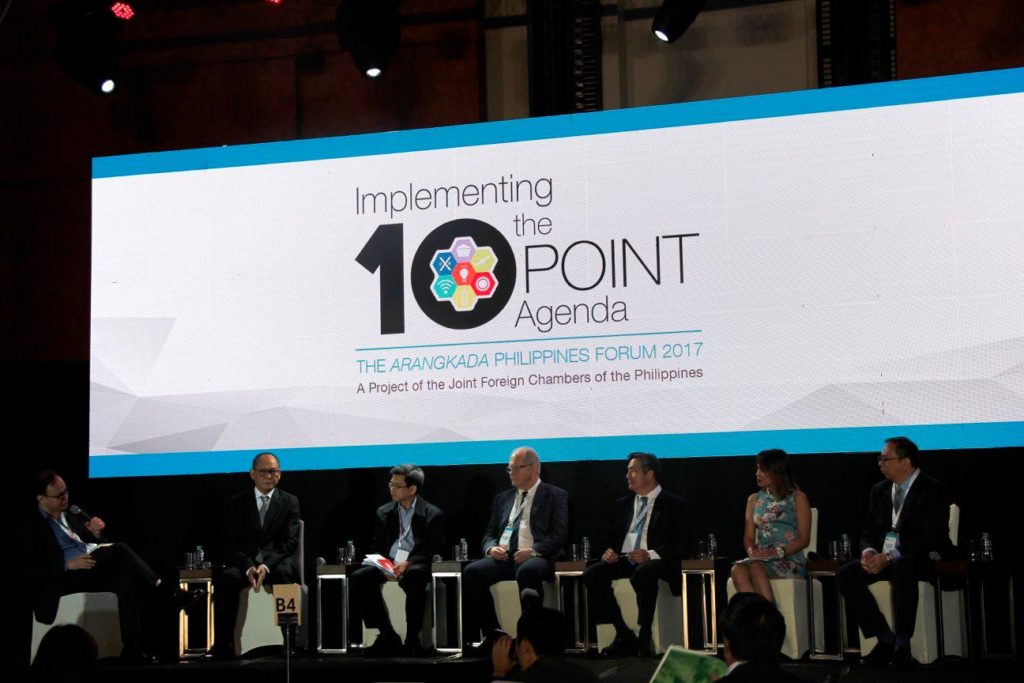 Promoting good corporate governance
Another advocacy of AmCham Philippines is promoting ethical business practices and good corporate governance. As chief executives of established companies in the country, the members of the Chamber are committed to lead by example by operating their businesses ethically and with integrity.
Acknowledging that corruption is one of the biggest impediments to the country's economic growth, the Chamber implements the Integrity Initiative, which ensures collective action among business enterprises to foster ethical, clean, and transparent business transactions in the Philippines. Members of the Chamber are encouraged to take part in the Integrity Initiative by being a signatory to the Integrity Pledge.
While celebrating the milestones it has collected throughout 120 years of service to American and Philippine businesses, AmCham Philippines is all set to spend another century being the leadership voice of trade and investments in the Philippines.