38th National MILO Marathon ends another record-breaking season
Tabal defends crown; Poliquit claims first title
MANILA, Philippines, 13 December 2014 –Reigning MILO Marathon Queen Mary Joy Tabalrevelled in the spotlight as she defended her National MILO Marathon crown at the National Finals of the 38th National MILO Marathon held on December 7 at the SM Mall of Asia grounds. Not to be overlooked, Rafael Poliquit was named the 2014 National MILO Marathon King as he won his first National MILO Marathon championship title in the prestigious footrace. Today's race saw 19,242 registered runners, bringing the total headcount of the season to 228,000 which shattered last year's record.
Tabal received P250,000 and a trophy for her outstanding victory in the 42K Open category, while Poliquit received P150,000 and a trophy for his win in the 42K Local category. Both will have the chance to run in an international marathon in 2015, with all-expense paid trips sponsored by MILO.
In the 42K Open category, onlyRose Nyangacha finished ahead of Tabal, posting a time of 02:47:33. Despite the blisters and blood on her feet, the 25-year-old Cebuana put up a bravefight as she trailed closely behind Nyangacha, finishing with a time of 02:51:55.Immaculate Chemutai (02:52:49) finished in third place. It was a tough competition amongst former MILO Marathon Queens in the 42K Local category. ChristabelMartes led the pack and posted a time of 03:03:49, while Mary Grace Delos Santos (03:05:34) and JhoanBanayag (03:07:59) came in second and third place, respectively.*
"There was a lot of pressure on me since I was expected by many to retain the title. I needed to overcome that immense amount of pressure and nervousness. I motivated myself to push harder and to enjoy the race. It was also good because I challenged myself to become better," shared Tabal. "I am happy that I had another chance to show what I can do and what I am capable of. I hope to inspire more Filipino runners, especially the kids, to continue running and striving to achieve their dreams."
Kenyans dominated the male 42K Open category, with 2011 MILO Marathon championJames Tallam recording an impressive time of 02:21:08, Josphat Kiptanui (02:21:31) following in second and Joel Kiplimo Kemboi (02:21:31) in third.*
First-time champion Rafael Poliquit set a swift pace against his local rivals with a time of 02:32:29, relegating five-time MILO Marathon King Eduardo Buenavista (02:33:56) to second place and IreneoRaquin (02:35:50) to third place.*
"I trained everyday with 20km runs, and a race every Sunday. I am my own coach. I did not expect to win because it is quite tough to balance work and training, but my victory today proved that despite difficulties, I am still able to compete with the nation's elite runners," expressed Poliquit.
It was also his first time to face five-time MILO Marathon King Eduardo Buenavista in the 42K event. Both are members of the Air Force of the Philippines, and Buenavista happens to be Poliquit's senior officer. "I could not believe I was able to beat Sir Eduardo. He is already an established veteran and one of the country's running greats. He is my running idol. I admire him so much and he will continue to inspire me in my career."
Kids, students, parents and families joined in on the fun as the running community gathered in the nation's biggest footrace. Celebrity triathlete Kuya Kim Atienza ran in the 21K race, while fellow fitness buff, actress Anne Curtis, ran in the 10K race.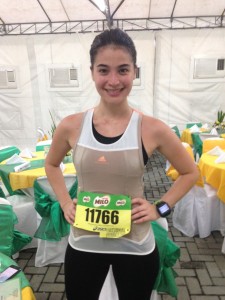 "We would like to congratulate everyone who joined us in the 38thseason of the National MILO Marathon. We would also like to thank all who made this success possible," said Andrew Neri, MILO Sports Marketing Manager. "We look forward to another great running season in 2015. See you again in the 39th National MILO Marathon!"
With the support of the Department of Education and the National MILO Marathon runners, MILO's Help Gives Shoes advocacy will provide 16,000 underprivileged youth with brand new running shoes and reach the 50,000 mark this year. As MILO celebrates its 50thyear, Help Give Shoes aims to make the donation to students in Yolanda-hit cities, particularly Tacloban, Ormoc, and Eastern Samar.
The 38th National MILO Marathon is made possible by Timex, the Bayview Park Hotel Manila, ASICS, Lenovo, Manila Bulletin and Gatorade, along with endorsements from the Department of Education, Philippine Sports Commission and the Philippine Olympic Committee.
For more information on MILO Philippines, log on to the official website (//www.milo.com.ph) or the MILO Philippines Facebook page (//www.facebook.com/milo.ph). Follow MILO on Twitter (@MiloPH) and Instagram (@MiloPhilippines).
* – results as of 13December 2014