Veterans Bank Mounts War of Our Fathers Exhibit to Commemorate 78th Battle for Manila Anniversary
Philippine Veterans Bank continues to honor the legacy of our Filipino World War II veterans with the recent display of its multi-awarded traveling exhibit at the Manila City Hall as part of the City of Manila's commemoration activities for the 78th Anniversary of the Battle for Manila.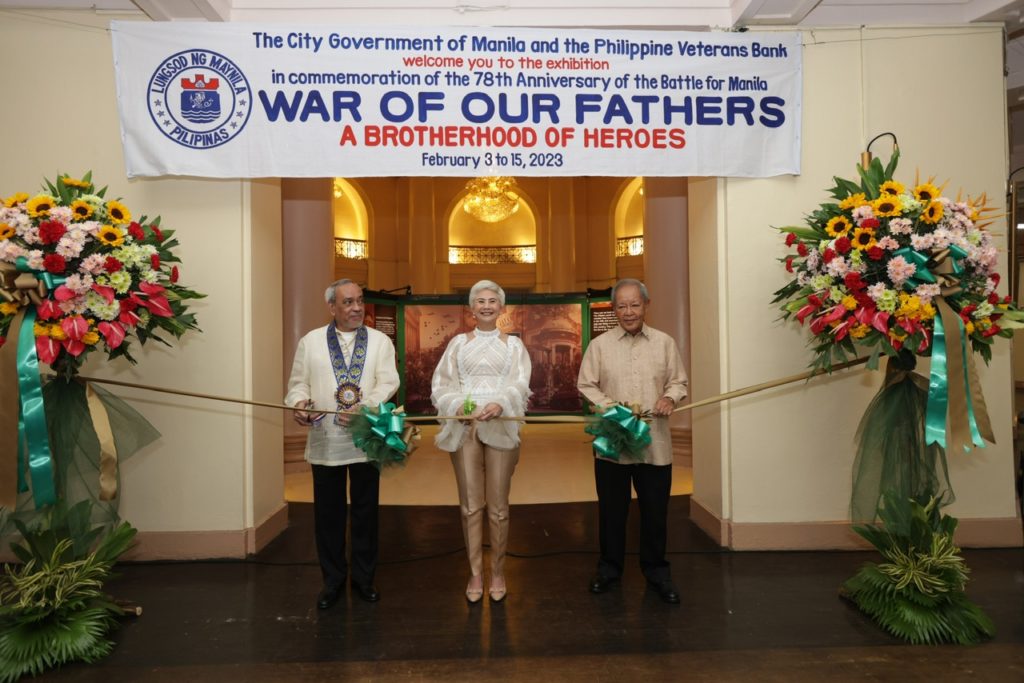 PVB Chairman Roberto De Ocampo, OBE, and PVB President Renato A. Claravall lead the ribbon-cutting ceremony of the exhibit along with Manila Mayor Maria Sheilah H. Lacuna and other city officials, heads of the Diplomatic Corps, and other guests which also include PVB Veterans Affairs Program Director Federico Manalo, Veterans Affairs Head Andres B. Saracho, and Branch Banking Group Head Edwin Amahan.
Entitled "War of Our Fathers: A Brotherhood of Heroes", the fully refurbished PVB Traveling Exhibit features photos, images, memorabilia, and brief narratives about World War II in the Philippines, it also serves as a tribute to the bravery, patriotism, and resolve of the Filipino men and women who fought and died for freedom as well as those who survived one of the darkest chapters of our nation's history. First unveiled in 2006, the traveling exhibit has been mounted in schools, museums, auditorium and multi-purpose halls in over 40 cities and municipalities in the country and was also put on display at the Nanjing Museum in China.
To attune to the anniversary of the Battle for Manila, the War of Our Fathers exhibit featured eight (8) panels which depicted World War II in the City of Manila, including scenes and narratives during the month-long Battle for Manila from February to March of 1945. Additionally, the exhibit features new panels introduced PVB's new charter, Republic Act 11597, as well as a tribute to our modern-day Filipino heroes that include post-World War II retirees of Armed forces of the Philippines. The panel, A Brotherhood of Heroes, advocates that our modern veterans – men and women who have fought in other wars both here and abroad, who have helped citizens of other countries, and who have fought local enemies of freedom share common values with our WWII Veterans.
The PVB Traveling Exhibit was mounted at the 2nd Floor of the Bulwagang Rodriguez of the Manila City Hall from February 3 to 15. Its next stop will be at The Bunker in Balanga City, Bataan in time for the celebration of Philippine Veterans Week and the 81st Araw ng Kagitingan from April 1 to 9, 2023.