Toblerone Brings SnowTop to Manila Taste and Experience Snow with this New Treat!
Have you always dreamt of snow? That cool and delicious-looking wonder that makes you think joyful thoughts? Well, you don't have to get a visa or even travel far to experience snow. Because it's right here in the Philippines! Presenting one of the coolest and most delicious things you'll experience this year: Toblerone SnowTop!
Get ready to salivate over this new treat from Toblerone that's sure to #MakeSomeonesDay. Imagine the delicious Swiss milk chocolate Toblerone you've known and loved – with that unique honey and almond nougat taste. Yum! Then imagine the White Chocolate Toblerone, similarly delicious. Can you still manage this? Imagine putting the two of them together and boom! A mountain of Milk and White Chocolate in one bar. That's Toblerone SnowTop. 
Appealing to food and fashion lovers' hearts, the cool silver look of Toblerone and the delicious marriage of Milk and White chocolate can be yours now when you visit your friendly 7/11 store. Watch out also for its launch nationwide this August too! 
Welcoming this cool treat, Toblerone held an Epic Snow Party at Imperial Ice Bar in The Fort, Taguig last July 16. Stylishly clad in white, party goers enjoyed a night of tasting the delicious new flavor and enjoying the bar's cool and icy VIP room – complete with snow jackets and snow of course! Embodying the hip new flavor was none other than Toblerone Ambassador and fashion blogger Laureen Uy who judged the best dressed of the night.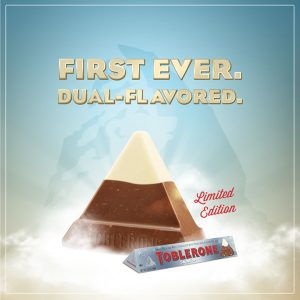 #MakeSomeonesDay with Toblerone Contest! More than getting to taste a new flavor that's definitely social media post-worthy, Toblerone SnowTop can also be your ticket to Switzerland! Yes, enjoy the beautiful sights of Toblerone's birthplace when you join the #MakeSomeonesDay contest. A top prize brought to you by a top treat, Toblerone! 
What do you need to do? You don't have to move mountains. Just say it sweeter to your family and friends by sharing with them either a Toblerone SnowTop bar, a Toblerone Crunchy Almonds bar or the six customized Toblerone sleeves with sweet messages. Choose from Toblerone bars with instant greetings of "I Love You," "Thank You," "Good Job," "Stay Awesome," "Congratulations" and "Happy Birthday." Toblerone doesn't just customize, it helps you say it sweeter to your loved ones for any occasion! 
Buy any five out of these eight bars, give them as gifts and post about them. Always add the hashtag #MakeSomeonesDay and tag the Toblerone Pilipinas Facebook page.  
The more posts you make, the more entries you get. If Switzerland isn't your thing (but why not?), you can also win the weekly raffle for a deliciously huge 4.5 kilo Toblerone bar. It's big, it's delicious and it can surely #MakeSomeonesDay.
For more details about the #MakeSomeonesDay contest, visit www.facebook.com/TobleronePilipinas and follow Toblerone_PH on Instagram and Twitter. Don't forget to go out now to taste the delicious new Toblerone SnowTop and share it to #MakeSomeonesDay!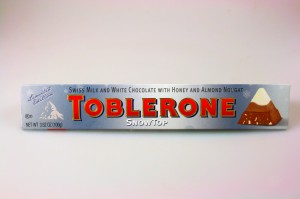 Toblerone presents its newest cool flavor, SnowTop! Taste the delicious combination of the well-loved Swiss Milk chocolate with the unique honey and almond nougat taste with Milk Chocolate on top! Sure to #MakeSomeonesDay!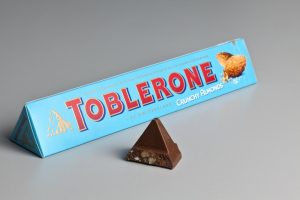 Together with the new Toblerone SnowTop, get a chance to win a trip to Switzerland when you enjoy the sweet and salty Toblerone Crunchy Almonds flavor. Visit Toblerone Pilipinas on Facebook for more details.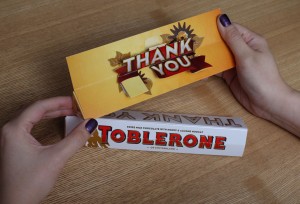 Toblerone does more than customize; you can choose from six different designs to say things sweeter to your loved ones. Say "Thank You", "Congratulations!", "Happy Birthday" or "Stay Awesome" with specially designed Toblerone bars.