The Way Forward: How Innovation and Sustainability are shaping tomorrow's PH businesses  
Nowadays, businesses in the Philippines are taking advantage of recalibrating their processes and including sustainability in their core business strategies. According to PwC Philippines, 84 percent of chief executive officers (CEOs) in the country aim to raise their organizations' spending on technology. On the other hand, over two-thirds want their companies to bolster environmental, social, and governance (ESG) investments.
Further elaborating on this trend, recently at 'Transform Tomorrow, Today: SAP Philippines CXO Roundtable' last August 2022, business leaders from SAP, Globe Telecom, and Unioil discussed significant challenges in today's world and how they reshaped the future through innovation and sustainability for long-term success.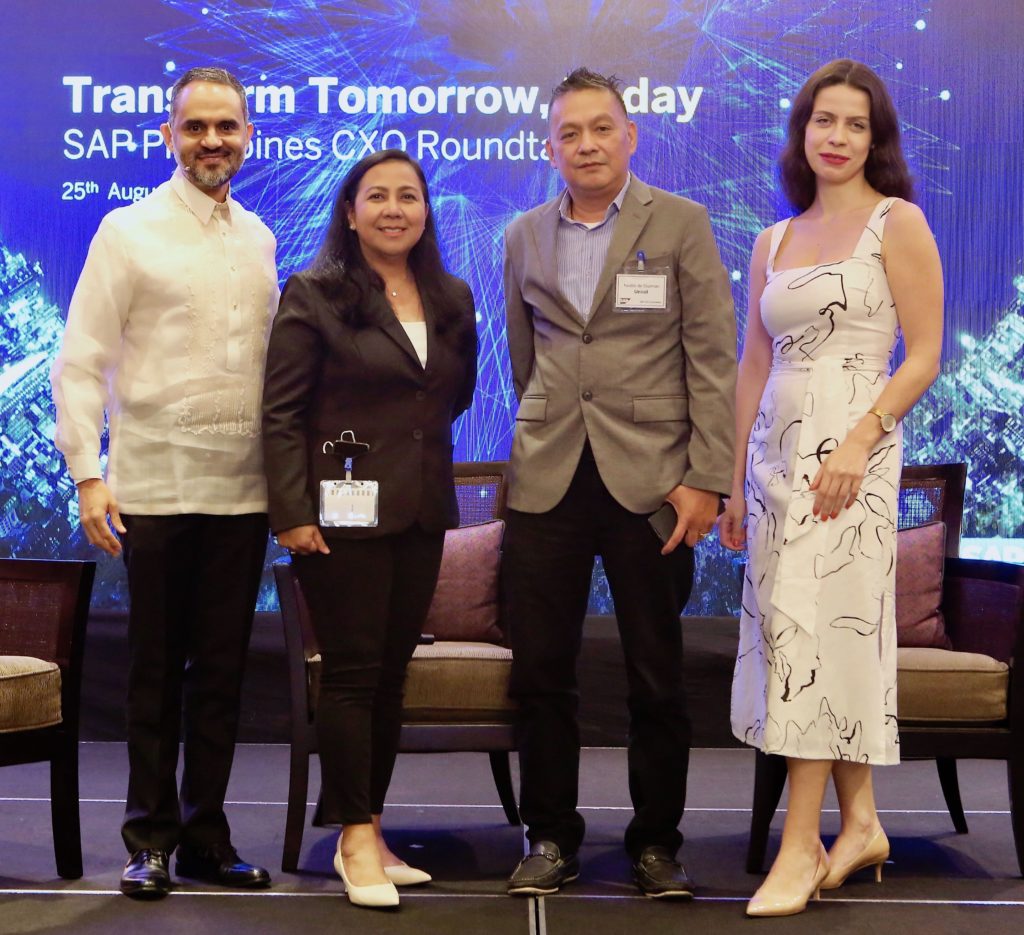 Importance of Innovation in facing challenges
Innovation comes in different forms. For Suzelyn Urbano, VP – IT Enterprise Services of Globe Telecom, innovation is disruptive and life-changing. With nearly ten years of ongoing product and service developments, Urbano remarked that innovation has always pushed the telecom provider's boundaries while considering the needs of its customers.
According to Urbano, 70 percent of Globe Telecom's internal systems are run by SAP. With SAP solutions already in place across its business units globally, the company migrated to SAP S/4HANA to improve fragmented processes, manual workloads, inefficiencies, lack of insights, and delayed decision-making.
Meanwhile, SAP Fiori apps helped enhance the user experience and access to insights. Enhanced visibility helps enable well-informed decision-making throughout the organization, and automation and fewer reconciliations in finance allow faster financial transaction processing, book closing, and error-free reporting.
Finance functions became integrated and efficient, providing real-time business insights, and IT security was strengthened with improved authorization controls and compliance. By facilitating these improvements, SAP S/4HANA proved to be a catalyst for change for Globe Telecom, helping it adapt to changes easily in its business environment.
"Empathy lies at the heart of Globe's innovation. We look at the problems we have now and innovate from there, making sure to solve the real issues," Urbano shared. "Globe's vision has always been making families' dreams come true and empowering businesses to flourish to help achieve an admired nation. As we create our products, we always anchor them in that vision."
Innovating to continue thriving
Meanwhile, for Nestor De Guzman, Digital Transformation Evangelist of Unioil, innovation means survival despite being at the top of their game.
Unioil adopted SAP's S4/HANA ERP system to enable a more unified and smoother operational system integrations.
While De Guzman remarked that digital transformation has fundamentally altered Unioil, it is more than just using sophisticated technology, like SAP solutions.
"For us, at Unioil, digital transformation involves combining the appropriate technology, leadership, and culture. Innovation begins when business executives embrace the transformation enabled by smart technologies," said De Guzman.
Gintare Zukauskaite, Innovation Lead of SAP Southeast Asia, could not agree more. She said that innovation is something that adds value to businesses. "To innovate, organizations must consider what is happening now and think slightly outside the box to create ideas that will improve their businesses because disruptive thinking creates the change today," she added.
Using Sustainability as a Competitive Advantage Today
Today, Unioil is driving a sustainable and green future. De Guzman revealed that Unioil is leading the charge in decreasing carbon emissions. For instance, the company uses Smartlocker technology to supply its service stations with solar energy that powers Electric Vehicle (EV) chargers.
De Guzman also stated that Unioil aims to assist the nation in developing its energy supply rather than relying on foreign energy sources in light of the current crisis the country is experiencing. He believes Unioil helps bring a sustainable future with its green projects, including EV charging, solar farms, and Smartlocker technologies.
For Globe, Urbano explained that its core values center on sustainability. For instance, in addition to its well-known fintech platform GCash, Globe has forayed into the fields of health and education. The company has combined KonsultaMD and HealthNow, enabling its consumers to obtain around-the-clock teleconsultations and even receive their medications at home. On education, Globe launched EdVenture and Kodego. Kodego is an online learning platform, where technical people like software engineers get trained and eventually get placed to their dream jobs and companies.
"Sustainability is a mindset. It is an opportunity to foster your company, the planet, people, and communities," added Zukauskaite.
Visit the SAP News Center. Follow SAP on Twitter at @SAPNews.