New Sun Life mutual fund gives Filipinos another way to invest in global stocks
A mutual fund allowing Filipinos to use their pesos to invest in global tech giants such as Apple, Amazon, and Google as well as many other publicly-listed companies worldwide was launched by Sun Life Asset Management Company Inc. (SLAMCI) on Thursday.
The Sun Life Prosperity World Equity Index Feeder Fund, or WEIFF, will invest at least 90% of its net assets in a target fund, specifically the SPDR MSCI ACWI UCITS ETF, which covers more than 2,000 equity securities globally, Dino Macasaet, SLAMCI manager for product management and development, said in a press briefing.
"WEIFF is quite unique as the fund is denominated in Philippines pesos, while it will invest most of its assets in a US dollar-denominated fund. What does this mean? Investors will now be able to access the global stock market using Philippines pesos. The WEIFF is only one of the few investment products available in the Philippines that allows this," he noted.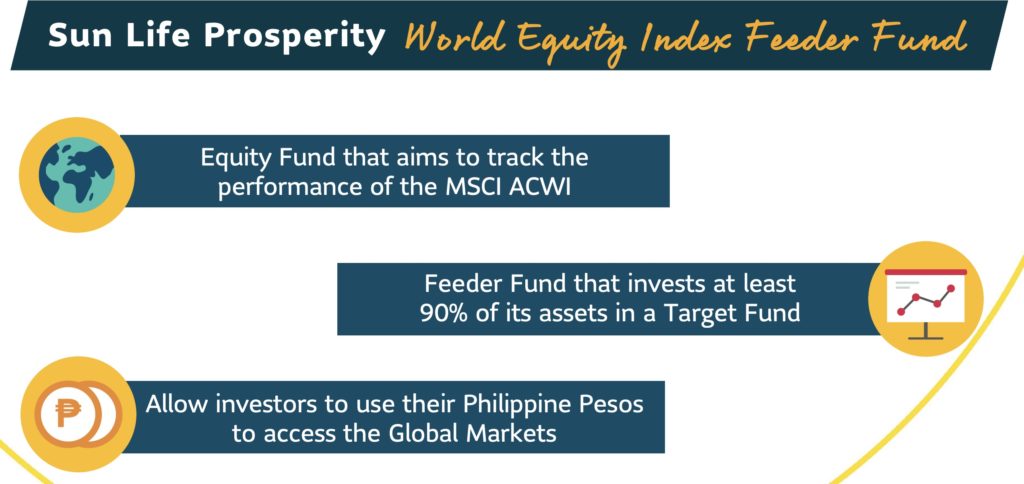 With a minimum investment requirement of P50,000 and additional investment amount of P10,000, the ordinary Filipino investor can invest in well-known companies that previously only high-net worth clients could access, he pointed out.
However, he said, as a global equity feeder fund, WEIFF is for investors with an aggressive risk profile and a long-term investment horizon. Also, WEIFF will be "unhedged", so investors will be exposed to foreign currency risk, he added.
A passively-managed unitized mutual fund, the feeder index fund charges investors a fund management and distribution fee of 1% per annum. In comparison, Sun Life's World Voyager Fund, an actively-managed fund of funds denominated in US dollars that also invests in global funds abroad, charges a fund management and distribution fee of 1.75% per annum.
Filipinos can already invest in global equities through a few index tracker Unit Investment Trust Funds in the market, but WEIFF is the "first and only mutual fund that allows Filipinos to invest in a fund that tracks the performance of the MSCI ACWI using their Philippines pesos", Macasaet said.
In terms of taxes, gains realized by investors upon redemption of shares in mutual funds are not subject to personal income tax based on Republic Act 8424. However, since WEIFF will only issue units, investors are advised to consult their own professional advisers as to the tax implications of subscribing for, purchasing, holding , and redeeming units of the fund, as there are still no specific rules, regulations, and laws covering redemptions from mutual fund units, Macasaet said.
Why invest?
"WEIFF is for investors who want to reduce their risk by diversifying their existing portfolios, for example, investors who are purely exposed in the local stock market and who want to potentially enjoy higher returns," he said.
Mikko Vergara, Sun Life of Canada (Philippines) Inc. global funds head, noted that investing in global equities gives Filipinos a chance to invest in global sources of growth.
"I know it's scary investing abroad. We're not used to it, but [based] on statistics, the ACWI (MSCI All Country World Index), is the lower-volatility outlet. Why is that? Part of it is having more countries, more securities. We have 2,000 single company names within that index compared to 30 locally," he said.
Vergara also noted that the companies that dominate the Philippine composite index are largely involved in the financial and property sectors, but, overseas, indices are different.
"For example, for the ACWI, because the US is the biggest part of it, investing into it gets us exposure to Google, Amazon, companies within sectors not presently available in the Philippines," he added.