MoneySense Q1 2022 Features Gibo Teodoro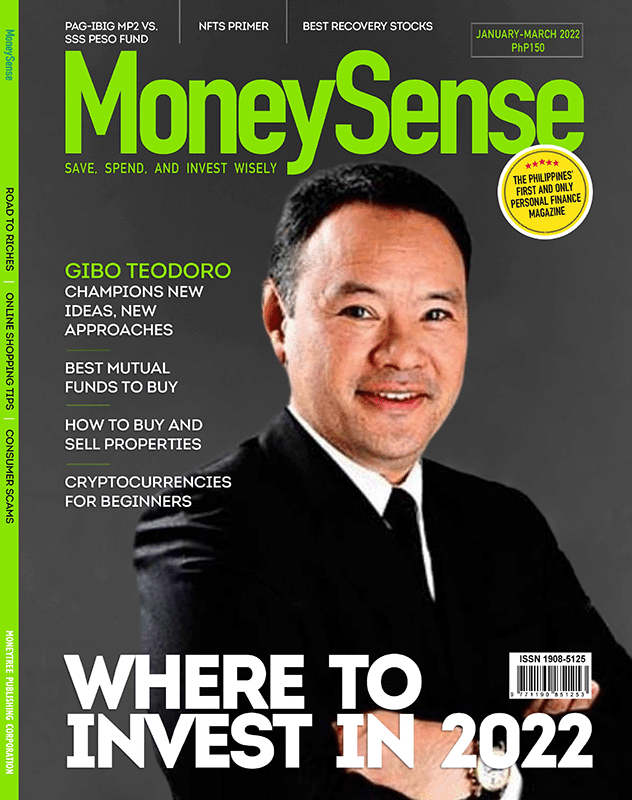 GIBO TEODORO CHAMPIONS NEW IDEAS, NEW APPROACHES
Gilberto "Gibo" C. Teodoro, Jr. is running for office again, more than 10 years after his presidential bid in 2010 when he conceded to Benigno "Noynoy" Aquino III. Now in 2022, the three-time member of Congress and former Secretary of Defense is gunning for one of the 12 slots up for grabs in the Senate, where he believes he can do a lot of good.
I bring to the table the experience of almost 20 years in both the legislative and the executive branches," he says, adding that he also has experience in the private sector, legal expertise, and experience "in providing continued access to essential services in a pandemic situation." Since his last political run, Teodoro has spent his time in the private sector as a consultant to several public and private enterprises. He is also a board director of the Philippine Stock Exchange, chairman of Sagittarius Mines Inc, and an independent director of several privately-held companies.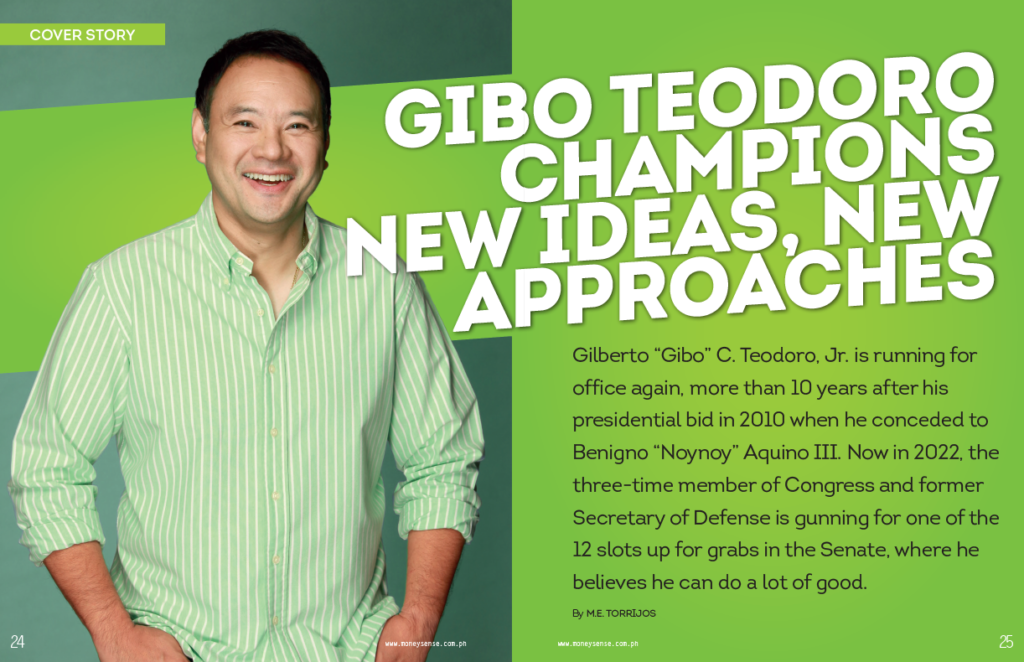 Re-entry into politics
After he took and passed the bar in the state of New York, he had planned to practice law in the US, but he got a call to come back to the Philippines and run for Congress, which he subsequently did three times.
One of his most significant accomplishments over his tenure from 1998 to 2007 was that he authored the Securities Regulation Code of 2000, which led to the adoption of a full-disclosure system for securities regulation.
He was also a member of the Legislative Executive Development Advisory Council (Ledac), which helped in the passage of several key pieces of legislation.
Following his three terms in Congress, Gibo worked in the executive branch from 2007 to 2009 as Secretary of National Defense. In that role, he helped increase efficiency and transparency in the sector and assisted in the resolution of internal and security threats. Also, as ex officio chairman of what is now the National Disaster Risk Reduction Management Council (NDRRMC), he helped improve the Philippines' disaster response and risk management capabilities.
Legislative priorities
In a video response to questions from MoneySense, Gibo talked about his legislative priorities, his positions on issues of the day, and ways the Philippines can look forward to a brighter future.
Speaking in clear and precise, if sometimes technical terms, he describes the reforms he'd like to pursue if elected to the Upper Chamber.
One of them is to see that the General Appropriations Act (GAA)—the legislation that sets the government's budget—is implemented as prescribed. He wants the GAA to pay "special attention to the capacitation of our LGUs (local government units) to make them as autonomous as possible, down to the barangay level."
Essentially, he wants barangays and up to have the capacity to deliver the services expected of them. Developing and strengthening the skills, instincts, abilities, processes, and resources of organizations is called capacity building.
"They are under incentivized," he says of LGUs. "This is one of the key reasons why capacity building at an institutional level cannot be achieved." For example, barangay officials have to be incentivized to ensure the ease of doing business, he points out.
"In this post-pandemic world, we need a lot of capital investments, and this requires any new enterprise…to go through the lowest political unit where you are based, and that is the barangay," he says, stressing that this is why the devolution of funds must also back the devolution of functions to the LGUs. On how to improve the ease of doing business in the Philippines, Gibo again goes to the importance of oversight and supporting capacity building in regulatory agencies. He notes the number one problem is the issue of corruption, and the way to tackle it is to provide reasons for people to demonstrate good behavior.
"Corruption will always be there in any country. The best one can do is to deter corruption through equal enforcement of the laws, and to incentivize against corruption, and to reduce the discretion available to a lot of viewer officers, not bureaucrats," he says.
Infrastructure
Two, he wants to provide incentives for developing digital and physical infrastructure. "[For] the outlying islands, which need to be reached and serviced…you need to interlink and interconnect through physical infrastructure…by way of adequate airports, seaports, and adequate storage facilities also for our farmers and fisherfolk," he points out.
He also points out how infrastructure can boost tourism, one of the Philippines' "sunshine" industries.
"Do we have the infrastructure for it? Take our most famous beaches and islands. Do they have adequate medical facilities to ensure that high-value tourists are taken care of, both local and foreign? There's a big lack in such kinds of infrastructure, and we should really be at the forefront in examining it," he says.
People development
When talking about capacity building, he says that LGUs and the national government need it. Members of the bureaucracy need support for career and professional development. He asserts that they should be given opportunities to advance their education, get into deeper research, and study in the best places available.
He cites the case of the West Philippine Sea, which refers to areas of the South China Sea that are within the Philippines' exclusive economic zone, defined as 200 nautical miles from the country's coast. China's nine-dash-line encroaches on parts of the Philippines' waters in the area.
"…[T]he issue of the West Philippine Sea is always at the forefront. However, how many international relations experts do we have? How many international law experts do we have? Do we have the capability to present our case to the world, both diplomatically, legally in the international sense, with at least beyond a modicum of expertise, so as not to rely on external counsel to make the basic judgments that we need?" Gibo asks.
He intends to file a bill to "capacitate" the Department of National Defense (DND) and the Department of Foreign Affairs (DFA), as he notes that both departments are involved in the primordial issue of the West Philippines Sea.
The former Defense Secretary points out that the DND manages five agencies, the biggest of which is the Armed Forces of the Philippines (AFP), with roughly less than 200,000 people. However, the Department only has 380 to 400 people in the regular plantilla.
"It should be capacitated to provide expertise in international relations, conflict resolution, contracting acquisitions, and other support services to free the attached agencies and allow them to do their jobs properly," he says.
The Department has to tap people from the attached agencies, particularly the AFP, to fill in the gaps because of the under capacity. The practice "does not lend to the building of a strong institution," he explains.
In the case of the DFA, the department could also be geared towards highlighting the selling points of the Philippines, he says.
"The first impression a potential tourist gets is when he or she enters the embassy to get a visa. And we know the state of our embassies. We think of them as luxuries, but we should view them as investment destinations, showcases of the Philippines," Gibo notes.
Reforming education
Gibo also seeks to spur education reform. He wants to take a deeper look into what is being taught to Filipino children and how it is being taught at all levels, including pre-K or preschool.
"The state should already begin to invest into quality education at that point (pre-K)," he says. "I'd like to really look deeper into the condition of their learning materials, the textbooks…. Is the content really relevant to a future world in the age of intelligence?" he adds.
When it comes to higher education, he believes it should be based on merit, although it should be free for those who are genuinely deserving and affordable for those who can afford it and are deserving.
Farmers and fisherfolk
Gibo also notes how farmers and fisherfolk in the Philippines are among the most marginalized sectors of society. To help farmers, he says we should study whether the scale afforded to them is sufficient and whether it is profitable to continue farming where they are located.
"So, this once again involves capacity building on the part of local government units because municipal agricultural officials and agrarian reform officials are at the forefront of this," he says.
He believes that agrarian reform has to have an end, as "we cannot have a perpetual state of agrarian reform."
He points out that farmers who have achieved success with their current land will want to buy more land and mechanize to become more profitable and improve their return on investment.
Unlike neighbors such as Thailand and Vietnam, which have large areas of flat land, the Philippines does not have the kind of topography to support food self-sufficiency. This makes it more critical to ensure the country's laws are clarified for there to be "genuine food security efficiencies in the production of agricultural and maricultural products."
Investing in technology
The Philippines has lagged behind many of its neighbors in terms of technological development, and it is here that Gibo sees much room for improvement and a role for government.
"We should also invest as a government because you can only be a participant if you have a stake in emerging and disruptive technologies," he says. On the private sector side, incentives should be granted to spur investments in research and development, emphasizing emerging and disruptive technologies, whether in fintech, biotech, and other fields, or applications that will revolutionize how we commonly do things.
"These are products of intense education and intense investments into research and development oftentimes without certainty in outcomes," he notes.
"On the government side, they have to have that ability for emerging threats on both pandemics, health, and on the cybersecurity threat. The government, no matter what the quality of hardware they have, if they do not have the institutional capability in terms of human capital to be innovators and to be ahead of the curve, will always be vulnerable to those who intend to do it harm," he points out.
The pandemic has highlighted the need for the government to invest in emerging technologies— vaccines, for example. "We are at the end of the line for (vaccines) because we were unable to invest. And the problem is our risk appetite is not there for investments in technologies, which may turn out to be a flop in the end, but other countries took the risk, and they're reaping the rewards as of now."
"We also need to invest in human capital because cybersecurity is a daily battle. It's outsmarting. It's a daily game of chess where once in a while, you're going to lose; you're going to get penetrated.
Meanwhile, the government can help the private sector through the Balik Scientist program and other Department of Science and Technology-sponsored programs "to create an innovation culture with actual results."
Helping the private sector
Gibo believes that a "lot of fine-tuning needs to be done to inject vigor and competitiveness into the private sector."
With the pandemic, the barriers that divide countries are, in some senses, getting stronger, as each country has to fend for itself.
This country is uniquely situated between Asia and the Pacific and the Pacific Islands. It is culturally different from the rest of Asia, geographically different from the rest of Asia. Therefore, policies, governance, commerce, and other standards should be uniquely Filipino and thought of from our perspective." "Thus, we have to incentivize our private sector in order to make them competitive versus highly subsidized and highly motivated private sectors in other countries," he says.
He also warns against simply adopting policies seen in other, more developed countries, which may become more costly for the Philippines in the end.
"The costs of doing business in this country are high because of the cut and paste form of regulations and best practices that we have. This is not to mean that we should disregard best practices. However, we should do it the Philippine way—what works and is sustainable for us," he says.
He cites, in particular, the issue of the Philippines' energy security amid moves in member countries of the Organization for Economic Cooperation and Development (OECD).
"The challenge is to merge the evolving best practice norms which come from the OECD and other agencies like the Paris accord on climate change, and meld these with the living conditions of Juan de la Cruz, but not at the expense of Juan de la Cruz.
He points out that some countries are experiencing an energy crisis because of the overeagerness and improperly planned transition into green energy.
"We do not want this to happen to our countrymen who have been paying above standard worldwide rates for electricity because we are an oil and gas importer. And alternative forms of energy, as we know, are expensive," he says. "So let us step back and review what our conditions are and what is sustainable."
Opening up the Philippines
Gibo believes that the Philippines needs to be re-engineered into functional political units. Capacity building, he says, must pertain to function.
"How can we deliver services, quality services, in the speediest and safest manner to our constituents, Juan de la Cruz, in the farthest far- flung areas. And so, we need to re-engineer our political structure…to open up our economy to the best possible benefit of our people, regardless of nationality," he says.
Currently, the Philippine Constitution caps foreign equity in agriculture, mining, electricity, waste management, telecommunications, and education at 40%. As a result, the country ranks fourth out of 84 countries in the OECD's regulatory restrictiveness index regarding foreign direct investments. Its economic growth has also been constrained as foreign investments have bypassed the Philippines.
He believes that the Philippines' current Constitution was designed to destroy the vestiges of martial law, but it never looked forward, only looked backward.
"You can't drive a car where your neck is facing the rear," he points out, as he also acknowledges that there is also saying that you can't get to where you're going if you don't remember where you came from.
"But that's why there's a rear-view mirror in cars where you take a glance at once in a while, so you know what happened or what's happening behind you," he adds.
Disaster response
Perhaps among the strongest suits of Gibo is his experience in handling crises, which may also be why the pandemic situation was what moved him to get back into political life.
It was during his time as Defense Secretary in 2009 that he oversaw efforts to contain the disasters wrought by typhoons "Ondoy," "Pepeng," and "Frank." His leadership during the crises and recovery efforts earned him praise.
The Manila Bulletin reported in February 2010 that Alfonso Uy, president of the Federation of Filipino-Chinese Chambers of Commerce and Industry Inc. (FFCCCII), said Teodoro's crisis leadership typified the spirit of Filipino-Chinese volunteerism that is geared at mitigating the effect of disasters on people's lives without media fanfare and mileage.
"During relief operations for typhoons Frank and Ondoy, we saw how effective, methodical, and hardworking a crisis manager Secretary Teodoro is," Uy said to resounding applause by participants.
With the pandemic, Gibo says he has seen how crises can be managed in the private sector without the red tape that is so common in government bureaucracy.
"I saw that agility in changing the way you do things, procurement, purchases devoid of red tape and bureaucracy is needed to survive. And that was done in the private sector that the government was not able to do," he says.
With his experience in the past 10 years in the private sector opening his eyes to the way things can be done, he has developed new knowledge, skills, and perspectives that can inform how he can be as a legislator in the Senate. In that role, he can take part in paving the way for the Philippines to achieve a higher path of growth and uplift many more Filipinos out of poverty.
It is in the political sphere again that he sees he can help the next generation build a better Philippines. "We need to build up a bureaucracy which has its feet and ears on the ground, and which will think ahead and help our private sector innovate," he says.
With such well-rounded experience, Gibo seems like the right person for the job.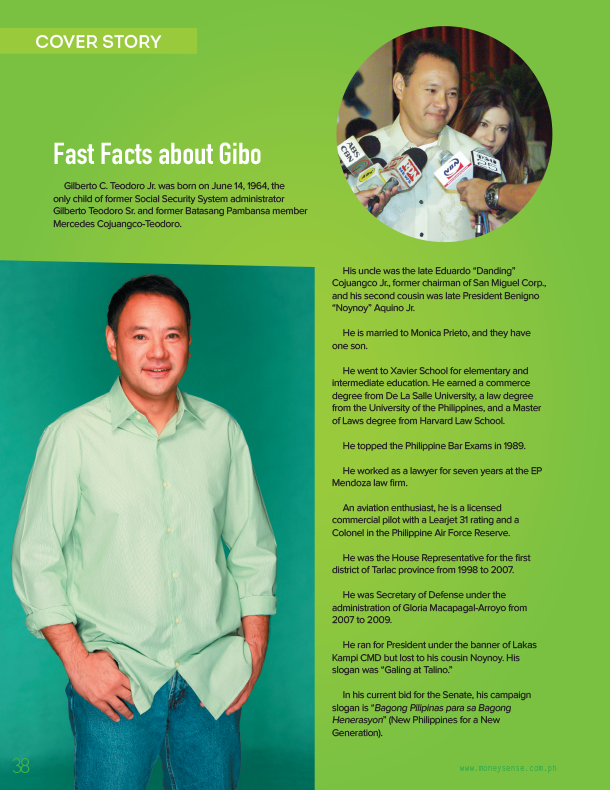 Is Gibo a good investment in 2022?
Gilberto "Gibo" C. Teodoro Jr. is gunning to be Senator in the May 2022 elections. Having been out of politics since he lost in his presidential bid in 2010, many people today may not know him as well as other politicians who have remained in the limelight. However, for those who have worked with him in either the public or private sector, or both, Gibo is on their list of people they would heartily back for the Senate.
In line with our theme on investing in this MoneySense issue, we asked several people involved in business, finance, and government, and who have known Gibo for many years: Is Gibo a good investment in 2022? Here is what they said:
Margarito "Gary" Teves
Former Finance Secretary
As Finance Secretary under the administration of Gloria Macapagal-Arroyo, I had several opportunities to work with Gibo Teodoro, who was also then a member of Cabinet as Secretary of Defense, In 2009, we worked closely as members of the Special National Public Reconstruction Commission created by the President following the onslaught of major typhoons in central Philippines. I saw first-hand his intelligence, competence and dedication in the disaster relief and recovery efforts.
With his background as a three-term Congressman, legal training, and recent private sector experience as well his stint in the executive branch, I believe that Gibo can bring to the Senate a deep understanding about the key reforms needed to drive the Philippines forward and uplift the plight of Filipinos. In particular, Gibo can be a strong champion for opening the Philippines up to much needed foreign investments, which are vital for the country's economic growth. The Philippines currently ranks the highest in Asia in the Organization for Economic Cooperation and Development's foreign direct investment regulatory restrictiveness index. We need people like Gibo to bring down the barriers to investments that can create jobs and opportunities for a better life for Filipinos.
Vivian Yuchengco 
Member, Board of Governors, Philippine Stock Exchange
"Gibo is my non-negotiable senatoriables. Frankly speaking, he is the only one on the list that I trust fully and wholeheartedly. Besides a proven track record in both the public and private sectors, he is a man of dignity, honesty and has dedicated his life and efforts to God and country. On a personal level, is also incredibly smart, and yet kind and humble. A combination so rare today. For good business and the greater good…it's Gibo for me!"
Tony La Viña
Former Dean, Ateneo School of Government
I have known Gibo for more than 37 years, since we were first year law students at the College of Law of the University of the Philippines. We became close friends in our senior year and studied together for the 1989 bar examinations which ended with both of us ranking high (Gibo number one, with me number three). As a classmate, Gibo was generous, supportive, easy to get along with, and loyal. He was obviously brilliant, had gone to the best schools for his basic education (Xavier School) and college (De La Salle University) and we knew he belonged to an influential and wealthy family, but he was not arrogant and never acted privileged or entitled. That was what attracted me to Gibo. I could trust him, knew that he was always thoughtful and principled, with an exemplary mind and a good heart, and above all someone who loved our country very much.
Even then, when we were students and young lawyers, Gibo's vision for the Philippines was that of modernizing our economy and enabling our people to prosper in the 21st century. This ambitious vision for the country is reflected in his work in Congress in the 1990s and early 2000s, his leadership of the Department of Defense during the Gloria Macapagal Arroyo years, his presidential campaign in 2010, and his business engagement in the last ten years. Through the years, Gibo and I had continued to engage with each other, exchanging observations and ideas on how to change this country for the better. He has well-conceived and well-developed solutions to many of our challenges. Electing him to the senate will give him the opportunity to test and implement very practical approaches to many of our political, economic, and security challenges.
I am definitely investing in Gibo. As an academic, both his peer in the law profession and as someone who has reviewed his political career and record as a businessman, Gibo ranks highest among our generation of leaders. As a professor of law, philosophy, politics, and governance, I recommend him to all voters unconditionally and without qualification. The senate and the country would surely benefit if we elect him as senator this May 2022.
Ramon C. Garcia, Jr.
Technopreneur and President of Iwave Inc.
He was analytical and studious in his college days, actively solving complex solutions and then topping the Bar Exams. In my later dealings with him, he was an honest, effective, and strategic public servant while he served as our country's Secretary of Defense. As an early transformational participant in the growth of the Philippine IT Industry, which with the right leadership can continue to allow our economy to leapfrog and carry its people to the premier position globally, I fully believe the Senate and the Philippines would benefit from the election of Gibo as one of our Senators.
There are still many things in our laws that need to be improved to help Filipinos, not only compete, but be leaders in IT and knowledge-based businesses. The sector contributes over US$35 Billion annually to the Philippines and 2.3 million jobs. Very few know that many of these technologies are all derivatives of defense technologies. With his experience as a top legal practitioner, a Secretary of Defense, and a key industry private sector participant, Gibo as Senator would be able to help us expand our capabilities, our competitiveness, and our leadership in new or emerging technologies such as BlockChain, Crypto, Smart Networks, Artificial Intelligence, Robotics, Electric Vehicles, Space Technologies, and emerging Defense and Disaster Mitigation Technologies.
Facts about Gibo
Gilberto C. Teodoro Jr. was born on June 14, 1964, the only child of former Social Security System administrator Gilberto Teodoro Sr. and former Batasang Pambansa member Mercedes Cojuangco-Teodoro.
His uncle was the late Eduardo "Danding" Cojuangco Jr., former chairman of San Miguel Corp., and his second cousin was late President Benigno "Noynoy" Aquino Jr.
He is married to Monica Prieto, and they have one son.
He went to Xavier School for elementary and intermediate education. He earned a commerce degree from De La Salle University, a law degree from the University of the Philippines, and a Master of Laws degree from Harvard Law School.
He topped the Philippine Bar Exams in 1989.
He worked as a lawyer for seven years at the EP Mendoza law firm.
An aviation enthusiast, he is a licensed commercial pilot with a Learjet 31 rating and a Colonel in the Philippine Air Force Reserve.
He was the House Representative for the first district of Tarlac province from 1998 to 2007. He was Secretary of Defense under the administration of Gloria Macapagal-Arroyo from 2007 to 2009.
He ran for President under the banner of Lakas Kampi CMD but lost to his cousin Noynoy. His slogan was "Galing at Talino."
In his current bid for the Senate, his campaign slogan is "Bagong Pilipinas para sa Bagong Henerasyon" (New Philippines for a New Generation).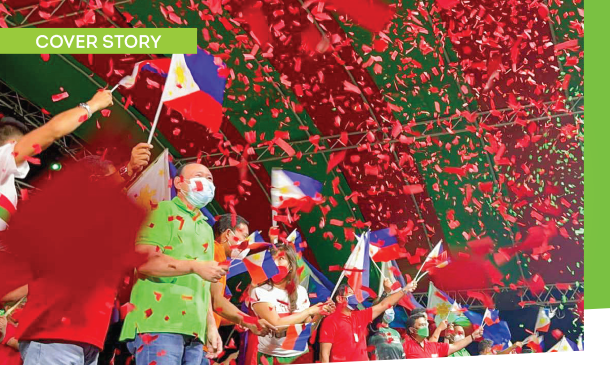 Gibo, the "New Miriam" of PRP
In October, the People's Reform Party, which was founded by the late Senator Miriam Defensor-Santiago, introduced former Defense Secretary Gilberto "Gibo" C. Teodoro Jr. as their candidate for senator for the May 2022 elections.
PRP president Narciso "Jun" Santiago Jr. said he and his party mates were "thrilled to find a new Miriam that would fit the Senate."
Miriam was the youngest judge appointed to the Regional Trial Court in Metro Manila, a legal luminary known for her anti-corruption campaigns. She began a "no postponement" policy, so by the end of her first year in office, she had disposed of the highest number of cases.
As Immigration Commissioner, she directed raids against criminal syndicates producing fake passports. She was lauded for "bold and moral leadership in cleaning up a graft-ridden government agency."
Also, as Agrarian Reform Secretary, she stopped the practice of converting agricultural lands into commercial or residential lands to circumvent agrarian reform.
As a Senator for three terms, she authored landmark bills such as the Reproductive Health Act of 2012, the Sin Tax Law, and the Cybercrime Act of 2012.
"I know Gibo to be an honest and wonderful person. Like Miriam, Gibo is brilliant and honest.
He graduated at the top of his class in UP Law, and he was a bar topnotcher. When he was in Congress, he was brilliant and exemplary. In the executive branch, he was untainted by corruption," said Santiago.
For his part, Gibo said he was delighted to accept the PRP's endorsement. "Nobody will be able to fill the shoes that Senator Miriam left, but it [her life] is an aspiration and guide for each and every one of us as to how we should act and move forward in the future," he said.
It was an honor for him to succeed in the legacy of Miriam, and he would make her his model on how to be a model for others as well.