Metro Manila condominium take-up sees a pickup, after a hiccup
Leading diversified professional services and investment management firm Colliers (NASDAQ and TSX: CIGI) recently released its quarterly reports covering the performance of the Office, Residential, Industrial, Hotel sectors.
Insights & Recommendations
Metro Manila's pre-selling condominium market is likely to be hampered by rising interest rates. According to Joey Roi Bondoc | Associate Director, Research, compressing yields have also been compelling developers to delay condominium launches in the capital region. "Colliers believes that developers are now taking a more cautious stance as they await the release of the new administration's economic agenda, including pro-property reforms, and gauge general consumer sentiment amid rising inflation and interest rates."
The secondary market, meanwhile, is likely to benefit from the return of foreign employees as well as local firms' return-to-office mandates, said Bondoc. "We see this positively influencing prices and rents in major business districts. To attract potential buyers, we recommend developers offer more attractive and innovative promos and payment schemes; highlight amenities that will differentiate their projects and to attract discerning clients; and explore securing green building certification especially with the growing demand for more sustainable residential projects beyond Covid-19 pandemic."
Metro Manila pre-selling market recovers
Pre-selling condominium take-up in Metro Manila reached 5,500 units in Q1 2022, higher than the 3,100 units sold a quarter ago. In H1 2022, total take-up reached 8,600 units from 10,600 units sold a year ago.
In 2021, Colliers recorded anemic launches and take-up in the pre-selling market. Only 27,100 units were launched last year while only 12,400 were sold.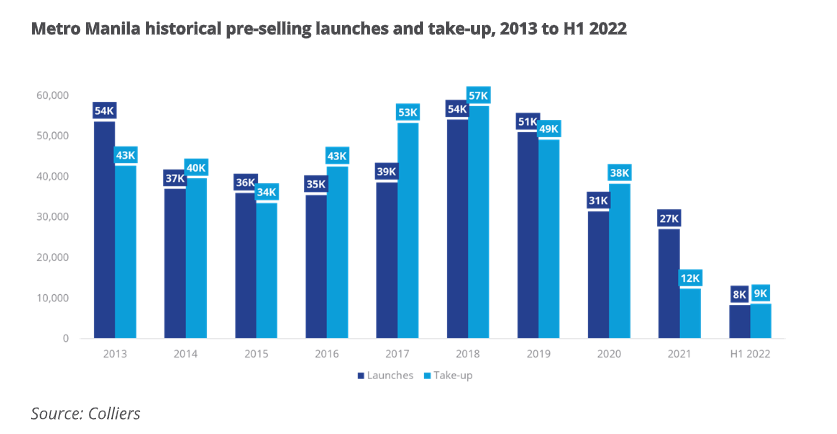 In our view, 2021 take-up figures are likely to be breached this year.
Among the submarkets in Metro Manila that stood out in terms of sales include Quezon City North, Mandaluyong City, and Manila North. In our view, launches across the capital region are likely to be stifled by rising interest rates and construction prices.
Colliers Philippines partly attributed the improved sales figures to improving consumer and business sentiment in Metro Manila. Residential demand should also be supported by the continued inflow of remittances from overseas Filipino workers (OFWs), backed by the government-projected economic growth of between 6.5% to 7.5% in 2022.