JUMP for your Skin's Best Years!
The NIVEA Skin Firmness Check Mega Fashion Hall Invasion
When our main girl 'Tey Tey' Swift made the whole world sing to the anthem of not caring about anything because she's feeling 22, we sure did get our vibe up for her. But of course, we can't be forever 22 as much as we'd like to kid ourselves. As age kicks in, as early as our 20s, our skin starts to lose its firmness, making today the best time to start caring for our skin, to keep it firmer for longer.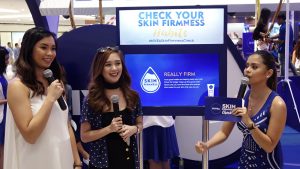 With this in mind, NIVEA, the world's no.1 skin care brand, gave women a fun and creative way to check the firmness of their skin. Dubbed as the NIVEA Skin Firmness Check, the brand amped-up the entire SM Megamall Fashion Hall recently, to enable them to live out their skin's best in an event full of fun, music, and a lot of jumping!
Throughout the day, guests were treated to a fun way of checking the firmness of their skin through a bungee trampoline, outfitted with high-speed cameras to capture how the skin moves as they jump. Using a motion-tracking technology, guests were shown a creative visualization of the skin's movement to illustrate the firmness of the skin – the less movement, the firmer the skin is.
"Our skin starts losing firmness at age 20, and so NIVEA thought of this creative way to engage younger women and help them realize the need to start achieving and maintaining the skin's best years. By letting our consumers know about the possible factors and habits that may affect their skin, we are giving them the chance to start achieving their skin's best years," says Jamie Sanico, Senior Brand Manager of NIVEA Body.
To further educate women on skin firmness, guests were made to assess their lifestyle through the NIVEA Skin Firmness Habit Check that revealed the habits that influence the skin's firmness – from lack of sleep, not enough water intake, exposure to UV rays and pollution, smoking and many other factors. Talk about being every woman's best skin care partner!
It was truly a wonderful event that firmed-up NIVEA's position as the best skin care in achieving skin's best years. The NIVEA white and firm range, which includes the NIVEA Extra White Firming Body Serum SPF33 provides not just fairer but firmer and smoother skin too. Extra White Firming Body Serum SPF33, with its light and non-sticky formula, contains 95% pure Vitamin C to provide radiant and fairer skin tone and firming ingredient Q10 that helps firm skin and restore its elasticity. The amazing result? Noticeably more radiant, whiter, smoother and firmer skin in just 14 days.
For more information, visit NIVEA.ph and facebook.com/NIVEAPhilippines. Follow us @NIVEAPhils on Twitter and Instagram.