Investment in Lifelong Learning
How REX focuses on each learner in every Filipino home
by EXCEL V. DYQUIANGCO
You spark hope among people when you instill in each of them the awareness of their best possibility. It is that hope that will drive them to persistently rise amid diversity while helping others rise as well. These are traits characteristic of a REX lifelong learner that the company intends to promote and develop.
Just imagine living in a nation where lifelong learners are determined to help others, and you get a sense of the vision that moves the men and women behind REX who are inspired to help fulfill the company's noble mission of addressing the needs of every learner.
"Investment in learning is of utmost importance and significance to us," REX Chief Executive Officer Don Timothy Buhain shares. "This is why since the time of our grandparents until today we have been constantly sharing knowledge to every kind of learner."
Despite the overwhelming changes happening in the world, REX continues to learn and evolve in the face of changing behaviors and technology. The company has been successfully blazing trails in the education publishing industry by promoting its advocacy with its partners and conducting research for innovation and deeper market understanding while leveraging its rich legacy and robust network. All these efforts are being undertaken to ensure the success of each learner in every Filipino home.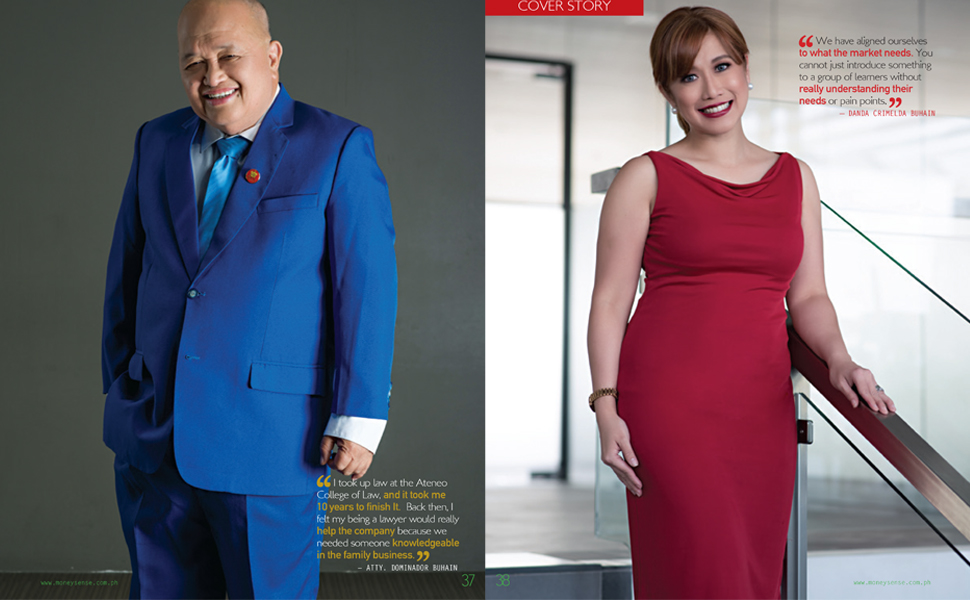 Developing education champions with the right partners.
"REX values every learner," Don shares. "We hope that in the years to come, we would become more instrumental in developing learners who are well rounded; who have goals, dreams, and aspirations in life; who help others."
This is what REX lifelong learning is all about. The company believes that its very foundation is anchored on the development of a learner that is healthy, safe, engaged, supported, challenged, and values-oriented—these are the six facets of the Edukampyon Approach that now serves as the guiding light for all of the company's endeavors.
"REX is a brand that primarily exists to address the needs of each learner," REX Chief Marketing Officer Jeanne Marie Fontelera-Tordesillas says. To ensure everyone's success in this area, we believe that the learner needs to be healthy, safe, engaged, supported, challenged, and values oriented."
"We believe that the earlier we influence our learners, the earlier we can affect their learning. The better they are molded, the more successful they become," Chief External Affairs Officer Danda Crimelda Buhain also shares.
These statements encapsulate REX's vision for every Filipino home, where learners have access to learning materials that open their eyes to a myriad of possibilities, where learners can be their best version of themselves that helps others, which leads to building a better nation.
This is what an education champion promotes. This is the Edukampyon Approach that guides REX in designing products and services that is changing the game in the field of learning.
A relevant approach anchored on a noble mission.
The Edukampyon Approach is anchored on the REX mission statement, "Tayong lahat, Kapit Bisig, Para sa Bata, Para sa Bayan," which is the product of a retrospection activity conducted five years ago.
"Back then, we were assessing our contribution to education and nation building," Jeanne Marie recalls. "This statement clearly captured the company's belief that only through the active involvement of all the stakeholders of learning can REX succeed in enabling every learner to have a better and fuller life while actively contributing to society."
"We are not just in education," Danda adds. "We are also investing in the development of every stakeholder for education like teachers, school administrators, and parents. We help them develop holistically because we believe it's not enough for them to be just knowledgeable."
To serve as a center for educator training, REX launched its Resource for Educators and Academic Professionals (REAP) in 2015. It has a training center that can be rented by the public.
REX believes in making a difference in the lives of learners by giving their teachers quality training and by supporting their schools for further development. When everyone that surrounds the learners are also healthy, safe, engaged, supported, challenged, and values-oriented, then this country is several steps closer to being better.
This is the REX mission being lived and being hard at work. Five years after its introduction, the mission statement is again being updated to ensure the company's relevance in the ever-dynamic learning landscape. The updated version will incorporate the clearer articulation of REX's noble mission in a wider area of learning.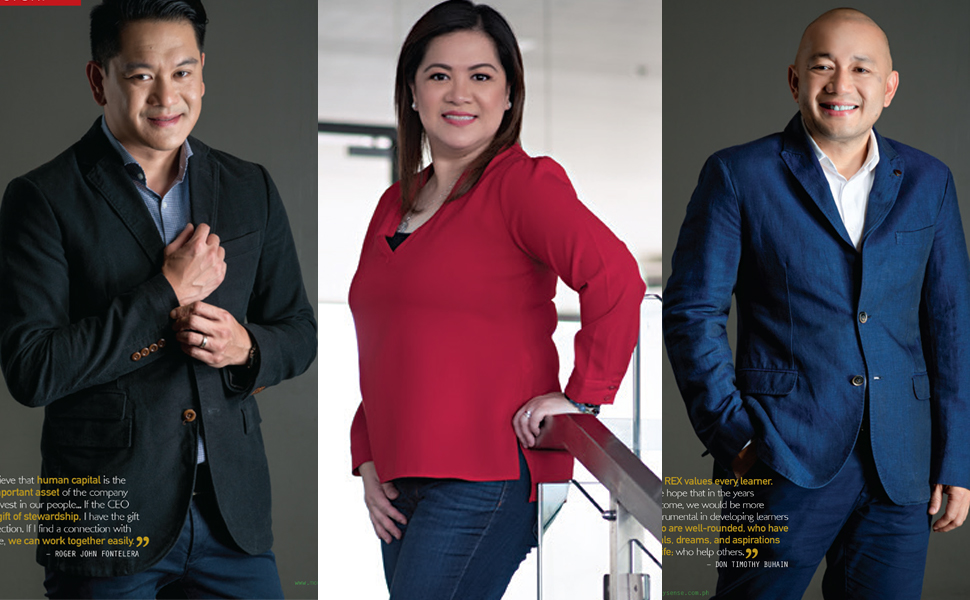 Addressing student performance.
While it readies to take on the gargantuan task of making its presence felt among every Filipino, REX took it as its responsibility to continuously find ways to test the efficacy of learning.
In the 2018 Programme for International Student Assessment (PISA), the Philippines scored 353 in Mathematics, 357 in Science, and 340 in Reading, all of which are below the average score of participating OECD countries. This has alarmed REX.
"This is not just about the academic performance of our students," Don shares. "It is also about the social, economic, mental, and even financial forces that affect their lives. We need to look at this issue in a holistic perspective and figure out what we can do to help and improve their lives."
"The recent PISA results are very telling," Jeanne Marie adds. "While it tells us that we still have a long way to go, that there are still a lot to be done, it also tells us that REX is on the right track for promoting the Edukampyon Approach that looks at learning using a wider lens."
The study revealed some factors that are considered critical in explaining the subjects' academic performance. These psycho-socioemotional and economic issues include bullying, teacher support, and the quality of the learning environment.
"For the 15-year-olds who took the PISA, we have to check the condition of these children," Jeanne Marie shares. "Are they being bullied? Are they able to eat proper breakfast? The priority of the schools is academics, but in reality, we also have to consider the economic condition of the country, which affects the condition of the child inside the home. Is the child supported? Is the child challenged?"
If you take a closer look, these are issues that the Edukampyon Approach are addressing as well, particularly the facets of safe, engaged, and supported. There are many observations culled through the PISA study that the Edukampyon Approach can address.
The integration and implementation of programs related to the six facets of the Edukampyon Approach (healthy, safe, engaged, supported, challenged, and values-oriented) becomes a more compelling call to all those involved in the area of education. School administrators, teachers, parents, and the government have to work together to ensure that we develop learners who are willing to help others.
In 2016, REX also established the REX Institute for Student Excellence (RISE) to assist educational institutions and teachers in using assessment and research toward the achievement of students' learning goals.
REX values these observations. This is also the reason for its investment in research to deepen its understanding of the needs of the market.
Research for understanding and innovation.
As it celebrates its 70th year as the leader in its category, REX further expands its investment in lifelong learning. The company vows to do this by increasing its investment in research to help the company create more quality and relevant learning materials.
"REX will keep on growing," Don assures. "We will make sure that we continue to keep up with the times to ensure the relevance of the lessons, values, and virtues that can be found in our books, which is shared to the learner."
Jeanne Marie also shares: "Our reason for being is in instilling the awareness of the best possibility to each learner. The learner is the center of what we're doing, and so we want to develop learners who are 21st century-ready."
Throughout its history, REX has always been responsive to the shifts that are happening in the market. In 2012, REX established REX Digital to design and produce learning solutions through the help of technology. It also introduced solutions that empower teachers to implement blended learning delivered in a convenient format.
REX also launched Schoology to condense learning into a single easy-to-use platform so that schools can better facilitate blended learning through a vibrant online learning environment. The REX Quidbots, on the other hand, is a robotic solution that helps educators improve the way they engage students. It inspires learners to innovate, invent, and create solutions.
"REX acknowledges that there is a need to develop a variety of activities and methods that technology can support so that students get motivated, organized, cooperative, empowered, and creative," says Danda. REX ensures that every technology it considers for use in improving the learning experience is aligned with the needs of the market.
"We have to align ourselves to different things," Danda shares. "We have aligned ourselves to what the market needs. You cannot just introduce something to a group of learners without really understanding their needs or pain points." The company considers a lot of factors before embarking on product development. It looks at the behavior of the students, the motivations of its end-users.
"You have to know the trends while also grounding it to reality," Danda adds. "We always ask ourselves: Are we ready for it? A lot of factors have to be looked into when you are in product development and service development. It's not just producing something. It's not just a usual product where you just mix two chemicals and you expect the same results over and over."
"You also have to be able to imbibe the skills that you need to face in this harsh world. If you are not knowledgeable with the skills, you cannot collaborate, you cannot think critically, you cannot work with people, you cannot communicate, and you can't empathize. This is what we have been doing all along."
At the heart of every REX associate are the Filipino learners that are now living in a world very much different.
Understand the needs of learners.
"I worked outside for 10 years as a speech therapist for children with special needs before being invited by my cousin Don," says Jeanne Marie. "I understand the value of teaching children because I handled them in my previous work. They then put me in charge of the Marketing team. We had professionals who helped me to organize the team, and it was a timely move to the family business because I can help more people and contribute to a bigger cause." She adds, "As a speech therapist, my reach was very limited. With REX, there's a bigger cause, a deeper meaning into my life. Education is close to my heart."
Thus, REX, which has been in the business for 70 years, seeks to invest not just in education but in its people and learners. This is critical in ensuring that the company knows where it can contribute, and the help it needs from its valued partners.
Valued partners.
REX has always acknowledged the importance of working with the right partners in pushing its advocacy. Since a lot of learning takes place in schools, REX has always valued the schools that continue to believe in REX in ensuring the efficacy of teaching students.
"I was invited by my grandfather to join REX because he saw the importance of a family member taking care of the schools," Danda shares. "He felt that it would be nice for me to be involved in that area so that the company would understand their needs, directions, thrusts, mission, and vision."
Danda could have taken up law, but a higher calling was underway. "I am proud of what we in REX have contributed to better understand our partners," says Danda. Understanding the needs and future direction of its partners allowed REX to make critical decisions all throughout its existence. It still does.
Its partnership with thought leaders has also allowed the company to flourish in every learning area. Working with the right subject matter experts has always been considered as an important component of the REX business. REX values its deep relationship with more than 700 authors who have been working relentlessly to provide quality and relevant learning materials for the company. With a refreshed partnership agenda in place, REX will continue to conquer every vertical it considers important as it continues to journey to be in every Filipino home. With this journey comes the realization that the company needs to focus more on developing its most important resource—its people.
"Para sa bawat empleyado".
"We value our people and the hard work they put in to contribute to the fulfillment of our vision," says Don.
REX Chief Operations Officer Roger John "Sunday" Fontelera agrees with Don. "I believe that human capital is the most important asset of the company so we invest in our people."
Don and Sunday make up the formidable duo that is leading REX to greater heights. "If the CEO has the gift of stewardship, I have the gift of connection," Sunday shares. "If I find a connection with someone, we can work together easily."
Together with them is the leadership team that is gung-ho in pushing the boundaries to ensure that REX will attain its "every Filipino home" agenda. This team is complemented by a REX team that pushes for the realization of the Edukampyon dream.
"Most of our people believe in the advocacy of REX," Sunday shares. "We want to play a big role in changing and shaping the future of every Filipino learner."
REX understands that it needs the collective effort of everyone to realize this dream. This is the reason for launching an Employee Engagement program that's also anchored on the six facets of the Edukampyon Approach. "We value our smooth relationship with our people that's why we ensure we connect well with them," says Danda. "We need to ensure that the advocacy lives in them."
Aside from giving importance to its people, REX is further improving its systems and processes to improve how it develops, promotes, and deploys its products and services. "Our clients have entrusted us for many years, and they deserve only the best from us," Don shares.
REX has always been a reliable partner of many academic institutions. For 70 years, it has consistently provided quality learning solutions and services as it aims to help raise the quality of education in the country. "We sincerely believe that when the performance of the students gets better, the future will look brighter for every Filipino," Jeanne Marie adds.
This is REX's grand dream. Who knew that this advocacy begun with a love story?
Legacy of 70.
REX founders Juanito Fontelera and Jovita Buhain were young entrepreneurs whose respective book stores face each other. They eventually fell in love with one another. This love led to a stronger REX Book Store.
REX then was just focused on selling law books. Through their visits to other countries, the couple brought back with them some exciting ideas to grow the company. REX expanded in other areas like elementary and high school textbook publication.
This expansion required help from more family members. During their absence, the first among the second generation of the family, Atty. Dominador D. Buhain (or Chairman, as he is fondly called by REX associates), joined REX as its first officer-in-charge and sales agent.
Together with Chino Febre, they brought REX to greater heights by conquering every province with the company's superior learning solutions. By the 1970s, REX has secured its leadership position in the field of law education publishing. It continues to enjoy leadership in the category.
"I took up law at the Ateneo College of Law, and it took me 10 years to finish it," REX Chairman and President Atty. Dominador D. Buhain shares. "Back then, I felt my being a lawyer would really help the company because we needed someone knowledgeable in the family business." Then tragedy struck. The decade ended with a fire that razed the store in 1969. Distraught and fallen, the family managed to move on after finding a single unblemished copy of a book titled "Jesus, Save Me".
"I was fresh from the initiation rites of Ateneo when the fire happened," Atty. Buhain recalls. "After the fire, I helped my stepfather and my mother resuscitate the business by visiting the schools and personally soliciting funds."
In the 1970s, REX welcomed the decade with the opening of its Morayta flagship store. REX Printing Company was also born. "We put up a building on a lot purchased in Morayta for our printing press and started publishing law books again," Atty. Buhain shares.
Mario Buhain and Rogelio Fontelera, both second generation family members, also joined the company to manage the publications and commercial printing business.
In the 1990s, the continuous growth and expansion of REX was very evident. Led by Don and Danda, members of the third generation of the family, the company expanded, along with the realization of the importance of embracing an advocacy.
REX soon became international with the incorporation of Rex Book Store International in 2005. It also became the sole distributor of Teacher-Created Materials, a trusted resource from kinder to Grade 12 educators in over 92 countries.
In this decade, Sunday and Jeanne Marie joined REX to head Finance and Marketing, respectively. As the third generation, or 3G, takes on the helm, they admit that they are also facing challenges in the fulfillment of its lofty vision.
"We need to find the balance between the old ideas and the new ones," Jeanne Marie shares. "Most of the times, we would find ourselves asking: When is it okay to try new ideas? When is it okay to consider the opinion of the older ones?" This is the challenge that goes with a legacy brand that is part of an industry that is being disrupted.
"We create learning solutions and would like REX to be in every Filipino home," she adds. "But how can we be there? How can we provide the help that is needed in that area?"
REX is ready to address this. The entire organization has been set up in teams to ensure collaboration. "If you want real change, you need to structure people based on what you want them to be," Sunday adds.
REX after all, like a lifelong learner, needs to keep on updating itself to stay relevant. And the Buhain-Fonteleras face this challenge as one solid family.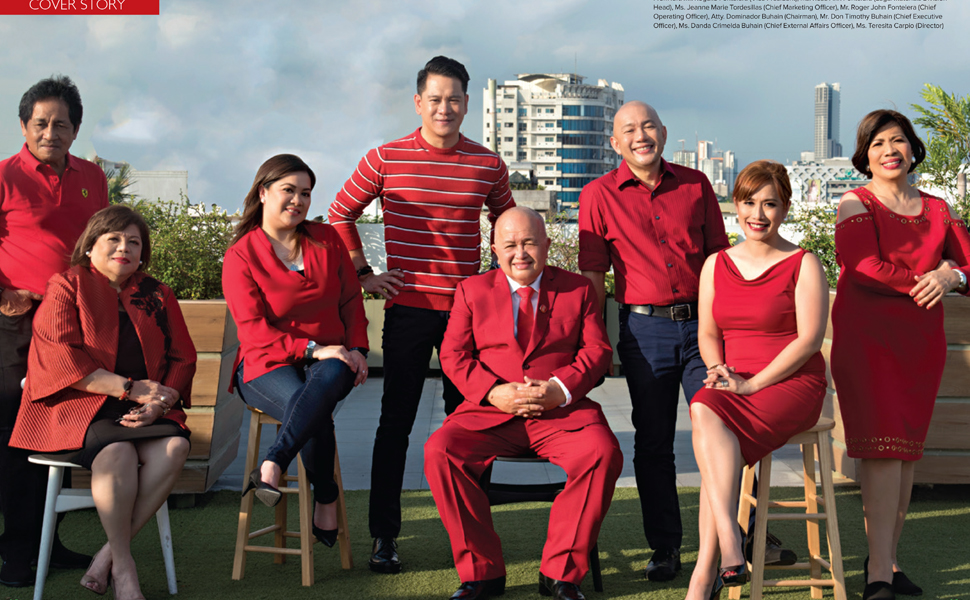 It's all in the family.
"REX sustains the family," Jeanne shares. "As a way of giving back, we also make sure that all the family members, working or not working in REX, would somehow benefit from its success."
The family that works hard to propel REX to even greater heights also ensures that it keeps the family together. "Manong and Manang wanted the business to be sustainable but they also want the family to be intact," says Jeanne Marie.
The entire clan gets to go on an annual Holy Week trip outside the country to bond and enjoy each other's company. "We have started this tradition ever since our grandfather died in 2010," Danda shares.
The founders built such a strong foundation that until now the family holds the values they learned from them so close to their heart. "We are grounded on the roots of the company," Jeanne says. "We are holding on to the legacy of Manong and Manang and keeping our feet grounded."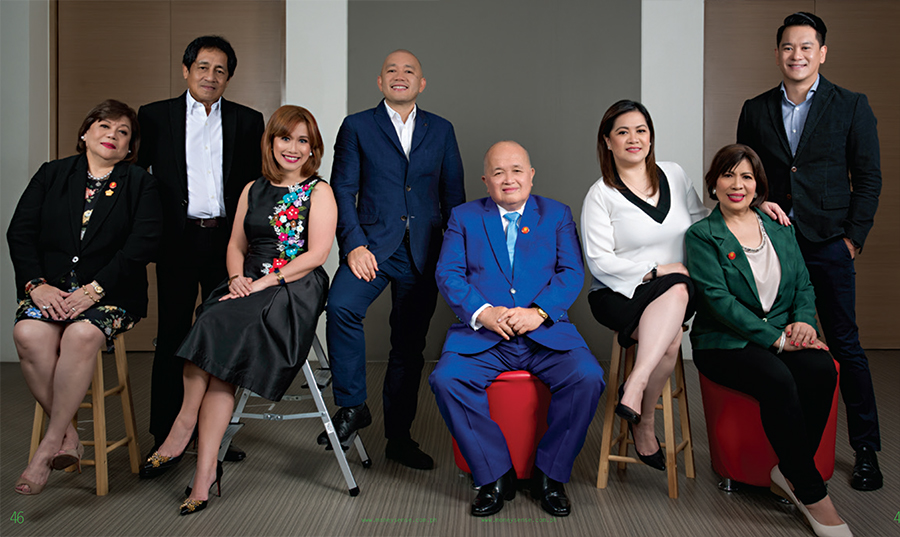 Celebrating seven decades.
Now on its 70th year, REX remains a leader in the educational publishing industry. Big plans are in place to celebrate the legacy, to fulfill the advocacy, and actualize the vision of "REX in every Filipino home".
"We intend to launch the new REX in an exciting way," Jeanne shares. "This will happen soon but first we need to transform within. We want our employees to reach the highest potential of what they can be. That way, they can contribute more to helping the learner succeed."
Sunday adds: "REX is here, but if we don't do effective and efficient work, all our hard work and efforts may come to an end, and I hope that won't happen."
"We are calling on all our partners to take part in this celebration," says Danda. "We have always considered them a big contributor to our success, and we will remain indebted to them."
"The next 70 years of REX will be an exciting time for every kind of learner and for the entire nation," Don reveals. "We will pull all stops to realize our vision because now more than ever, we are being driven by a force bigger than all of us, that is to reach out and journey with every learner and help them become lifelong learners that are ready to help others and transform this nation."