A GASTRONOMIC JOURNEY FOR REAL PINOY CRAVINGS
Philippines have been gaining popularity as a gastronomic spot globally. 7,107 islands that boast of flavors worth craving for. Each dish distinct with its story, each plate made special with local ingredients and traditional ways of cooking. This is a fact that was seen as an opportunity and taken advantage of by a newly opened restaurant in Quezon City.
Salu, The Filipino Kitchen recently opened its doors to those who'd like to feast on the real, genuine taste of local cuisines. Luzon, Visayas and Mindanao dishes are made available to all its visitors, no need for plane tickets, Salu got your cravings covered.  "Salu is a Filipino Culinary Authority. We try to explore, experiment and make sure to serve plates that can't be labeled anything other than tunay na Pinoy. We honor originality and give tribute to the story of each dish because that's what makes it unique, that's what makes it real Filipino", said Chef Janjie Ocoma, also known as Lakwatserong Kusinero, the executive chef of the restaurant. Some of their famous regional cuisines include Insarabasab and Hardinera ni Quezon for Luzon, Balbacua and KBL which stands for Kadios, Baboy, Langka are classic favorites in Visayas, Mindanao boasts of its Tiyual Itum, a signature black soup and Beef Kulma, the island's version of curry. You can get busy exploring the menu as trivial facts for some of the dishes are also showcased.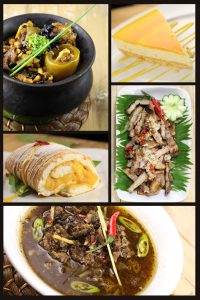 Another set of interesting eats are called "Likhang Salu". When creativity meets ingenuity, a fusion of Pinoy to Pinoy food is born. Try tasting their best seller, Binagoongang Lechon Kare Kare, or Pinalutong na Sisig Hito for a healthier fix. Hinurnong Manok is Salu's version of sinampalukan with the smoky taste of roasted chicken, or if you're in the mood for pork, their Sinigang na Lechon is a sure treat. Some of the intriguing creations also include Salu Salad, colors of which are enough to remind you of a beautiful, edible garden, and the Pakbet Soup, a perfect alternative for those who'd like a light and healthy starter.
Of course desserts are must haves. Filipinos love sweets and often ends a bountiful feast with their yummy panghimagas. Brazo De Kalabasa is one of the house favorites, a healthier take of our favorite soft cake. And a must try desert is the recently launched Mayon,  Salu's molten lava cake. It has a really good salty surprise inside which gives a twist to that rich dark chocolate cake and filling. It's not part of the regular menu, so make sure to ask your waiter for it on your visit.
To complete the SALU Experience that the owners, Harlene Bautista and Romnick Sarmenta envisioned, the whole restaurant was divided into Luzon, Visayas and Mindanao Sections.  Each is decorated with the aim of transporting guests to a place beyond Manila, towards the kitchen and sites of different parts of the Philippines. Even their kiddie corner gives the young guests a taste of how it is to be a real Pinoy Kid on the block. "We want the whole restaurant to feel casual and homey. When you enter a Filipino home there's always a feeling of warmth and happiness, that's our basic model for Salu. At the same time we want the guests' minds and palates to travel para busog ang tiyan at mata, thus the native and locally inspired accents and details unique to each section. You can practically do your selfies everywhere", said Mr. Allan Cordova, Managing Partner of Salu.
Tribute walls are also put up each section as Salu recognizes our hardworking farmers, poultry providers, fishermen and local craftsmen as the real heroes of the country. Salu supports these men and women who have dedicated their life in providing bountiful feasts for all. Advocacy Programs for our kababayans are being crafted by Salu together with some partners to support this industry.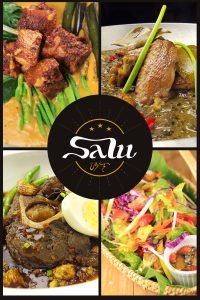 We thought we know it. But to taste it, to see it and feel genuinely Pinoy just by dining and feasting together is still an experience that could bring a whole new layer of appreciation of the familiar. This is what Salu is all about. Fall in love with the food and culture all over again by visiting The Filipino Kitchen at #26B Sct. Fernandez Cor. Sct. Torillo, Bgy. Sacred Heart Quezon City. For reservations and inquiries, call at 921-24-48 or send a personal on their facebook fanpage, Saluresto.