Fortinet PH gives back through bloodletting activity
Fortinet Philippines, a global leader in high-performance cyber security solutions, recently conducted a bloodletting activity in support of the Philippine Red Cross (PRC) National Blood Services, at the PRC Tower National Blood Center in Mandaluyong City.
According to Jeff Castillo, regional director for Fortinet Philippines, the company has been active in initiating annual charitable acts through its #FortinetCares program. For 2017, the tech company conducted a bloodletting activity as a meaningful way of giving back to the community.
"As a responsible corporate citizen, we conduct these kinds of activities every year.  This time, our team chose to give a helping hand to the Philippine Red Cross," added Castillo. "With this activity, we hope to give back to the community and save lives."

The said event gathered the Fortinet team, distributors, and partners, including the Philippine National Police-Anti-Cybercrime Group (PNP-ACG), MSI-ECS, MEC Networks, Trends and Microbase.

PSSUPT Ronaldo Faustino De Jesus, deputy director of the PNP-ACG, who was present during the activity called it a fulfilling experience. "The PNP-ACG team was glad to donate because we know that many Filipinos are in need of blood," he said.
The PRC National Blood Services is a major supplier of blood in the country. PRC said that it needs at least 2,500 to 3,000 blood units to meet the existing demands of Filipinos. Activities like the #FortinetCares Bloodletting Drive are necessary to meet the national blood requirements in the Philippines.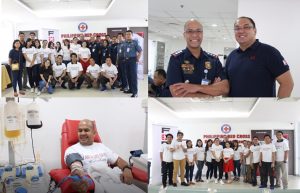 About Fortinet
Fortinet (NASDAQ: FTNT) secures the largest enterprise, service provider, and government organizations around the world. Fortinet empowers its customers with intelligent, seamless protection across the expanding attack surface and the power to take on ever-increasing performance requirements of the borderless network – today and into the future. Only the Fortinet Security Fabric architecture can deliver security without compromise to address the most critical security challenges, whether in networked, application, cloud or mobile environments. Fortinet ranks #1 in the most security appliances shipped worldwide and more than 330,000 customers trust Fortinet to protect their businesses. Learn more at //www.fortinet.com.