Eastern Communications concludes second leg of E-Huddle series with more opportunities in progress: PH digital landscape to go through a paradigm shift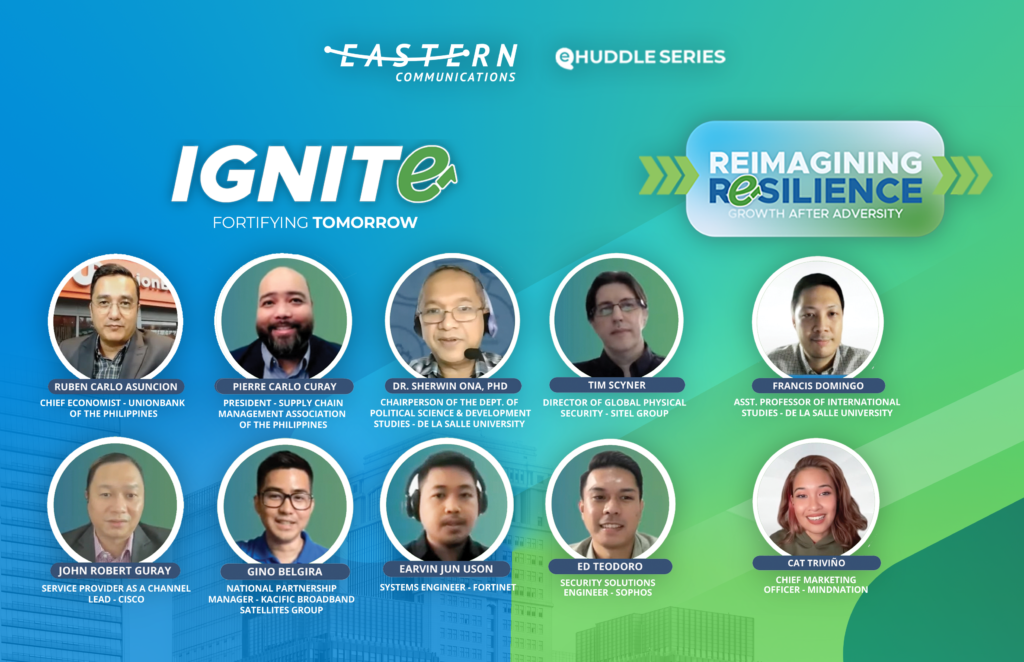 Premier telecommunications company Eastern Communications recently concluded the second leg of this year's thought leadership webinars which is collectively known as the "E-Huddle" series. The award-winning E-Huddles started out in 2021 as a solution to the challenges brought about by the pandemic. It also fulfills Eastern's commitment to fortifying and driving growth among businesses in the new normal.
Attended by acclaimed industry leaders across financial institutions, telecommunications, retail, MSMEs, and the academe, the E-Huddle webinar series unpacked beneficial business prospects and predicted growth for the country through digital solutions. The event featured two sets of webinars namely Ignite: Fortifying Tomorrow and Reimagining Resilience: Growth After Adversity.
Indeed, the digital revolution has transformed the landscape of business transactions and delivering services to customers, as enterprises now seek a simplified experience in accessing solutions. The E-Huddle webinars walked audiences through concepts that bolstered these digital solutions for enterprises who need help with recovery or wish to utilize contemporary technology to secure operations and surpass their goals.
Fortifying Tomorrow with Digital Revolution

Intended for the enterprise sector, the Ignite webinar series ran from July to August with four parts covering technological trends and topics across various industries. The webinars covered how the new normal overhauled the productivity landscape, with the acceleration of the work-from-home setup, digital banking, and new business models.
The webinar series was joined by industry leaders: Unionbank Chief Economist Ruben Carlo Asuncion, Cisco Sales Business Development Manager John Robert Guray, Supply Chain Management Association of the Philippines (SCMAP) President Pierre Carlo Curay, and Kacific Broadband Satellites Group National Strategic Partnership Manager Gino Belgira. Also in the lineup were De La Salle University Chairperson of the Department of Political Science & Development Studies Dr. Sherwin E. Ona, Fortinet Security Philippines Systems Engineer Earvin Uson, Tim Scyner, Sitel Group Director for Global Physical Security, and CCAP Security Council Chairman, and Sophos Security Solutions Manager Ed Teodoro.
"The new normal is digital. There is no turning back, and we cannot wait for the next three or four years to start digital transformation," Ona, who served as a technical consultant for different government agencies, stated. However, he added that there are factors that inhibit this development such as the lack of connectivity in poor households. Nonetheless, Southeast Asia promised digital transformation through integrated e-commerce empowerment evidenced by the rise of tech unicorn companies.
Curay, on the other hand, stressed that the government currently prioritizes the supply chain through Build, Build, Build (BBB) infrastructure program and digitalization of services. This prioritization will connect Filipinos in a value-chain approach and will hasten the logistical performance of transactions from 1-2 deliveries a day to 3-4 deliveries, thereby lowering the costs.
While digital transformation is expected to drive advancement among local businesses, a stronger tomorrow is seen with the help of the economy. According to Asuncion, the robust growth of consumption from 3.2% in the last quarter of 2021 to 3.6% in the first quarter of 2022 positions the Philippines to a better economic standing for the rest of the year.
The spike in consumption rate is bidding well for the businesses and enterprises as this opens up further opportunities for post-COVID recovery which could account for the overall economic growth in the latter part of the year.
"We're seeing a recovery and with the expected decline of the global oil price, this will bode well for consumption. Challenges will be non-existent, particularly on food supply because of supply chain issues all around the world," Asuncion added.
Reimagining Resilience in the New Normal
While the digital revolution marked a paradigm shift for the business landscape, the pandemic brought challenges that forced SMEs to pivot themselves and digitally transform their operations to adapt to the new normal. With Eastern Communications' steadfast commitment to sustainability and business adaptability, it is more than ready to supplement clients' telecommunication needs even amid adversity.
During post-COVID recovery, challenges abound and Eastern Communications is taking the lead in thought leadership with its Reimagining Resilience webinar. The last tranche of concluding Reimagining Resilience webinars was headlined by key speakers MindNation Chief Marketing Officer Cat Triviño and DLSU Assistant Professor of International Studies Francis Domingo with event topics "Resilience by Design: Why Holistic Care is Essential for a Resilient Workforce," and "Cybersecurity for MSMEs," respectively.
Domingo shared the National Cybersecurity Plan launched in 2017 which includes Cyber Initiatives that lay down the framework of cyberspace policies. He also mentioned that the Philippines diligently complied with global standards and fundamental technologies in securing our national cyberspace.
The last stretch of E-huddle webinars was successfully concluded with industry experts sharing their expertise on the digital landscape to ramp up businesses' cyber strategies. As the host of E-Huddle webinars, Eastern Communications is taking the lead in supporting enterprises by helping them effectively deliver their value proposition through high-tech and high-touch ICT solutions.
"We are now at the threshold of opportunities: the opportunity to recover, to learn from our mistakes, to expand our horizons, and most of all, an opportunity to challenge ourselves to do better if not greater, as we stand to face the future – a future that naysayers and analysts have predicted is everything but bright and promising," concluded Edsel Paglinawan, Eastern Communications Vice President and Head – Product and Innovation.
To learn more about Eastern's E-Huddles, watch them on the Eastern Communications Youtube channel. For inquiries on Eastern Communications' services, visit eastern.com.ph. Stay tuned as the new website will be operational soon.
ABOUT EASTERN COMMUNICATIONS
As one of the premier Philippine telecommunications companies, Eastern Communications has evolved into a world-class telecommunications and ICT solutions company providing an extensive portfolio of services that include Connectivity Solutions, Network Solutions, Security Solutions, Cloud and Data Center Solutions, and Business Applications. It continues to champion solutions for both the biggest industry players and emerging businesses in the country through its unique brand of "High Tech" and its "High Touch" service. Eastern Communications was internationally recognized for its "Championing High Touch" campaign and awarded a Gold Stevies International Business Award. It has also received accolades from prestigious award-giving bodies such as the 2022 Asia-Pacific Stevie Awards, Stevie International Business Awards, 19th Philippine Quill Awards, and the Marketing Events Awards.