CROWDS FLOCK TO CORPORATE GIVEAWAYS 2014
 "It's the perfect venue to find and order business gifts." said Elena Reyes, a regular visitor to the annual buyers' show.
The overcast weather was not a deterrent for the thousands of Marketing, Advertising and Purchasing professionals that trooped to the SMX Convention Center in Pasay City for the three-day Corporate Giveaways 2014 Buyer's Show which opened on July 9 and concluded on July 11, 2014.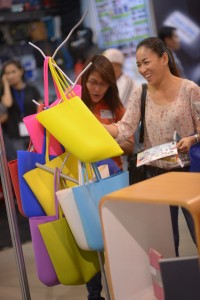 The annual event, now on its 27th year, was a big success and has proven once again that the Corporate Giveaways Buyers' Show is the premier source for business gifts, premiums, promotional items and merchandise incentives.
With over 100 participating exhibitors, companies scouting for giveaways enjoyed the huge variety of items which included mobile gadgets, leather goods, sports accessories, garments, umbrellas, desk top accessories, bags and luggage, food & beverage gifts, and many others.
Raquel Romero, President & General Manager of World Expos & Concepts, the organizer of the Corporate Giveaways Buyers' Show shared that the event has grown with over 100 companies participating as exhibitors taking up more than 130 booths.
  "As a Marketing Executive, one of my tasks to look for items that can serve as our company's giveaways to clients and partners. I make it a point to visit the show every year because I'm sure to have a large array of gift ideas to choose from every time." Reyes said.
"We are happy that Corporate Giveaways continues to be recognized by suppliers as the show that helps them reach their target market. This year, we had 30 companies exhibiting for the first time. It's a sign that the industry and the economy in general is doing well."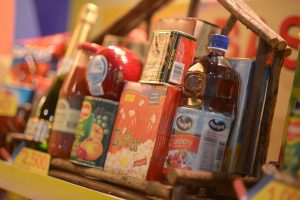 Chito Belmonte, owner of Blue Silver & Black Marketing disclosed that he was able to get good leads when he joined the buyer's show two years ago.
"I've been joining this show for the past two years and I must say, Corporate Giveaways opened a lot of doors for us. This is where we were able to reach a lot of big companies who I am proud to say are now our clients." Belmonte revealed.
Another exhibitor, Rico Publico, Sales Manager of Cristanelle International said they have been participating for 16 years.
"Corporate Giveaways serves as a great way for us to keep in touch with our regular clients and meet new ones. We make it a point to have new items and designs in our booth every year for customers to choose from." Publico said.
Corporate Giveaways is a one stop shop designed to help companies prepare for holiday and year-round gift giving needs. It is held every July which benefits Purchasing, Marketing, Advertising and PR professionals, business owners, event managers and wedding planners.