Corporate Checking Accounts
By Jesi S. Bondoc, RFP®, CIS®
A sound business practice is to separate personal finances from business finances and this includes having a separate corporate checking account dedicated for business transactions. Paying business expenses through a personal checking account can be tempting especially for start-up entrepreneurs, thinking it will save them from bank fees and other related expenses. However, having a co-mingled fund will just create potential business problems for you in the future.
Benefits of Having a Corporate/Business Checking Account
1. Better Money Management
Mixing business and personal transactions can lead to confusion and a messy account statement. Balancing accounts and preparing financial statements are easier done if records are in order. A corporate checking account enables business owners to easily monitor business disbursements and expenses from personal ones.
2. Time Saver During Tax Season
Every business owner is required to file tax returns during tax season and having a separate corporate checking account can prove to be a time saver during this season as business owners have to file income and expenses from the business separate from their personal accounts. Business disbursements are easier to track and reconcile using corporate/business checking accounts.
3. Adds Credibility and Professionalism to Your Business
Issuing payments using corporate checking accounts can add a degree of professionalism into your business. It will be easier for large suppliers to deal with you and take your business seriously if they see that your business accounts are not mixed with your personal ones.
Requirements in Opening a Corporate/Business Checking Account
Listed below are the common requirements to open a corporate checking account. Some banks may ask for additional documents. Better to check your bank for additional details.
1. Certificate of Registration issued by DTI, SEC, BSP
2. Articles of Incorporation/Partnerships or Association and By-Laws;
3. Principal business address;
4. Board or Partners' Resolution duly certified by the Corporate/ Partners' Secretary authorizing the signatory to sign on behalf of the entity;
5. Latest General Information Sheet
6. Contact numbers of the entity and authorized signatory/ies;
7. Source of funds and nature of business; and
8. Name, present address, date and place of birth, nature of work and source of funds of beneficial owner or beneficiary, if applicable
Types of Corporate Checking Accounts
With the continuous changes in business needs, banks have been more creative in developing solutions that can help business owners in running their enterprises efficiently and introducing different types of corporate/business checking accounts has been one of these innovations.
Here are some types of corporate/ business checking accounts that you can choose from:
1. Basic or non interest bearing corporate checking account. This is a standard checking account that requires lesser minimum maintaining balance. This type of checking account offers no interest in the money kept in the account. This might be a good starter account for small business owners who do not plan to keep a high balance in the account.
2. Interest bearing corporate checking account. This account is attractive to businesses that wish to earn extra money on their balances in the account. Usually, the higher money kept in the account the higher the interest it will earn. On the flipside, when the account falls below the minimum required balance, some fees may be levied upon the account.
3. Cash management corporate/business checking account. For businesses with complex needs, most banks have developed a specialized corporate checking account that also provides diverse financial solutions to assist business owners. These services may include payroll solutions, managing accounts payable, preparing check disbursements and consolidating payment transactions
Take note that features and fees of each account type varies from one bank to another. It is best to visit your bank for more details.
Comparative Rates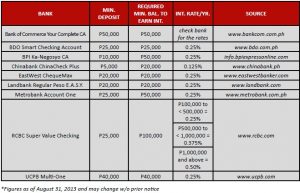 Choosing the right checking account for your business should not solely depend on the interest rate that it will potentially earn. Consider the bank that will perfectly suit your business needs like accessibility, global presence if you are doing business abroad and banking hours.
Whether you are operating as a sole proprietor, a partnership or a corporation, having a corporate checking account is a must. It can help you simplify your record keeping and professionalize your business. Remember to treat your business as a separate entity, run your business as a business.
Jesi Bondoc is a Registered Financial Planner, Certified Investment Solicitor and a Personal Finance Coach. He is currently the Director of My Wealth MD and Partners, Inc. specializing in investment advisory and oversight. He also conducts wealth planning seminars and workshops for various corporations in the Philippines. You can reach him at jj_bondoc@yahoo.com or jbondoc@mywealthmd.com and for more info about Registered Financial Planner, please visit www.rfp.ph or email info@rfp.ph.