Beyond Borders: Mega Global Turns 40
Achieving 40 years of continuous growth is no easy feat. But Mega Global Corporation has managed to work its way up the ladder by setting industry standards for performance and innovation, reaching beyond borders in terms of providing high-quality, value-formoney products essential to every family-loving Filipino.
This was the central theme of the 40th anniversary of Mega Global Corporation held in Isla Ballroom, EDSA Shangri-La Friday night, June 5. More than 500 guests clad in Captain's ball suits and blue gowns— including top-level management, employees, key brand ambassadors and business partners, media personalities, collaborators and celebrities, gathered in the ballroom to commemorate the many milestones of Mega Global's successful but humbling journey.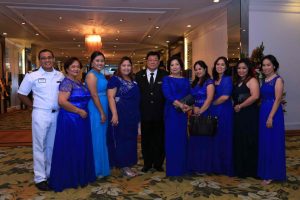 Latest Line of Mega Global Products
During one of the segments, Mega Global Corporation through the presence of AVP for Sales and Marketing Mr. Raffly Lantin, unveiled its latest line of world-class products. A captivating visual presentation showcased the canned products and ready-to-eat viands that are slated to be released this year: Mega Premium Shrimp Paste, Oh My Ulam! Regional Specials, Mega Creations Bottled Sardines and Mega Tuna.
Ryzza, Awards, and More Highlights
The night wouldn't be considered complete without the presence of child superstar Ryzza Mae Dizon, the newest brand ambassador of Mega Sardines. The child superstar engaged the crowd with her infectious charisma and cute dance moves, performing a short dance number that got everyone smiling from ear to ear. She also helped out in giving away raffle items such as iPad and iPhone 6 through Mega Roleta.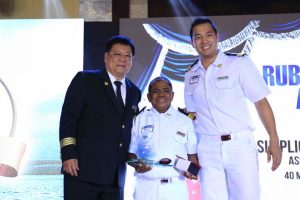 Mr. William Tiu Lim, Mr. SimplicioGandacila(Assistant Engineer-Ruby Loyalty Awardee), Mr. Malcolm Tiu Lim
Aside from highlighting the plans of the company to tap other markets outside of the country, the event also paid tribute to the highly valued employees of Mega Global Corporation whose unwavering efforts and contributions have become the driving force behind the company's success. The employees were recognized based on three important merits: The Ruby Loyalty Award—an award given to individuals whose exemplary commitment of time, energy and effort has reached over 25 years of service; The Mega Hero Award—an award given in appreciation of top employees whose outstanding performance were not left unnoticed; and The Mega Excellence Award—an award given to top employees whose unparalleled level of commitment and professionalism have led them to where they are now.
Mega Family Union
The entire Lim clan headed by CEO and President Mr. William Tiu Lim graced the stage in full force during the ceremonial toast. Mr. Lim went on to congratulate everyone for being part of Mega Global's 40 years of achievement. "Let's continue striving to be the best brand locally and globally," he told the audience. "We will go beyond borders and provide only the best products and services to everyone." Mega Global has been winning the hearts of Filipino families from one generation to another for almost 40 years. The country's top manufacturer of ready-to-eat viands and canned goods strives to enrich people's lives with its relentless efforts to bring forward several improvements and innovations in terms of packaging and food technology.