Description
MoneySense 3rd Qtr 2019 Issue – The Pivots of Kalibrr CEO Paul Rivera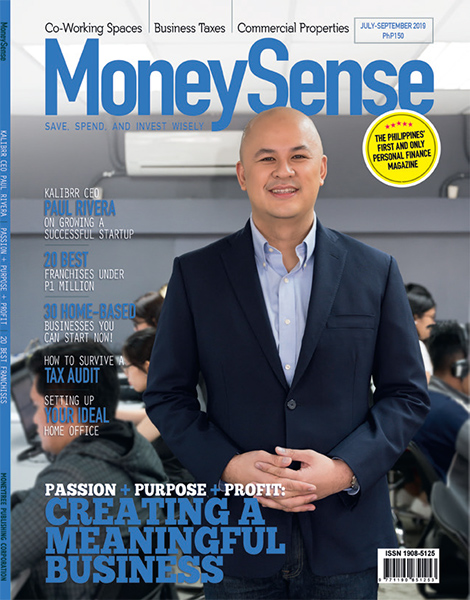 The Pivots of Kalibrr CEO Paul Rivera
After graduating from the University of California, Berkeley with a degree in Political Economics, Paul Rivera, CEO of recruitment technology company Kalibrr, thought he was destined to be a business consultant.
He and two schoolmates applied for jobs at consultancy giant Accenture, but while his two friends were accepted, the Filipino-American was not.
That twist of fate introduced Paul to the world of startups, and later led him back home to the Philippines, which he had left with his family when he was five. The now 36-year-old has since established a tech business with operations in three countries in Southeast Asia, and invested in other Philippine online platforms.
Learn more by buying a copy of MoneySense 3rd Quarter 2019 Issue Now!
Cover Stories
The Pivots of Kalibrr CEO Paul Rivera – Elena Torrijos
Passion + Purpose + Profit: Creating a Meaningful Business – Excel V. Dyquiangco
20 Best Franchises Under P1 Million – Excel V. Dyquiangco
30 Home Based Businesses You Can Start Now! – Excel V. Dyquiangco
Book Excerpt: #Adulting Accomplice – Lianne Martha Laroya
Plan
How to Survive a Tax Audit – Excel V. Dyquiangco
Best Co-Working Spaces – Excel V. Dyquiangco
Versus: Buy Vs. Franchise Vs. Start a Business – Genesis Kelly Lontoc, RFP
Q&A: Franchisee – Excel V. Dyquiangco
Primer: Business Taxes – Excel V. Dyquiangco
My Money Story: Wearing Many Hats – Anna Escalona as told to Excel V. Dyquiangco
My Money Story: In Good Financial Health – Gim B. Gonzales as told to Excel V. Dyquiangco
My Money Story: The Business of Franchising – JC Calvento as told to Excel V. Dyquiangco
Invest
Stock Market 101: CANSLIM Method – Josefino Gomez, RFP
Real Estate 101: Investing in Office and Commercial Properties – Richard Thaddeus Carvajal, RFP, ACSI
Spend
Setting Up Your ideal Home Office – Edmund Lao, RFP