Description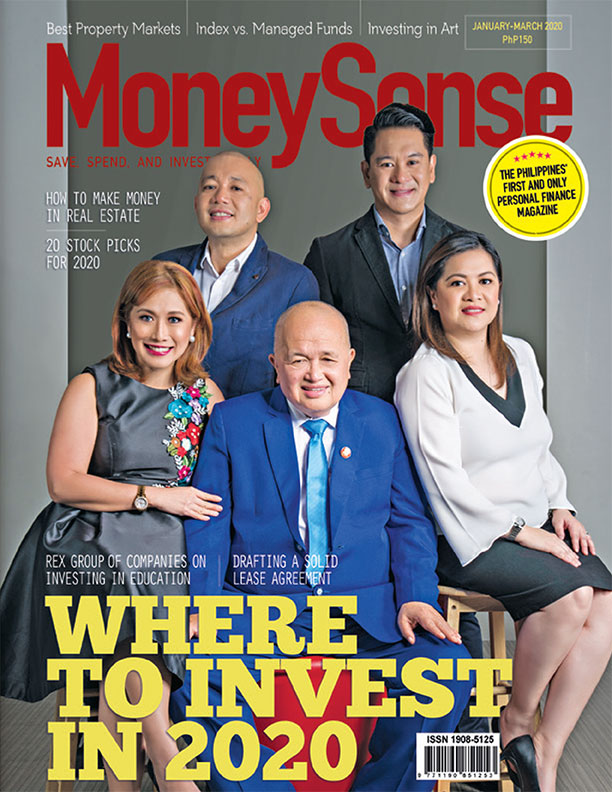 Where to Invest in 2020
Spreading Your Risk
When it comes to investing, we often consider only one thing: returns. Whether it's interest rates, capital gains, or business profits, we just look at the reward and ignore the risk. But investing is as much about managing risk as optimizing returns.
Right now, the property market is booming, thanks to the office segment, driven by POGOs and BPOs. But the stock market? In the doldrums. If you are solely in equities, too bad. That is why diversification is critical to your portfolio.
In this issue—our annual Investing edition—we cover various asset classes. Our feature article "Where to Invest in 2020" (p. 49) is a comprehensive outlook on the economy, financial markets, and real estate sector. The conclusion:
"Invest not just in different asset classes (equities, bonds, fixed income, real estate), but in geographies (Philippines, Asia, US, Europe) and flavors (Emerging Market, Developed Markets)." So, spread your risk by investing in these investment vehicles:
EQUITIES
BUSINESS
EDUCATION
ART
Buy MoneySense Q1 2020 now!